Vitamin B-17 laetrile and amygdalin are hot topics for curing cancer. Unfortunately, most of the information on these substances them with one another. Laetrile is NOT a natural product from apricot pits. Here is what you should know before trusting anyone who mixes them up, without knowing what they are talking about.
Basic information below is from: Wikipedia on amygdalin. Refer to the differences between amygdalin in this image. As you see below, laetrile is derived from amygdalin by chemical reactions in the laboratory.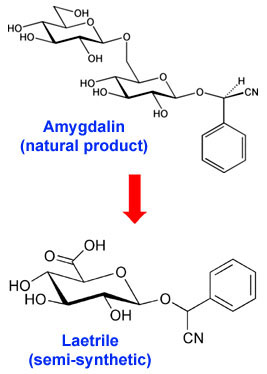 Amygdalin
Amygdalin is extracted from almond or apricot kernel cake by boiling in ethanol; on evaporation of the solution and the addition of diethyl ether, amygdalin is precipitated as white minute crystals. Liebig and Wöhler were already able to find three decomposition products of the newly discovered amygdalin: sugar, benzaldehyde, and prussic acid (hydrogen cyanide). Later research showed that sulfuric acid decomposes it into D-glucose, benzaldehyde, and prussic acid ; while hydrochloric acid gives mandelic acid, D-glucose, and ammonia.
Laetrile
Amygdalin is sometimes confused with laevomandelonitrile, also called laetrile for short; however, amygdalin and laetrile are different chemical compounds. Laetrile, which was patented in the United States, is a semi-synthetic molecule sharing part of the amygdalin structure, while the "laetrile" made in Mexico is usually amygdalin, the natural product obtained from crushed apricot pits, or neoamygdalin.
Though it is sometimes sold as "Vitamin B-17", it is not a vitamin. Amygdalin/laetrile was claimed to be a vitamin by chemist Ernst T. Krebs in the hope that if classified as a nutritional supplement it would escape the federal legislation regarding the marketing of drugs. He also wanted to capitalize on the public fad for vitamins at that time.
The best book that I have found on alternative cancer treatment is the following (click on image for details):
All the best in natural health,
Dr. D