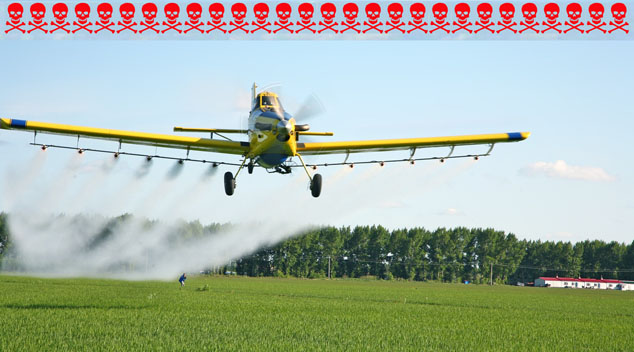 Glyphosate toxicity is a real doozy. It's the most widely used herbicide in the world. And yet it's also the deadliest. Your government isn't your friend.
Image by wang dong from Pixabay
Get a load of these 'alternative facts' about glyphosate toxicity:
Glyphosate – the active ingredient in Roundup Weed Killer – …is a virtually ideal herbicide whose environmental properties such as its soil immobility, rapid soil inactivation and soil biodegradation are outstanding. This herbicide is practically non-toxic to non-plant life forms such as aquatic and avian species, animals and man.
A completely government-approved statement.
Unfortunately, absolutely every claim in that statement is dead wrong.
DANGEROUSLY WRONG!
This is 1984-style doublespeak at its finest. George Orwell would be proud.
In reality, glyphosate has become the worst environmental toxin of all time.
…unless you listen to the manufacturer's government-approved lies about it.
Monsanto, the agrochemical/biotech giant, has been making it since the 1970s. Its use accelerated in the mid-1990s with the advent of GMO crops. Glyphosate is now such a huge business that your government does very little to protect you from it, regardless of how bad it is for you, for the environment, and for every living organism on Earth.
WARNINIG: If the biggest lies are the easiest ones to get away with, then sit down, read on, and make sure that your BS detector is set to high. Here comes a real whopper.
The topic of this post is so important, and so complicated, that it consists of three parts:
Part 1: This post, about what glyphosate toxicity is and how bad it is for you. The purpose is to scare the crap out of you enough that you do something about it.
Part 2: What to do about glyphosate toxicity – the dietary approach.
Part 3: What to do about glyphosate toxicity – the lifestyle approach.
The Party Line
The extensive overview of glyphosate on Wikipedia was no doubt written by an industry lackey who is on the dole from Monsanto. It is worth reading in its entirety. However, for the moment I just want to call your attention to this quote from that page:
Glyphosate was first synthesized in 1950 by Swiss chemist Henry Martin, who worked for the Swiss company Cilag. The work was never published. Stauffer Chemical patented the agent as a chemical chelator in 1964 as it binds and removes minerals such as calcium, magnesium, manganese, copper, and zinc.
Somewhat later, glyphosate was independently discovered at Monsanto in 1970. Monsanto chemists had synthesized about 100 derivatives of aminomethylphosphonic acid as potential water-softening agents. Two were found to have weak herbicidal activity, and John E. Franz, a chemist at Monsanto, was asked to try to make analogs with stronger herbicidal activity. Glyphosate was the third analog he made. Franz received the National Medal of Technology in 1987 and the Perkin Medal for Applied Chemistry in 1990 for his discoveries.
In 2008, USDA-ARS scientist Stephen O. Duke and Stephen B. Powles, an Australian weed expert — described glyphosate as a "virtually ideal" herbicide. In 2010 Powles stated: "glyphosate is a one in a 100-year discovery that is as important for reliable global food production as penicillin is for battling disease."
What is a "Virtually Ideal" Herbicide?
Ignore for the moment that glyphosate is a chelator that removes valuable minerals from soil – and from you. That property alone is enough to kill you. We will get to that issue later.
As a so-called "ideal" herbicide, it supposed to kill only the target weeds, then disappear from the environment without harming anything else.
That is Monsanto's worldview of glyphosate, through rose-colored glasses. (Money-colored glasses is more like it.)
The "virtually ideal" claim comes from how glyphosate works. Without getting too geeky, I'll just say that it inhibits an enzyme (EPSP synthase) that plants need for producing key amino acids. No problem for people, though, since humans do not have that enzyme. So far so good.
Where else does EPSP synthase occur? Your internal bacteria, that's where. Glyphosate knocks them out like an antiobiotic. This is one of the many issues where glyphosate toxicity goes BIG TIME:
It kills the gut bacteria that you rely on to stay alive.
If that sounds bad … well, it is.
Very, very bad.
If we just stopped there, we would already see that this herbicide is not "virtually ideal" in any way.
However, glyphosate toxicity is much worse than that.
Overview of Glyphosate Toxicity
The body of information on this topic is already overwhelming, and it is growing fast. To keep things a little simpler for this post, I have put together a special page on how bad it is for you, here:
Glyphosate Toxicity Summary Data
That page is not for the faint of heart. My advice is to look at it WAY before you go to bed at night. Otherwise, I guarantee that it will keep you awake with worry or even cause nightmares.
No kidding.
CAVEAT ON STATISTICS: The graphs on that page show disorders associated with glyphosate use. Associations do not show cause and effect. However, scientists use associations as launching points for designing studies that evaluate potential cause and effect relationships.
Multiple associations between glyphosate and health problems continue to accumulate, which leads to studies that dig into mechanisms of action that explain how glyphosate toxicity works. They are very scary. I will get to some of them a little later in this post.
Core Research … for Super Geeks
The leading researchers on glyphosate toxicity are Drs. Anthony Samsel and Stephanie Seneff. Their research publications are all available at no cost online from Dr. Seneff's website at MIT, here.
Links on her site comprise a huge boatload of data from her scientific articles, interviews, presentations and webinars. This is a tremendous resource.
Videos of Dr. Seneff's presentations and interviews are also easy to find in a Google search for "Seneff on Youtube" – just in case you would rather see what she has to say instead of reading her technical publications.
Meanwhile, the following clear associations between glyphosate and health problems were presented by Dr. Seneff at a U.S. congressional hearing on July 14, 2016:
ADHD
Diabetes
Anxiety
Autism in 6 year-olds
Celiac disease
Deaths due to intestinal infection
Deaths from end-stage renal disease
Heart disease
Inflammatory bowel disease
Lymph system disorders
Blood disorders in newborns
Deaths due to obesity
Deaths from senile dementia
Sleep disorders
Thyroid cancer
Urinary/bladder cancer
Two Thing to Note About This List:
FIRST: This is just the beginning.
Independent research on glyphosate toxicity (i.e., not Monsanto-funded crapola) is still very new. At the moment, associations between glyphosate and different diseases comprise a short list that will only continue to grow.
SECOND: Your government knows all this.
These data were presented at a U.S. congressional hearing in 2016. Congress knows about the problem.
Furthermore, scientists at all federal agencies have read the publications about glyphosate toxicity. At least, I hope so.
This includes the USDA, the FDA, the EPA, the CDC, the FTC … and most, if not all, state and local agencies that have a say in the use of glyphosate.
Of course, if you are holding your breath waiting for any of them to take action that benefits you instead of Monsanto, well … good luck with that.
Why Glyphosate is So Bad
Two factors put this herbicide at the top of all-time badness:
Prevalence of its use
How it works as a toxin
1. Prevalence of Use
Glyphosate is bad enough as a toxin. However, it is also the most widely used herbicide in the world today.
Here's why:
Herbicide-Resistant GMO Crops
Its increased use rests partly on the development of crops that are genetically engineered to resist it – i.e., GMO crops. The concept behind such applications is its ability to kill crop weeds without killing the GMO crop itself.
Crop weeds are a big problem. They compete with crop plants for resources (water, soil nutrition, etc.) and they make harvesting more difficult.
Unfortunately, crop weeds have begun to develop resistance to glyphosate, too. It is simple natural selection, akin to the development of antibiotic-resistant bacteria. The strategy in agriculture is to use greater and greater amounts of glyphosate. Unfortunately, just as with the evolution of antibiotic resistant superbugs, we now see the rise of glyphosate-resistant superweeds.
The current crops that are genetically engineered to resist glyphosate toxicity are:
Corn
Soybean
Cotton
Canola
Sugarbeet
Rice
Flax
The increasing use of glyphosate for weed control on these GMO crops is heading for failure.
Home and Other Non-Crop Uses of Glyphosate
By the way, if you are using Roundup for your own lawn or garden – an extremely bad idea – note that glyphosate is not the only ingredient in commercial products. A number of additional chemicals are routinely added to make the herbicide more effective. One such ingredient is 2,4-D. This is a synthetic plant hormone that acts as a defoliant. It is the active ingredient in the Agent Orange that was widely used to defoliate the jungle during the Vietnam conflict.
Of course, as you might expect, boosting the weed-killing effects of Roundup with add-ons also increases the toxicity of glyphosate.
Numerous other non-crop uses of Roundup include weed control on golf courses, by city governments (in parks, along sidewalks and streets, in urban lakes), for native habitat recovery, and to keep railroad tracks clear.
Agricultural Uses: All Crops
Glyphosate is used on at least 70 kinds of crop plants. This includes the seven GMO crops cited above, plus 63 nasty surprises that appear in your food. To save space here, I have loaded the complete list from a 2015 internal EPA memo onto this page:
Agricultural Uses of Glyphosate
The use of glyphosate on so many additional crops is partly based on its role as a desiccant – i.e., a drying agent. It is applied to grain crops (e.g., wheat, barley, oats) just before harvesting to kill the crop so that it dries more quickly and evenly. This step makes the crop easier to harvest in a short window of time, which is especially important in northern regions where the growing season is short.
In addition, desiccating sugarcane also increases the concentration of sugar before harvest.
These are just a few examples of why glyphosate use is so prevalent.
By the way, when you look at the table linked above, you may be surprised at the variety of crops and total poundage of glyphosate applied to them on an annual basis in the U.S. Based on that list, these are the Top 10:
Soybeans (101.2 million pounds)
Corn (63.5 million pounds)
Cotton (18.4 million pounds)
Wheat (8.6 million pounds)
Oranges (3.2 million pounds)
Sorghum (3.0 million pounds)
Almonds (2.1 million pounds)
Grapes (1.5 million pounds)
Sugarbeets (1.3 million pounds)
Sunflowers (1.1 million pounds)
Note that only 4 of these are on the GMO list above (soybeans, corn, cotton, sugarbeets).
2. How Glyphosate Works as a Toxin
Several mechanisms have been discovered so far. They provide underlying explanations for how glyphosate can cause many of the health problems associated with its toxicity.
Glycine Substitution
The tip of the toxicity iceberg comes from its structural similarity with glycine, an amino acid that occurs in all proteins.
For comparison, the best visual is simply to look at the two structures side by side.

Glycine has key biochemical and biophysical properties that underlie its occurrence and function. Changing it even one tiny bit destroys those properties. Adding a phosphate group to glycine does exactly that. However, the structural similarities between glycine and glyphosate are close enough that glyphosate gets assembled into proteins where glycine should be.
Why is this so bad? Let's just examine the top two reasons:
1) Glyphosate gets into collagen. Collagen is the number one structural protein in your body. It holds everything together: skin, nails, bones, cartilage, organs … the list is extensive.
Without collagen you would be a pile of goo.
When glyphosate replaces glycine in collagen, the structure of the protein becomes weak. The net result is that everywhere collagen occurs – which is everywhere – you begin to fall apart. Bad skin. Weak bones. Poor cartilage.
Gee, doesn't this make you wonder why knee and hip replacements are on the rise, even when the rate is age-adjusted?
2) Glyphosate gets into enzymes. Every enzyme has what is called an 'active site'. It is the key part of the enzyme that makes it work. Some enzymes use glycine at the active site. Replacing glycine with glyphosate at the active site destroys the activity of that enzyme … i.e., the enzyme no longer works.
Scientists are continually looking for enzymes that use glycine in their active sites. The list is expanding.
So far several disorders are known based on enzymatic dysfunction caused by glyphosate substitution for glycine, as follows: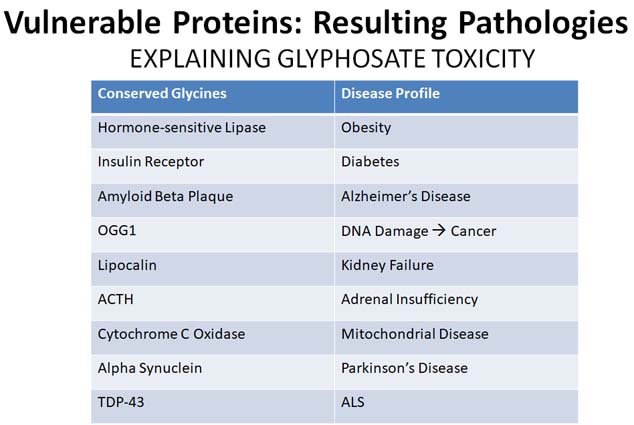 REPEAT: This is a short list based on relatively new research. This list will only grow.
Mineral Chelation
Glyphosate binds to minerals in soil, reducing their availability for uptake into crop plants – and ultimately into you. Nobody knows the extent of this issue. However, if we look at just one mineral – manganese – we get an idea of how disastrous mineral chelation by glyphosate can be.
You can read the full review by Samsel and Seneff that explains the role of glyphosate toxicity for just this one mineral, here: Glyphosate, pathways to modern diseases III: Manganese, neurological diseases, and associated pathologies (2015).
Reading through that entire article might be a challenge, although in my opinion it is very enlightening. If you are short on time or technical know-how, just the abstract explains quite a bit, as follows:
Manganese (Mn) is an often overlooked but important nutrient, required in small amounts for multiple essential functions in the body. A recent study on cows fed genetically modified Roundup®-Ready feed revealed a severe depletion of serum Mn. Glyphosate, the active ingredient in Roundup®, has also been shown to severely deplete Mn levels in plants. Here, we investigate the impact of Mn on physiology, and its association with gut dysbiosis as well as neuropathologies such as autism, Alzheimer's disease (AD), depression, anxiety syndrome, Parkinson's disease (PD), and prion diseases. Glutamate overexpression in the brain in association with autism, AD, and other neurological diseases can be explained by Mn deficiency. Mn superoxide dismutase protects mitochondria from oxidative damage, and mitochondrial dysfunction is a key feature of autism and Alzheimer's. Chondroitin sulfate synthesis depends on Mn, and its deficiency leads to osteoporosis and osteomalacia. Lactobacillus, depleted in autism, depend critically on Mn for antioxidant protection. Lactobacillus probiotics can treat anxiety, which is a comorbidity of autism and chronic fatigue syndrome. Reduced gut Lactobacillus leads to overgrowth of the pathogen, Salmonella, which is resistant to glyphosate toxicity, and Mn plays a role here as well. Sperm motility depends on Mn, and this may partially explain increased rates of infertility and birth defects. We further reason that, under conditions of adequate Mn in the diet, glyphosate, through its disruption of bile acid homeostasis, ironically promotes toxic accumulation of Mn in the brainstem, leading to conditions such as PD and prion diseases.
Remember, glyphosate has been known since the 1950s to bind to several minerals: calcium, magnesium, manganese, copper, and zinc.
The manganese story is just beginning to unfold. Similar stories about other minerals will come.
Glyphosate: A Crime Against Children
This should scare the crap out of every new mom and dad.
In 1975 the incidence of autism in the U.S. was estimated to be 1 in 5000.
In 2010 it was 1 in 68. Predictions are that by 2032 it will be 1 in 2.
Accelerating rates of autism are 99.7 percent correlated with the increased use of glyphosate that started to shoot up exponentially in the 1990s (see graph on the Glyphosate Toxicity Summary Data page).
As I said earlier, such associations do not explain cause and effect. They just suggest where to look for possible mechanisms that do explain causality.
When it comes to autism, a whole set of mechanisms explain the role of glyphosate toxicity as a potential causal agent. Here are the ones that we know so far: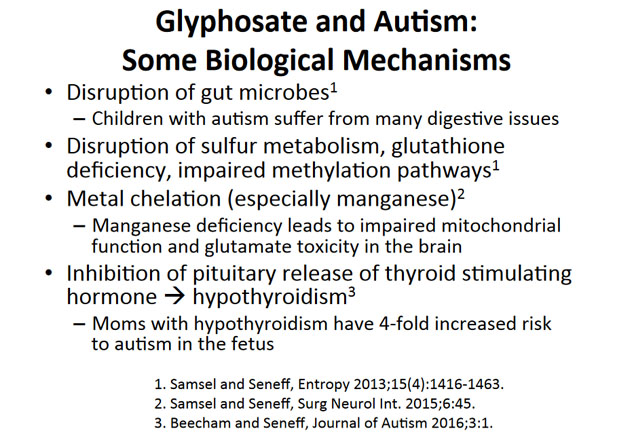 As you can see, when it comes to healthy child development, glyphosate is nobody's friend.
Scared Yet? Mad? Puzzled?
Glyphosate toxicity is a monster. Unfortunately, there is no escaping exposure to it. Even organic foods contain glyphosate.
You can, however, reduce your intake, decrease its effects, boost your innate detoxification processes, and strengthen your resistance to it.
There is a lot of good you can do for yourself and your family in the face of this nasty toxin. As I mentioned at the top of this post, that is the subject of Parts 2 and 3 of this miniseries.
Take a look at them to see what you can do to stay healthy even with so much glyphosate in your environment.
All the best in natural health,

DISCLAIMER
Statements on this page have not been evaluated by the Food and Drug Administration. This product is not intended to diagnose, treat, cure, or prevent any disease.