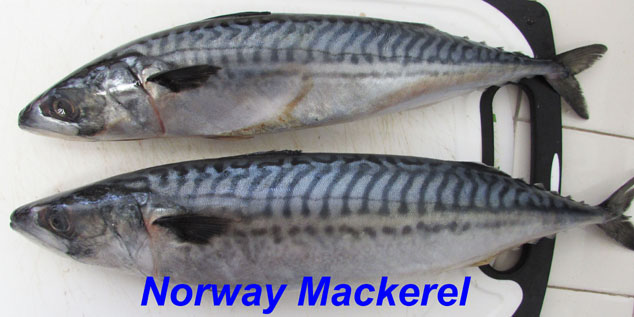 You haven't lived unless you've experienced a mackerel head smoothie. Absolutely delightful. And more nutritious than almost anything else you can put down your gullet. Just in case you've been holding back until you could find a good recipe, here is how to make one. Easy-peasy. The whole family will just love it.
Anthony Bourdain has nothing on anyone who gives this recipe a shot.
The whole idea is not mine. I got it from a courageous young Norwegian lady by the name of Inger. She has had one of the most phenomenal healing journeys that I have ever heard of. You can read her extensive description of how she healed herself here: Winter Solstice Special Blog: "The Inger Effect". Her story is quite an inspiration.
One of the many components of Inger's healing strategies has been mackerel head smoothies.
Honestly I never thought I'd have such a gross-sounding drink. Inger's courage, and the spectacular health results that she has had, got into my head, though. If she can do it, I thought, then so can I.
Indeed, if Inger can do it, then everyone can. The potential benefits are nothing short of phenomenal. The background for understanding why mackerel head smoothies are so beneficial is provided in an earlier post, here: Fish Oils – Industry BS Just Plain Fishy.
The Final Straw
Just to be straight with you, I did not set out to have this little food adventure at first. What finally got me to do it, though, started with setting and stating a public goal with my weekly mastermind group. (Thanks you Jenn, Don, and Kevin!) Even then it took me until the final week of a 9-week goal-setting period to take action on it.
Nevertheless, the recipe that I hatched out gave me a pretty good result. Not as awful as I had expected. In fact it gave me some ideas for improvement, which I will outline at the end of this post.
Now for the recipe…
The mackerel
We have an Oriental supermarket, the Mekong Market, not too far away, in Mesa, AZ. Any market where you can get whole fish will do. Fresh is better, although most fish will have been frozen beforehand.
I had a couple of choices. The wild-caught Norway mackerel looked the best. Those are what you see in the photo at the head of this post.
The heads
The heads are easy to cut off with a fairly sharp knife. The reason the heads are so important is that they are where the highest levels of intact, native-form DHA occur. Actually, the highest levels are in the eyes and brains, so using the whole heads is simply the easiest way to get those tissues into the smoothie.
Why is intact, native-form DHA so important? This is a crucial topic that I explained extensively in that earlier post that I referred to above (Fish Oils – Industry BS Just Plain Fishy). Take a look at it when you can.
Meanwhile, this is all you need for the greatest health smoothie ever.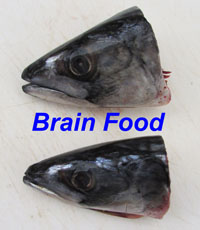 Pointers for blending mackerel heads
Start with a fairly powerful blender. Cut up the heads into smaller pieces. Then place them into the blender with about 12 ounces of water. Blend on "slow" for a minute to get the bigger chunks whittled down a bit. Then switch to "fast" for another minute or so.
This strategy will result in an easy-to-filter mish-mash containing some bone chunks that you can screen out with an ordinary kitchen sieve. After all, that's what they are made for, right?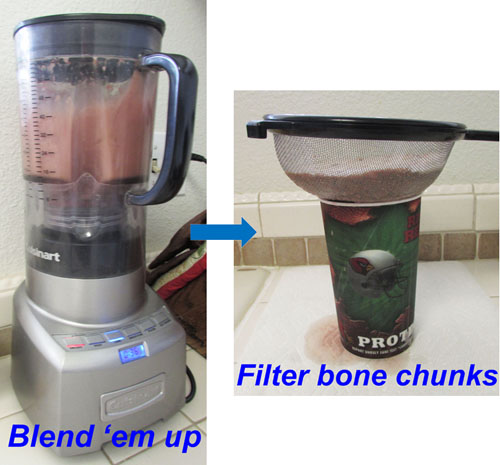 Then drink up!
Ah, finally … your taste treat is ready. Class it up a bit in a nice glass. Then sip it, slug it down, whatever seems right.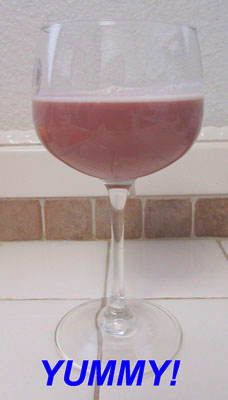 Cheers!
Zum Wohl!
Bene tibi!
¡Salud!
Maisha marefu!
You can expect a fishy flavor, of course. It you like sushi like I do, the fishy flavor is just fine. If not, well, I have a couple of ideas to spice it up. I will be testing them on myself with future mackerel head smoothies. See below.
Prefer a video?
Inger has also posted a Youtube video on how she makes mackerel head smoothies. Her recipe is slightly different from mine. Take a look at what she does if you prefer a visual on the whole process, here:
Ideas for improvement
You may be wondering how on Earth such a great recipe can be improved. Yeah, right. It is already jaw-dropping delicious.
It occurred to me, though, that a number of variations could make for a range of delights, just to keep things interesting.
The first idea that occurred to me is throwing in some Bloody Mary mix. We found a local, freshly made, organic mix that spices up a lot of dishes. It is great as a marinade, too. My next mackerel head smoothie will therefore be mixed with it, maybe in a 50-50 ratio.
Thinking along those lines, you can imagine almost anything as a flavor changer. Okay, maybe not ice cream. A mackerel-head-smoothie-ice-cream-float doesn't have much appeal to me, anyway.
The raw smoothie could definitely use some salt. Garlic and pepper could also provide a new and tasty combination.
Go wild. Have fun.
Get after it with gusto!
All the best,
Dr. D
Need a good source for your supplements?