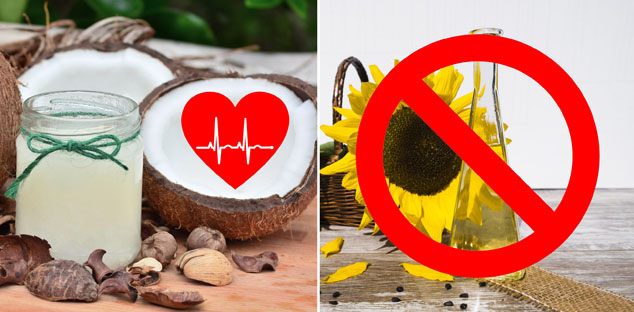 Some seed oils are good for you. Others are a health disaster. Your health depends on choosing wisely. Here's what you should know.
Images by Bruno /Germany, moho01, and Gordon Johnson from Pixabay
Seed Oils: The Good Five vs. The Toxic Six
This table gives you a list of the best and the worst of commercial seed oils. It's not all of the seed oils on the market, just the most common ones.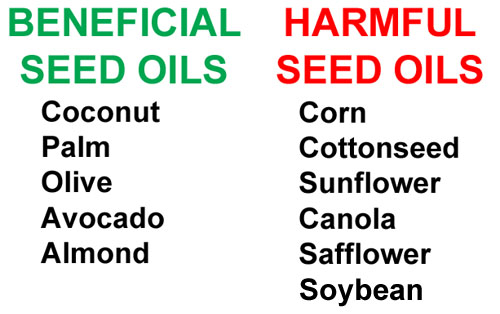 Rather than outline the health disasters caused by seed oils in the right column, I'll refer you to all that scary stuff in my earlier article here: Vegetable Oils That Cause Inflammation.
Now back to what you need to know about choosing the right seed oils for your health.
#1 Factor: Fatty Acid Composition
SIDENOTE: Before getting started, note this: Fats and oils only differ by their melting points. Simply put, fats are solid at room temperature and oils are liquid at room temperature.
Fatty acid composition refers to how much of which fatty acids occur in a mix.
How much simply means the percentages of each component.
Which refers to different kinds of fatty acids.
Fatty acids vary in many ways. Their key features include:
Chain length. The number of carbons in a chain can be short (fewer than 6 carbons), medium (6-12 carbons), or longer (commonly up to 28 carbons).
Unsaturation. They can be fully saturated (no carbon-carbon double bonds), monounsaturated (a single carbon-carbon double bond), or polyunsaturated (two or more carbon-carbon double bonds).
Stereochemistry. Although this seems a bit jargony, carbon-carbon double bonds can be either cis-oriented or trans-oriented. 'Cis' means the chains on either side of the double bond are on the same side. 'Trans' means they are on opposite sides.
Double bond position. Double bonds can occur in many places along a chain. Healthwise, the most important position is the location of first double bond from the 'end' carbon – i.e., the omega (ω) carbon. When it's at the third carbon, it's an omega-3 (ω-3) fatty acid. When it's at the sixth carbon, it's an omega-6 (ω-6) fatty acid.
These and other differences in fatty acids account for thousands of different structures.
While we can metabolize most of them, a handful stand out due to their roles in our basic biology.
#2 Factor: Essential vs. Non-Essential
Fatty acids that we must get in our diet are referred to as essential fatty acids. Others are 'non'-essential' since we can make them from other substances.
The two most important classes of essential fatty acids are the omega-3s and omega-6s.
We are basically dead in the water if we don't consume enough in each category.
The rub is this…
Humans evolved on diets providing just the right proportions of ω-6 and ω-3 fatty acids.
The 'right' proportions means equal or near equal ratios of ω-6 to ω-3. Humans historically consumed anywhere from a 1:1 to a 2:1 ratio.
The average ratio in modern times is anywhere from 15:1 to 20:1. Therein lies a HUGE health disaster.
That out-of-whack ω-6 to ω-3 ratio is fueled by the modern dietary abundance of common commercial seed oils with high ω-6 fatty acid content.
A Two-Step Solution
Step 1. Avoid high ω-6 seed oils.
The first step should be obvious.
And it may seem easy.
However, it requires you to know what those sources are.
This table gives you a good heads up on the biggies. It gives you a comparison between the 'Toxic Six' (red asterisks) and a handful of other oil sources.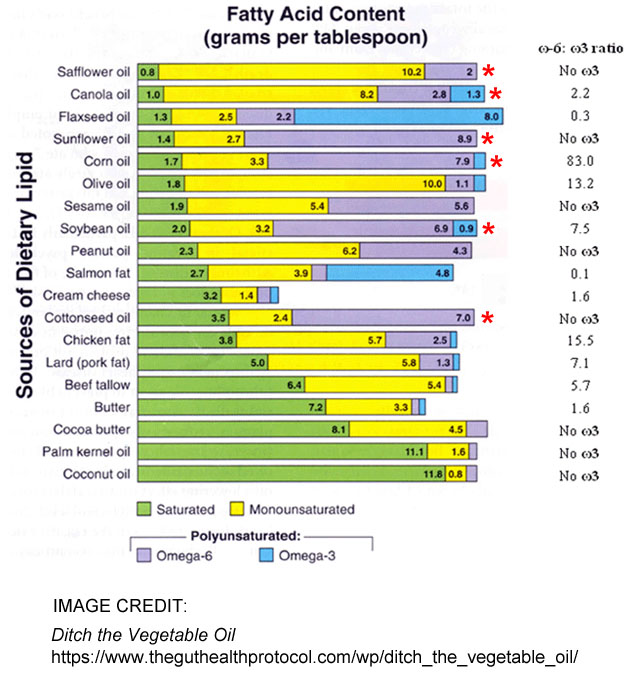 The table is a guide for avoiding high ω-6 seed oils in your own cooking. All you have to do is simply not bring them into your kitchen.
Pretty simple.
However, avoiding the wrong seed oils completely means also knowing where the truly sneaky sources are.
It turns out that the 'Toxic Six' are ingredients in a whole bunch of processed food products. The following list comprises some of the most common examples.
Margarine
Baked Goods
Candy
Ice Cream
Coffee Creamer
Dairy-Free Cheese
Oat Milk
Potato and Corn Chips
Fried Food
Crackers
Vegetable Shortening
Frosting
Salad Dressing
Mayonnaise
Pre-Made Dough
Microwave Popcorn
Pre-Packaged Nuts and Seeds
Pre-Packaged Snack Foods
Baby Formula
You absolutely MUST READ LABELS to know where you're getting ω-6 seed oils in your diet from processed foods.
BONUS NASTINESS: Some of those processed foods will also contain 'partially hydrogenated' oils – i.e., trans fats. This is bit of nastiness is deserving of a separate post. For the moment, just keep this in mind: Trans fats are a health horror that should never go down your gullet!
If you find any mention of partially hydrogenated oils on a food label, put that product back on the shelf.
The good news is, you can probably find examples of all of the processed foods in the above list that contain neither the wrong seed oils nor trans fats. You just have to read the labels!
Step 2. Boost your consumption of ω-3 fatty acids.
This step is a bit simpler, since you can choose foods with high ω-3 content.
As you can see in the table above, seed oils will not routinely be good sources.
Flaxseed oil is one of the few high ω-3 plant sources.
You will almost have to include animal sources instead. Oily fish (e.g., salmon, mackerel, sardines, tuna, etc.) are the best.
You can also supplement with high ω-3 oils. The best sources, again, are from fish.
However, keep in mind that whole food ω-3s are a lot better for you than supplements. (See, for example: Fish Oils – Industry BS Just Plain Fishy.)
Adjusting your ω-6 to ω-3 ratio is just the beginning for why you should avoid the 'Toxic Six' above.
Equally important is the toxic load you get from consuming industrialized seed oils. For starters, all seed oil crops are infused with one of the nastiest environmental toxins ever created. See what I mean here: Glyphosate Toxicity – Government Approved Lies That Keep On Giving.
Now THAT topic may keep you up at night!
Another thing entails how dietary fat has become such a can of worms that it's surrounded by way too much medical mythology.
For that reason I've explained a few things about one of the biggest fake worries, saturated fat, here: Myths About Saturated Fat – Pure Medical Idiocy.
Okay those are some additional reading assignments for you. (No exam later, I promise.)
What About Olive Oil?
I love olive oil. It's one of the most versatile of the 'standard' seed oils.
Unfortunately, the olive oil market has been taken over by the Mafia. Yup, no kidding.
The first I heard of this was in a segment on 60 Minutes. Now you can find lots of articles about it online. One example is: The Shocking Truth about Italian Olive Oil and the Mafia.
I have no good advice for how to overcome this challenge. You have to do your due diligence to find a reputable brand of extra virgin olive oil. I'm guessing you'll find what you want in the California market, not in the Italian market. (Small plug here for my old neighborhood in NorCal – see Corning, the Olive City.)
Bummer, huh?
Comments or Questions?
I'd love to hear from you. This and every other post here provides a comment section at the end of the post, exactly for that purpose.
So, by all means, leave me your thoughts.
I would be especially grateful if you point out any flaws in my logic, factual errors, or ordinary typos. (I'll give you a little 'huzzah' in my heart.)
Then I'll respond as soon as I can.
References
Alvheim AR, Malde MK, Osei-Hyiaman D, Lin YH, Pawlosky RJ, Madsen L, Kristiansen K, Frøyland L, Hibbeln JR. Dietary linoleic acid elevates endogenous 2-AG and anandamide and induces obesity. Obesity (Silver Spring). 2012 Oct;20(10):1984-94. doi: 10.1038/oby.2012.38. Epub 2012 Feb 15. PMID: 22334255; PMCID: PMC3458187. https://www.ncbi.nlm.nih.gov/pmc/articles/PMC3458187/
Berger ME, Smesny S, Kim SW, Davey CG, Rice S, Sarnyai Z, Schlögelhofer M, Schäfer MR, Berk M, McGorry PD, Amminger GP. Omega-6 to omega-3 polyunsaturated fatty acid ratio and subsequent mood disorders in young people with at-risk mental states: a 7-year longitudinal study. Transl Psychiatry. 2017 Aug 29;7(8):e1220. doi: 10.1038/tp.2017.190. PMID: 28850110; PMCID: PMC5611753. https://www.ncbi.nlm.nih.gov/pmc/articles/PMC5611753/
DiNicolantonio JJ, O'Keefe JH. Omega-6 vegetable oils as a driver of coronary heart disease: the oxidized linoleic acid hypothesis. Open Heart. 2018 Sep 26;5(2):e000898. doi: 10.1136/openhrt-2018-000898. PMID: 30364556; PMCID: PMC6196963. https://www.ncbi.nlm.nih.gov/pmc/articles/PMC6196963/
Fernandes G. Dietary lipids and risk of autoimmune disease. Clin Immunol Immunopathol. 1994 Aug;72(2):193-7. doi: 10.1006/clin.1994.1129. PMID: 8050192. https://pubmed.ncbi.nlm.nih.gov/8050192/
Loef M, Walach H. The omega-6/omega-3 ratio and dementia or cognitive decline: a systematic review on human studies and biological evidence. J Nutr Gerontol Geriatr. 2013;32(1):1-23. doi: 10.1080/21551197.2012.752335. PMID: 23451843. https://pubmed.ncbi.nlm.nih.gov/23451843/
Park MK, Li WQ, Qureshi AA, Cho E. Fat Intake and Risk of Skin Cancer in U.S. Adults. Cancer Epidemiol Biomarkers Prev. 2018 Jul;27(7):776-782. doi: 10.1158/1055-9965.EPI-17-0782. Epub 2018 Apr 10. PMID: 29636341; PMCID: PMC6035072. https://www.ncbi.nlm.nih.gov/pmc/articles/PMC6035072/
Patterson E, Wall R, Fitzgerald GF, Ross RP, Stanton C. Health implications of high dietary omega-6 polyunsaturated Fatty acids. J Nutr Metab. 2012;2012:539426. doi: 10.1155/2012/539426. Epub 2012 Apr 5. PMID: 22570770; PMCID: PMC3335257. https://www.ncbi.nlm.nih.gov/pmc/articles/PMC3335257/
Seddon JM, Rosner B, Sperduto RD, Yannuzzi L, Haller JA, Blair NP, Willett W. Dietary fat and risk for advanced age-related macular degeneration. Arch Ophthalmol. 2001 Aug;119(8):1191-9. doi: 10.1001/archopht.119.8.1191. PMID: 11483088. https://pubmed.ncbi.nlm.nih.gov/11483088/
Simopoulos AP. The importance of the ratio of omega-6/omega-3 essential fatty acids. Biomed Pharmacother. 2002 Oct;56(8):365-79. doi: 10.1016/s0753-3322(02)00253-6. PMID: 12442909. https://pubmed.ncbi.nlm.nih.gov/12442909/
Simopoulos AP. An Increase in the Omega-6/Omega-3 Fatty Acid Ratio Increases the Risk for Obesity. Nutrients. 2016 Mar 2;8(3):128. doi: 10.3390/nu8030128. PMID: 26950145; PMCID: PMC4808858. https://www.ncbi.nlm.nih.gov/pmc/articles/PMC4808858/
All the best in natural health,

DISCLAIMER
Statements on this page have not been evaluated by the Food and Drug Administration. Information here is not is not intended to diagnose, treat, cure, or prevent any disease.
This site contains affiliate links to products.
I may receive a commission for purchases made through those links.
This doesn't change the cost to you.