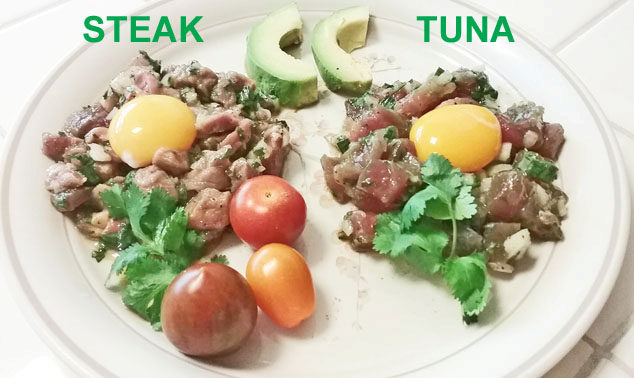 This simple tartare recipe made for a delicious lunch on a recent Saturday. Unlike most recipes, virtually all of the time required is in preparation … since there is no cooking involved. My reasons behind creating tartare dishes of steak and tuna are twofold: 1) I am always up for a new epicurean adventure (see, e.g., Got a Good Recipe for Beef Liver or Heart Carpaccio?; and, 2) I am continually upgrading the health benefits of my diet (more on that later).
My Simple Tartare Recipe
Steak tartare is, of course, a well-known delicacy in many high-end restaurants. See this description here on Wikipedia: steak tartare. Recipes for steak tartare also work great with fish.
The most elegant recipe that I came across comes from Chef Emeril Lagasse on the Food Network website, here: Steak Tartare Recipe.
After looking at quite a few recipes online, I decided on the following as the simplest and tastiest:
8-10 oz meat (sirloin or ahi tuna)
1/4 cup of chopped yellow onion
1/4 cup of sliced green onion tops
1/4 cup of chopped cilantro
dash of sea salt
dash of freshly ground black pepper
dash of Worcestershire sauce
1 egg yolk
3-4 tbsp. of extra virgin olive oil
Cut up meat into cubes, approximately 1/4 inch on a side. Mix in all the ingredients, in whatever order you wish. Let chill for at least an hour. DONE!
OPTIONAL: Just for show (i.e., 'presentation'), and because I love raw egg yolk, I put another yolk on each patty before serving.
In most settings, tartare is meant to be loaded onto some kind of fancy-pants bread or 'toast points' according to Chef Emeril. Since I am more of a low-carb guy, and also avoid wheat almost entirely, I only put a few spoonfuls on almond crackers, which was excellent. Mostly I just enjoyed the meal with a side of cocktail tomatoes and avocado slices, as shown above.
Results
Absolutely fabulous! The only change I would make for certain is to add less salt. I overdid the salt a little. (Salt is supposed to be a flavor enhancer, not a flavor itself!) Next time I will also experiment with adding sesame oil and maybe some capers.
This is definitely a recipe that I will enjoy at least once a week from now on.
Health Benefits
Delightful eating is certainly a wonderful part of life. As I mentioned earlier, though, my tartare experiment was equally important for its health aspects. The fundamental improvement that I am seeking in my diet is the reduction of the AGEs (advanced glycation end products) and ALEs (advanced lipoxidation end products) that form when food is cooked.
These are super dangerous to health that accelerate aging. An earlier article on this topic explains more about them here: Foods That Speed Up Aging.
The bottom line is that reducing our consumption of AGEs and ALEs is a huge step in the right direction for health and longevity. Research on the hazards of cooked foods clearly points to the value of eating raw food more often. I am sure that raw foodists are jumping with joy and some hearty "I-told-you-so's."
The "anti-red meat" bandwagon (and vegans and vegetarians, too, for that matter) may also be feeling a bit smug. The problem is that cooked foods contain AGEs and ALEs regardless of what kingdom they came from. Grilled asparagus can be just as full of them as grilled hamburgers. The issue is how and how fast food is cooked.
Based on what we now know about the formation of AGEs and ALEs during cooking, it turns out that the absolute worst way to prepare foods, healthwise, is either grilling over an open fire or frying (deep fat or open pan).
SIDENOTE: This means that virtually ALL of the health research on different diets that has involved cooked foods is completely irrelevant unless it specifically accounts for the formation of AGEs and ALEs. (Don't get me started on the incredibly idiotic anti-meat and egg dietary recommendations by Dr. Oz.)
By the way, the formation of those nasty black bits on grilled foods amplifies the health dangers of what you eat beyond belief. That blackened stuff is mostly made of polyaromatic hydrocarbons (PAHs), which are otherwise best known as components of coal and tar deposits. They are extremely carcinogenic!
If you are smoker, you don't have to worry so much about PAHs in your diet, though. Your intake of them in tobacco smoke is already so far off the charts that eating some is relatively minor in comparison.
How About That Raw Egg Yolk?
Egg yolks contain one of the most important dietary fatty acids that we need for good health – arachidonic acid. It is a highly unsaturated PUFA (polyunsaturated fatty acid). This means that it is very unstable (i.e., it goes rancid in a hurry). Heating PUFAs, as in cooking, oxidizes them into fatty acid epoxides, which are super dangerous.
Cooking arachidonic acid and other PUFAs slowly over low heat can reduce their oxidation. Not cooking them at all is even better. Thus, raw egg yolks are of greater benefit to your health than cooked egg yolks.
The Biggest Benefit of All
DHA. This is the PUFA that your entire nervous system depends on for good health. It is the most common fatty acid in your brain. The best dietary sources of natural DHA are raw oily fish (e.g., tuna, salmon). Cooking destroys DHA every bit as fast as it destroys arachidonic acid.
This means that tuna tartare is a health food for your brain!
Although I am sure that you've heard about the health benefits fish oil supplements, they do not measure up to the real thing from real fish. See what I mean here: Fish Oils – Industry BS Just Plain Fishy.
Oh, and if you rely on flax or other plant oils for your omega-3 fatty acids, just be aware that plants do not make DHA.
Worries About Microbes in Your Food
This is an issue about your immune system, not about microbes. That is a huge topic that I will save for another time.
All the best in natural health,
Dr. D
Need a good source for your supplements?