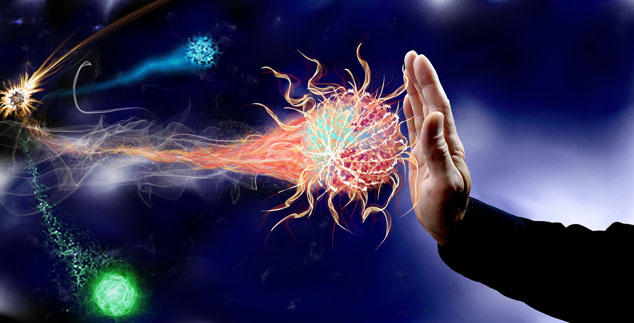 Preventing and treating viral infections shouldn't be this hard. And it shouldn't garner so much fear. Mother Nature has some solutions for us.
With apologies to Buffalo Springfield, "Paranoia strikes deep; Into your life it will creep; It starts when you're always afraid…" (For What It's Worth, 1966). Being afraid these days seems to be the norm. Paranoia and fear in the age of a pandemic will create that.
Unfortunately, media and medical and government organizations are fueling the fear. Is there any good news to be found at all? The answer is a resounding YES!
For now, set aside all the antiviral tools you know about. Herbs and other supplements, drugs, ozone/oxygen therapies, inhalers, vaccines, etc., etc. They all pale in comparison with what Mother Nature already provides you.
In fact, failing to account for the natural tools at your disposal will undermine everything else you do for preventing and treating viral infections.
You have a cornucopia of these tools, all based on your natural health biology. Two of them rise to the top of the list. Part 1, here, covers one, and Part 2 will cover the other.
Ignoring Mother Nature
Let's back this thing up. Ignore all the nanny-state brainwashing and political hair-on-fire commentary about COVID-19 for now. When it comes to handling viral infections, they're all full of hooey anyway.
At its core, a viral infection is a biological interaction between a virus and its host. Mother Nature's rules govern the infection process. Ignoring them is perilous to your health.
Nevertheless, ignoring Mother Nature is a hallmark of modern living. Failure to live by her rules has led to many disease pandemics over the past few decades. Heart disease, mental disorders (especially autism and Alzheimer's Disease), cancer, autoimmune diseases, diabetes, respiratory disorders, and obesity are just some of them.
Add infectious disease to the list. In most years this means influenza and pneumonia. This year, of course, COVID-19 tops them. It recently reached the #1 status for causes of death in the U.S. in 2020.
Super Good News
Simply put, your basic biology provides some great defenses against disease, including viral infections. Your task is to find out what they are and to adopt them as much as you can. This approach will always supersede anything provided by modern medicine.
This means that, regarding COVID-19, your innate health tools should be the starting point for prevention and treatment. Well ahead of money-driven agendas about synthetic drugs and vaccines.
A great consequence of capitalizing on your own biology is this: YOU ARE IN CONTROL.
Indeed, you are the only one in control of your own health. This is a particularly bold statement in light of our shrinking health freedoms. Once you realize what steps you can take for yourself, and start taking them, you'll have the foundation you need for good health. Period.
The purpose of Parts 1 and 2 of this series is twofold: 1) to explain key natural health strategies you're probably not aware of; and, 2) to point out the action steps you can take for capitalizing on them.
Many books and articles discuss natural approaches to health. However, the majority of them miss some of the simplest and most effective lifestyle choices you can make for your overall health, including defending yourself against viral infections.
Emphasize once again: these are YOUR lifestyle choices. Only you can make them.
Okay, I'll stop bloviating (for now) and get on with the most impactful tool you should know about and probably don't.
How impactful? I'll put it this way:
This tool is foundational for good health. Following it as closely as you can is your best chance to be healthy in the face of any modern diseases, including COVID-19. On the other hand, failure to do so invites all manner of disease, infectious or otherwise.
BONUS THOUGHT: Mother Nature's tools are really inexpensive – in fact, they're free.
Now for that first tool.
Tool #1: Circadian Rhythm
You might have heard this term somewhere in a basic biology class. It really just refers to the 24-hour day/night cycle we are adapted to. This makes us diurnal animals. Fundamentally it means being awake and active during the day and asleep during the night.
The Earth's day-night cycle has been around since … well, since there was Earth. All living organisms have evolved in response to this cycle, starting about 3.2 billion years ago. It's one of the bedrocks for life on our planet.
Human biology has relied on a circadian rhythm for the past 250,000 years or so.
Life On the Clock
The Earth's day-night cycle sets our metabolic clocks. This is a phenomenal process controlled by a 'master clock' – the SCN – buried in our brains. (Fun fact: It's full name is the suprachiasmatic nucleus. This is great trivia to impress your friends with, don't you think?)
The clock gets going each day when sunshine hits the retinas of your eyes. This light signal then travels through the optic nerve to the SCN in the hypothalamus. Once it receives this communication, the SCN proceeds to transmit timing messages through the central and peripheral nervous systems to every cellular clock throughout your body.
I know this is already getting a little too jargon-y. I'll stop all that by just saying this whole system is pretty complex. It involves special clock genes and all the genes responding to them. Together they control a vast hormone cascade that essentially runs your life.
The bottom line is: when it comes to good health, timing is everything.
This even includes your ability to deal with viral infections. Hopefully, this comes as a real shocker to you – the better to grasp how your lifestyle choices increase your susceptibility to infection and what you must do to reduce it.
The Circadian Bombshell
You'll get infected more often, and stay sick longer,
by living a circadian-mismatched lifestyle.
This concept started getting a lot of attention well before the COVID-19 pandemic hit. It recently culminated in a scientific review published in late 2020.
Borrmann H et al. 2020. The Circadian Clock and Viral Infections. J Biol Rhythms. Nov 9: 748730420967768. doi: 10.1177/0748730420967768. (Epub ahead of print.)
At the time of this publication, 10 particular viruses had been studied in detail regarding their interactions with our circadian clocks. They're included in Table 1, as shown below.
Even a quick inspection of this table reveals a rogue's gallery of some of the worst viruses behind human diseases.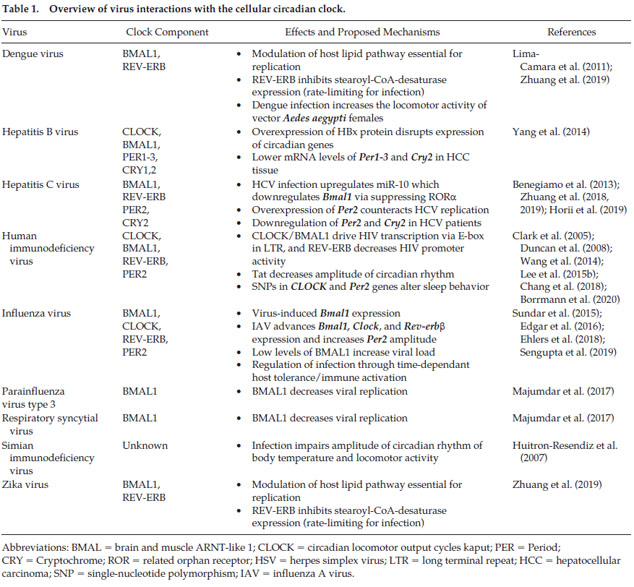 Since December 2019 researchers have been studying how any of these interactions might also influence the novel coronavirus, SARS-CoV-2, that has been wreaking so much havoc worldwide.
The most informative approach to figuring this out starts with looking at 'canaries in the coal mine' – i.e., folks who lead the way by consistently violating circadian living. In this case, our canaries are night shift workers. They routinely live a circadian mismatch.
As a result, they also lead the way in showing how such a lifestyle leads to a higher prevalence of several major diseases of modern civilization. So far these include metabolic syndrome, obesity, diabetes, breast cancer, and prostate cancer. The list continues to grow.
What about COVID-19? Circadian living vs. COVID-19 is still a pretty new topic. One of the first articles to address it appeared in November, 2020.
Lim RK et al. 2020. Are night shift workers at an increased risk for COVID-19? Medical Hypotheses 144 (November): 110147. doi: 10.1016/j.mehy.2020.110147.
The title is a leading question with a clear answer. As stated in the article abstract [my bolding]:
"This potential relationship between SARS-CoV-2 infection and clock genes, coupled with previously reported effects of night shift work on health, leads us to hypothesize that night shift workers may be at an increased physiological risk of coronavirus disease-19 (COVID-19)."
…and…
"…current literature suggests that the disruption of circadian rhythms may cause downstream hormonal and immune effects that render night shift workers more susceptible to disease."
Scientists can be a little namby-pamby like that, using words like "may be" and "may cause" that seem to weaken their arguments. Nevertheless, it's pretty clear that viruses have a greater impact on night shift workers, especially on their hormonal cascades and immune systems. Continued study of SARS-CoV-2 will certainly show it's no exception.
Age-Related Nonsense
This topic is near and ear to my heart, since I'm in that group of 'seniors' who are more at risk for viral infections supposedly due to aging. Yes, older folks seem to suffer from COVID-19 and other viral diseases more than younger ones.
This kind of observation for all so-called age-related diseases has led mainstream medicine to refer to aging itself as a disease. Unbelievable!
Yet think about this for a moment: A lifetime of poor lifestyle choices will catch up to you over time. Violating your circadian rhythm is just one such choice. It's not about aging. It's about how well you live as you age.
Cultures known for long-lived people – i.e., those in 'Blue Zones' – live circadian lifestyles. They don't suffer from age-related diseases. Aging is not a problem for them, and it shouldn't be for us.
The whole concept of blaming aging for so much that goes wrong with seniors is the epitome of intellectual laziness. It finally became so annoying to me that I started a dedicated newsletter at the Boomer Health Center to explain the actual realities of healthy aging based on Blue Zone-type biology.
One of my first realizations came from discovering how certain foods can speed up aging and the acquisition of 'age-related' diseases. It was a real eye-opener. Take a look here when you get a chance: Foods That Speed Up Aging.
As it turns out, diet is one of many factors influencing how fast we age. In fact, it's pretty minor when compared with the importance of circadian living.
Action Steps
If circadian clocks are running the show, what can you do to keep them on time?
On the surface, the simplest steps are to rise in the morning, set the master clock with some sunshine in your eyes, get to bed at a reasonable hour, and enjoy a full night's sleep in the dark.
A couple of caveats about this pattern are crucial. The main one is that modern artificial lighting disrupts the SCN and all cellular clocks. This is due to the impact of a relatively new medical phenomenon called blue light toxicity.
This term denotes health damage by high-blue lighting from CFLs and other fluorescent bulbs, LEDs, cell phones, TVs, laptops and notepads, etc. If you're a sports fan, know that night games in virtually every stadium are lit with high-blue mercury arc lamps. More recently our exposure to high-blue lighting had an uptick due to xenon-based HIDs (high intensity discharge) headlights on an increasing number of new vehicles.
Explanations about how blue light toxicity works are pretty gnarly, so I'll spare the details for now. If you're really interested, the Harvard Health Letter explains it fairly simply here: Blue light has a dark side.
That article provides some okay pointers on how to avoid blue light toxicity. I've listed them here, with my additions/modifications in bold.
Use dim red lights for night lights. Red light is less likely to shift circadian rhythm and suppress melatonin. [Blue light destroys melatonin, which is crucial for good sleep and nighttime brain repair and regeneration.]
Avoid looking at bright screens beginning two to three hours before bed. [No…actually do this all day and into the night – VERY IMPORTANT!]
If you work a night shift or use a lot of electronic devices at night, consider wearing blue-blocking glasses or installing an app that filters the blue/green wavelength at night. [Excellent!]
Expose yourself to lots of bright light during the day, which will boost your ability to sleep at night, as well as your mood and alertness during daylight. [The best 'bright light' is sunshine. No indoor lighting of any kind can even hold a candle to it.]* (Pardon the pun … I couldn't resist.)
*The role of sunshine in preventing and treating viral infections is so valuable that it is the focus of Part 2 in this series.
All this means is that living a circadian lifestyle must include avoiding high-blue lighting.
Is This Simple Enough?
You can never be truly healthy in the same environment that makes you sick. Increased susceptibility to viral infections is just one of many consequences of circadian disruptions.
Nowadays, putting your best circadian foot forward is one of the easiest and most beneficial strategies for avoiding and recovering from infectious disease.
Now get on with it!
All the best in natural health,

DISCLAIMER
Statements on this page have not been evaluated by the Food and Drug Administration. This product is not intended to diagnose, treat, cure, or prevent any disease.