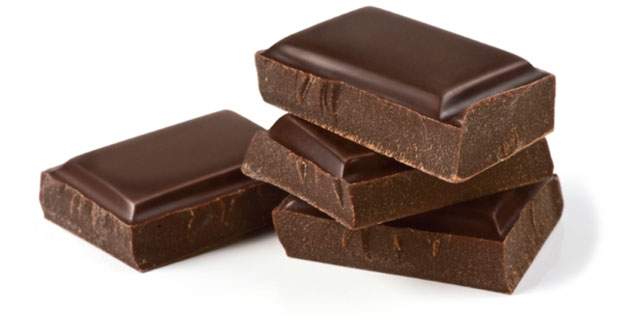 Are all those benefits of chocolate that you hear about real? Is chocolate the real vitamin C? Yes and no. Scientific research supports certain health claims. Others are just pie in the sky. Here is what the truths really are.
Benefits of Chocolate: Information Overload
Three main kinds of information on chocolate abound: 1) folk medicine; 2) internet search results; and, 3) modern science.
While folk medicine and internet searching give us good ideas for starters, it is modern research that truly points out what health benefits we can expect based on experimental data. This is where we take advantage of a different kind of database (i.e., other than a Google search).
Specifically, the best medical database online is PubMed, which lists medical research from more than 15,000 research journals, some going back into the 1920s. It is maintained for free public access by the U.S. National Institutes of Health.
We still have some information overload, though, since searching on PubMed yields thousands of articles, the earliest of which was published in 1922.
Three recent PubMed searches, on the following terms, came up these results (links go to the complete search results, in case you need them for a term paper):
• "Theobroma cacao" (including quotes) – 413 articles
• Cacao – 3,082 articles
• Chocolate – 3,936 articles
Many of these articles have more to do with the botany, ecology, cultivation, or (plant) physiology of cacao itself than with medical research. Filtering all that out, plus focusing on more recent research, still provides a fairly large list of actual and potential medical applications.
Let's take a look at the high points of such a list.
BIG CAVEAT: Not all chocolate is the same.
The raw seeds of cacao contain all of the constituents that underlie the health benefits of chocolate. The closer to consuming whole seeds, the greater the health benefits. You can get whole seeds and grind them up yourself, or can use unsweetened cacao powder.
You can also eat cacao nibs, which are bits of fermented, dried, roasted, and crushed beans. Nibs are generally available at health food stores.
Chocolate, however, is NOT made just of whole cacao seeds, nibs, or powder. It is adulterated, sometimes considerably, into the confectionery that we all know and love. The main adulterants are dairy and sugar. Many other additives appear on the labels of different brands of chocolate.
Without these ingredients, cacao is extremely bitter. Even the ancient Aztecs and Mayans prepared cacao with various adulterants to mitigate its bitterness. A typical preparation was of a drink consisting of cacao, corn meal, vanilla beans, and hot peppers, plus pods of 'achiote' for red coloring, all mixed together into a beverage.
Notice: no sugar or dairy. So-called 'milk chocolate' was first created in Europe after cacao was brought back from the Americas.
The key to reaping the greatest benefits of chocolate, based on scientific studies, is to consume the darkest chocolate possible – i.e., chocolate with the least amount of non-cacao additives. Cacao/cocoa powder by itself would be ideal for this purpose, except for its bitterness.
Aside from that, the minimum amount of cacao for the greatest positive impact on our health is about 60-70%. Chocolate bars and other confectioneries usually range up to 92% cacao (sometimes a little higher), which are widely available in all supermarkets.
Decreasing the amounts of dairy and sugar also reduces the detrimental health effects of these ingredients.
By the Way
Concern about the caloric content of chocolate is, at best, irrelevant. At worst, inane. You can see a more complete explanation of why this is so, in my earlier article here: Stop Calorie Counting – Food Is Not About Calories.
(I even have a little surprise for you there – a link to my ebook on the reality of calories, which you can download at no charge whatsoever. Enjoy!)
Another thing: White chocolate contains only negligible amounts, if any at all, of the constituents of cacao that impart any health benefits. Only the butter fats remain in white chocolate. This is why, as a rule, white chocolate has no significant health benefits, except that happy feeling your taste buds get when you consume it. (Yes, taste buds can be happy!)
Now for the modernized summary of the health benefits of cacao/cocoa/chocolate.
Overview of Health Benefits
In our own nerdy way, this is how we scientists summarize the health benefits of chocolate:
Epidemiological studies show an inverse association between the consumption of cocoa and the risk of cardiovascular disease.
Translation: Surveys of chocolate consumers show that eating more chocolate reduces the risk of cardiovascular disease.
In other words, the more chocolate you eat, the healthier you will be – within reasonable limits, of course. Surveys, for example, do not find folks who eat several pounds of chocolate per day and live to be a robust 120 years old.
Scientists have an obsessive drive to find out HOW things work. This is what we call 'mechanisms of action'. Mechanisms of action are challenging to figure out, so sometimes we only know what is likely, not what is certain.
Regarding chocolate, the likely mechanisms of action are antioxidant activity, improvement in endothelial (vascular) function, increasing insulin sensitivity, attenuation of platelet reactivity (blood clotting), and reduction in blood pressure.
Again, translating that gobbledygook just confirms mechanisms that are responsible for the survey results. In other words, the leading benefits are cardiovascular, and the leading mechanisms of action impact cardiovascular cells and tissues.
There is much, much more. Before taking a look at more research, you may want to know how much chocolate to munch on every day to get the most out of its health benefits. Fair question.
HOW MUCH CHOCOLATE? Based on research results, cacao intake should be at least 2-4 grams a day. What does that look like? One of my favorite daily dark chocolates is Ghirardelli squares, which are 60% cacao. My favorite is just straight dark chocolate.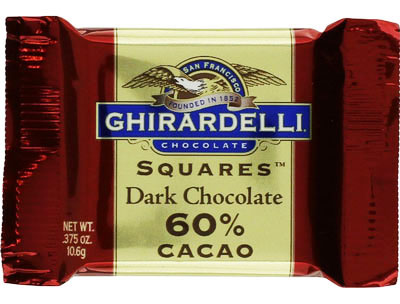 It is 10.6 grams (ca. 0.375 oz) total, which provides more than 6 grams of cacao. Perfect! Usually I will have a couple of these every day. Or 3 of them. Or 4 of them. You get the idea.
That amount exceeds the recommended 'dose' for getting the most out of the health benefits of chocolate. Better too much than not enough!
What Makes Cacao So Good for Health?
Cacao is loaded with various kinds of constituents that contribute to its health effects. The most comprehensive list of these constituents, plus everything else that has ever been found in cacao, is available online from the U.S. Department of Agriculture at Dr. Duke's Phytochemical and Ethnobotanical Databases.
This database is a little obtuse to use for newbies. Chemistry geeks like me love it. When you search on the chemistry of Theobroma cacao, you will find hundreds of ingredients. To save you the trouble, I've done that for you and made the complete list available for download here: Theobroma cacao chemistry.
The major ingredients in this list that are responsible for the pharmacological activities of cacao are classified into a number of broad groups:
Alkaloids
Polyphenols (including flavonoids)
N-Acylethanolamines
Fatty acids
Beta-Phenylethylamine
We'll touch on these as we go.
Alkaloids
This is where we address the caffeine issue. Yes, cacao does contain caffeine. It is one of the three main alkaloids found in cacao. Dr. Duke's list shows that cacao seeds have been reported to have 500-12,900 ppm (parts per million) of caffeine.
The main alkaloid in cacao, though, is not caffeine. It is theobromine, which is chemically similar to caffeine. Cacao seeds contain 10,000-35,000 ppm of theobromine. They also contain another related alkaloid, theophylline, which ranges from zero up to 4,739 ppm.
Although all of these substances are similar chemically (i.e., xanthine alkaloids), theobromine and theophylline are comparatively much weaker stimulants than caffeine.
For the purposes of comparison, here is how cacao/chocolate stacks up against the caffeine you get from coffee.
Coffee
100-200 mg per cup of regular coffee
3-14 mg per cup of 'decaffeinated' coffee
Cacao/Chocolate
23 mg per 1-oz square of unsweetened baking chocolate
80 mg per 3.5 oz bar of dark chocolate (70-85% cacao)
20 mg per 3.5 oz bar of milk chocolate
9 mg per 8-oz cup of hot chocolate
Polyphenols
These are the constituents that are responsible for cacao's beneficial effects on cardiovascular disease. The polyphenols of particular interest are flavanols and procyanidins, which are different subclasses of flavonoids.
Polyphenols are widely known from plants. There is no escaping them if you consume fruits and veggies at all. The ones in cacao just seem to be more abundant and more powerful than those from most other plant sources.
Polyphenols typically act as antioxidants. As such, they are free radical scavengers that preserve cell membranes, protect DNA, prevent the oxidation of low-density lipoprotein (LDL) cholesterol, and inhibit plaque formation in arterial walls.
A bonus is that polyphenols also increase high-density lipoprotein (HDL) cholesterol levels, which is a good thing.
N-Acylethanolamines
These substances are structurally similar to anandamide. This substance is a fatty acid neurotransmitter produced by our brain. Anandamide is chemically similar enough to THC, the main psychoactive ingredient of marijuana, that they both activate so-called cannabinoid receptors. Yes, they make you feel euphoric (i.e., "high").
Chocolate comes into this picture because of the discovery of N-acylethanolamines in cacao in 1996. Scientists are still sorting out what that report means relative to their effects on chocolate lovers.
Of course, you and I already know the euphoria we get from eating a chunk of good chocolate.
Fatty Acids
The main fatty acid in cacao is stearic acid. It is a saturated fatty acid that oxidizes to oleic acid, an omega-9-monounsaturated fatty acid that is associated with decreasing the levels of LDL cholesterol.
Oleic acid is also known as the main ingredient in olive oil that is responsible for reducing blood pressure.
Beta-Phenethylamine
This substance has long been suspected of being the "love" ingredient in chocolate. It is known to improve mood and create a sense of euphoria. It can also relieve depression in folks who are unresponsive to standard drugs.
Clinical Studies
Now let's take a spin around the block to see what some of the clinical studies of cacao/chocolate have revealed about the health benefits of chocolate
In a study of 470 elderly men, blood pressure was measured at baseline and then 5 years later, with causes of death ascertained during 15 years of follow-up. Diet was assessed at 5-year intervals, with cocoa intake estimated from the consumption of cocoa-containing foods; mean intake among users was approximately 2.11 grams per day. The mean systolic blood pressure in the highest tertile of cocoa intake was 3.7 mm Hg lower, and the mean diastolic blood pressure was 2.1 mm Hg lower compared with the lowest tertile.
In another study, 34,489 cardiovascular disease-free postmenopausal women were followed for 16 years. After multivariate analysis, a borderline inverse relationship between chocolate intake and cardiovascular disease mortality was observed.
Populations that consume cocoa routinely excrete more nitric oxide (NO) metabolites than genetically similar groups with less consumption. This indicator of higher NO production is associated with a lower incidence of cardiovascular disease.
Results of another study demonstrated that daily consumption of a high-flavanol cocoa drink led to a sustained reversal of endothelial dysfunction, reaching a plateau level of improved flow-mediated dilation after 5 days. Increases observed in circulating nitrite, but not in circulating nitrate, paralleled the observed flow-mediated dilation augmentation.
In a study of smokers, the ingestion of a flavanol-rich cocoa drink increased the circulating pool of nitric oxide and endothelium-dependent vasodilation.
A study comparing the effects of dark and white chocolate on flow-mediated dilation found that dark chocolate improved flow-mediated dilation after 2 hours compared with baseline, with the effect lasting about 8 hours. White chocolate had no effect on flow-mediated dilation.
In the previous study, 2 hours after ingestion of dark chocolate, the shear stress-dependent platelet function was also reduced. No effect was seen with white chocolate.
In a study evaluating the effect of cocoa ingestion on modulated human platelet activation and primary hemostasis, cocoa consumption suppressed ADP- or epinephrine-stimulated platelet activation and platelet microparticle formation, and had an aspirin-like effect on primary hemostasis.
Findings were similar in another study of 32 healthy subjects who consumed 234 mg of cocoa flavanols and procyanidins or placebo per day for 28 days. The active group had lower P-selectin expression and lower ADP-induced aggregation and collagen-induced aggregation than did the placebo group.
In a crossover study, 15 healthy subjects were randomly assigned to consume 100 g of dark chocolate or 90 g of white chocolate for 15 days after a 7-day, cocoa-free, run-in phase. They were then crossed over after another 7-day, cocoa-free, period. The homeostasis model assessment of insulin resistance was lower after dark chocolate ingestion. The quantitative insulin sensitivity check index was also higher after dark chocolate ingestion.
Consumption of chocolate bars resulted in reductions in systolic and diastolic blood pressure. In one study of normotensive subjects, systolic blood pressure decreased 8.2% within 4 weeks of consuming the chocolate bars, with a 5% reduction relative to baseline still apparent at 8 weeks. Similar reductions in diastolic blood pressure were noted at 4 weeks (8.2%) and remained at 6 weeks (3.4%); however, at 8 weeks, the diastolic blood pressure was no longer lower (2.2%). Because the study population was not hypertensive, the results are notable.
A meta-analysis was performed of 5 randomized, controlled studies involving 173 subjects. After cocoa diets, the mean systolic blood pressure was 4.7 mm Hg and the diastolic 2.8 mm Hg lower than in the cocoa-free controls.
Theobromine has activity similar to that seen with caffeine (ie, increases in energy, motivation to work, and alertness).
Theobromine, when ingested in the form of a large chocolate bar, did not cause any acute hemodynamic or electrophysiologic cardiac changes in young, healthy adults. Theobromine pharmacokinetics were similar in healthy men when measured after 14 days of abstention from all methylxanthines and then after 1 week ingestion of dark chocolate (theobromine 6 mg/kg/day).
The N-acylethanolamines found in chocolate and cocoa powder may act indirectly by inhibiting breakdown of endogenously produced anadamide, prolonging a "natural high."
A study in which a depressive mood was induced demonstrated a correlation with an increase in chocolate craving. It has been demonstrated that thoughts of chocolate are overpowering and prey on the mind. Questionnaires filled out by study subjects have shown that there is a weakness for chocolate in individuals who are under emotional stress, bored, upset, or feeling down. <.li>
A study that followed changes in brain activity related to eating chocolate demonstrated that one area of the brain is involved when there is motivation or craving to eat chocolate, while another area is involved when the desire to eat chocolate is decreased or becomes unpleasant.
Free radical damage has been implicated as a cause of cognitive decline and memory loss in aging. A study using functional magnetic imaging in healthy young people found that ingestion of flavanol-rich cocoa was associated with increased cerebral blood flow, suggesting that cocoa may play a role in the treatment of cerebral impairment, including dementia and stroke.
Data suggest that flavonoid-rich food contributes to cancer prevention. An in vitro study showed that breast cancer cells are selectively susceptible to the cytotoxic effects of cocoa-derived pentameric procyanidin and suggest that inhibition of cellular proliferation by this compound is associated with the site-specific dephosphorylation or down-regulation of several cell cycle regulatory proteins.
In rats, the magnesium contained in cocoa has been shown to prevent and correct chronic magnesium deficiency. Low intakes of magnesium may be responsible for some cardiovascular alterations as well as renal, GI, neurological, and muscular disorders. The use of cocoa to treat or prevent magnesium deficiency in humans has not been explored.
Final Comments
This short article does not do justice to all the possible health benefits of chocolate. It also does not address the negative side effects of chocolate. Yes, there are a few. Some folks don't even like it! Can imagine that?
For the vast majority of chocolate lovers, though, eating chocolate is simply a pleasure. Deriving health benefits from it is a bonus.
All the best in natural health,

DISCLAIMER
Statements on this page have not been evaluated by the Food and Drug Administration. This product is not intended to diagnose, treat, cure, or prevent any disease.