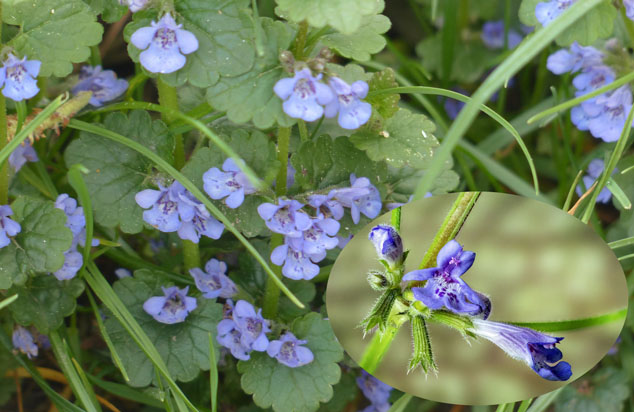 Ground ivy health benefits are a folk medical bonus from this beautiful little garden weed. Herbal physicians have used it for centuries. Now you can, too.
Image by Hans from Pixabay
What is the Ground Ivy Herb?
First off, like so many plant common names, 'ground ivy' is a bit misleading. It's not really ivy. It's classified in the mint family (Lamiaceae), under the scientific name Glechoma hederacea. Its name reflects its 'ivy-like' nature – hederacea is taken from true English ivy (Hedera helix, Araliaceae).
However, that's where the resemblance stops and the herbal medical applications begin.
Here are the main applications for health.
Top Ground Ivy Health Benefits
Ground ivy has been well-known throughout its folk medical history as a 'drying and draining' herb. Specifically, it helps mucosal drainage and lymphatic flow through ear-nose-throat channels.
These properties directly enhance the immune system
Ground ivy is also one of the few herbs known to helps against tinnitus, earaches, and sinus infections.
Help for Headaches
Fluid stagnation in the sinuses and ears can lead to headaches. Symptoms include stuffiness, heaviness, or a feeling of pressure.
This is where relief by ground ivy really comes to the rescue.
Lymphatic Flow
The lymphatic system isn't actively pumped. It relies more on free flow, which can be interrupted easily.
Ground ivy is particularly good at enhancing lymph flow at the neck and above. It also has some effect in the chest area.
The bonus is its diuretic effect. Boosting lymphatic flow generates excess fluid, so ground ivy health benefits include helping to get rid of it.
As with any lymphatic agent, all that drained fluid has to go somewhere! Ground Ivy has a diuretic effect due to the movement of these fluids toward the kidneys. It's always a good idea to combine diuretics with lymphatics; with Ground Ivy, you get both in one herb!
Ground Ivy Herb for Tinnitus
Regarding ground ivy herb for tinnitus, it is most effective against vascular flow cause. It doesn't help a lot against noise-related damage – rock concerts, major sports events, jackhammers, hunting or target practice with guns.
A Health Smorgasbord
Since it has a long folk medical history, ground ivy has acquired a reputation as an excellent herb for several other conditions.
These include mild lung problems, bronchitis, coughing.
When taken by mouth, it's also helpful against arthritis and other joint pain, stomach problems, diarrhea, ringing in the ears, UTIs, bladder and kidney stones. Historically women have also seen benefits against menstrual problems.
Some have also seen help when ground ivy tinctures are applied directly to the skin. It provides relief against wounds, sunburn, and ulcerations.
Where to Get Ground Ivy
Since this herb is so common, it's easy to find seeds for growing your own or pre-packaged dried material for making teas and decoctions.
Grow Your Own Ground Ivy Herb
If you're of a mind to add it to your garden, seeds are easy to find online, if not at your local nurseries.
In fact, they're pretty inexpensive when ordering online (e.g., here).
It's super easy to grow, so adding it to your garden is pretty straightforward.
In fact, it's so weedy that it may be hard to get it to stop growing! In that regard it takes after many other kinds of garden mints.
Dried Ground Ivy Herb Online
If your local herb or health food store doesn't carry it, you can get a bag of dried leaves online here.
Ground Ivy Supplements
The easiest way to use ground ivy is as a supplement. It commonly comes as an alcohol/glycerin extract (e.g., here).
How to Take Ground Ivy
Depending on how you harvest or purchase it – dried vs fresh – it can be consumed in salads or in teas.
As a tea, it's best prepared by steeping about a tsp. of dried material in a cup or so of nearly boiling water for 10-15 minutes. Strain if if you wish, although I prefer to consume the 'dregs' with the tea for an extra ingredient boost.
Comments or Questions?
I'd love to hear from you. This and every other post here provides a comment section at the end of the post, exactly for that purpose.
So, by all means, leave me your thoughts.
I would be especially grateful if you point out any flaws in my logic, factual errors, or ordinary typos. (I'll give you a little 'huzzah' in my heart.)
Then I'll respond as soon as I can.
References
Research on the phytochemicals produced by ground ivy first appeared in the scientific literature in 1973. Since then many other chemical analyses have appeared, along with evaluations of different activities of several classes of natural products.
The following research articles give you a good idea of what aspects of the folk medical history of ground ivy have been confirmed by modern science.
An HJ, Jeong HJ, Um JY, Kim HM, Hong SH. Glechoma hederacea inhibits inflammatory mediator release in IFN-gamma and LPS-stimulated mouse peritoneal macrophages. J Ethnopharmacol. 2006 Jul 19;106(3):418-24. doi: 10.1016/j.jep.2006.01.024. Epub 2006 Mar 10. PMID: 16530364. https://pubmed.ncbi.nlm.nih.gov/16530364/
Belščak-Cvitanović A, Durgo K, Bušić A, Franekić J, Komes D. Phytochemical attributes of four conventionally extracted medicinal plants and cytotoxic evaluation of their extracts on human laryngeal carcinoma (HEp2) cells. J Med Food. 2014 Feb;17(2):206-17. doi: 10.1089/jmf.2013.0071. Epub 2013 Dec 10. PMID: 24325458. https://pubmed.ncbi.nlm.nih.gov/24325458/
Chao WW, Chan WC, Ma HT, Chou ST. Phenolic acids and flavonoids-rich Glechoma hederacea L. (Lamiaceae) water extract against H2 O2 -induced apoptosis in PC12 cells. J Food Biochem. 2022 Jan;46(1):e14032. doi: 10.1111/jfbc.14032. Epub 2021 Dec 16. PMID: 34914114. https://pubmed.ncbi.nlm.nih.gov/34914114/
Chao WW, Liou YJ, Ma HT, Chen YH, Chou ST. Phytochemical composition and bioactive effects of ethyl acetate fraction extract (EAFE) of Glechoma hederacea L. J Food Biochem. 2021 Jul;45(7):e13815. doi: 10.1111/jfbc.13815. Epub 2021 Jun 14. PMID: 34121206. https://pubmed.ncbi.nlm.nih.gov/34121206/
Cho K, Choi YJ, Ahn YH. Identification of Polyphenol Glucuronide Conjugates in Glechoma hederacea var. longituba Hot Water Extracts by High-Performance Liquid Chromatography-Tandem Mass Spectrometry (HPLC-MS/MS). Molecules. 2020 Oct 14;25(20):4713. doi: 10.3390/molecules25204713. PMID: 33066625; PMCID: PMC7587362. https://pubmed.ncbi.nlm.nih.gov/33066625/
Chou ST, Ho BY, Tai YT, Huang CJ, Chao WW. Bidirect effects from cisplatin combine with rosmarinic acid (RA) or hot water extracts of Glechoma hederacea (HWG) on renal cancer cells. Chin Med. 2020 Jul 29;15:77. doi: 10.1186/s13020-020-00358-2. PMID: 32760434; PMCID: PMC7391823. https://pubmed.ncbi.nlm.nih.gov/32760434/
Chou ST, Lin TH, Peng HY, Chao WW. Phytochemical profile of hot water extract of Glechoma hederacea and its antioxidant, and anti-inflammatory activities. Life Sci. 2019 Aug 15;231:116519. doi: 10.1016/j.lfs.2019.05.075. Epub 2019 May 30. PMID: 31152813. https://pubmed.ncbi.nlm.nih.gov/31152813/
El-Aasr M, Nohara T, Ikeda T, Abu-Risha SE, Elekhnawy E, Tawfik HO, Shoeib N, Attia G. LC-MS/MS metabolomics profiling of Glechoma hederacea L. methanolic extract; in vitro antimicrobial and in vivo with in silico wound healing studies on Staphylococcus aureus infected rat skin wound. Nat Prod Res. 2022 Aug 9:1-5. doi: 10.1080/14786419.2022.2108421. Epub ahead of print. PMID: 35942893. https://pubmed.ncbi.nlm.nih.gov/35942893/
Grabowska K, Amanowicz K, Paśko P, Podolak I, Galanty A. Optimization of the Extraction Procedure for the Phenolic-Rich Glechoma hederacea L. Herb and Evaluation of Its Cytotoxic and Antioxidant Potential. Plants (Basel). 2022 Aug 26;11(17):2217. doi: 10.3390/plants11172217. PMID: 36079600; PMCID: PMC9460379. https://pubmed.ncbi.nlm.nih.gov/36079600/
Ha JH, Kang WH, Lee JO, Cho YK, Park SK, Lee SK, Cho HK. Clinical evaluation of the depigmenting effect of Glechoma Hederacea extract by topical treatment for 8 weeks on UV-induced pigmentation in Asian skin. Eur J Dermatol. 2011 Mar-Apr;21(2):218-22. doi: 10.1684/ejd.2010.1232. PMID: 21411411. https://pubmed.ncbi.nlm.nih.gov/21411411/
Hahm YH, Cho K, Ahn YH. Compositional Characteristics of Glucuronide Conjugates in Regional Glechoma hederacea var. longituba Herbal Extracts Using a Set of Polyphenolic Marker Compounds. Plants (Basel). 2021 Oct 30;10(11):2353. doi: 10.3390/plants10112353. PMID: 34834716; PMCID: PMC8625983. https://pubmed.ncbi.nlm.nih.gov/34834716/
Henry DY, Gueritte-Voegelein F, Insel PA, Ferry N, Bouguet J, Potier P, Sevenet T, Hanoune J. Isolation and characterization of 9-hydroxy-10-trans,12-cis-octadecadienoic acid, a novel regulator of platelet adenylate cyclase from Glechoma hederacea L. Labiatae. Eur J Biochem. 1987 Dec 30;170(1-2):389-94. doi: 10.1111/j.1432-1033.1987.tb13712.x. Erratum in: Eur J Biochem 1988 Mar 15;172(3):784. PMID: 3691528. https://pubmed.ncbi.nlm.nih.gov/3691528/
Hwang JK, Erkhembaatar M, Gu DR, Lee SH, Lee CH, Shin DM, Lee YR, Kim MS. Glechoma hederacea Suppresses RANKL-mediated Osteoclastogenesis. J Dent Res. 2014 Jul;93(7):685-90. doi: 10.1177/0022034514536579. Epub 2014 May 21. PMID: 24850617; PMCID: PMC4293732. https://pubmed.ncbi.nlm.nih.gov/24850617/
Kikuchi M, Goto J, Noguchi S, Kakuda R, Yaoita Y. Glycosides from whole plants of Glechoma hederacea L. J Nat Med. 2008 Oct;62(4):479-80. doi: 10.1007/s11418-008-0264-x. Epub 2008 Jun 17. PMID: 18553179. https://pubmed.ncbi.nlm.nih.gov/18553179/
Kim DH, Ham SL, Khan Z, Kim SY, Choi SU, Kim CS, Lee KR. Terpenoids from Glechoma hederacea var. longituba and their biological activities. Beilstein J Org Chem. 2022 May 17;18:555-566. doi: 10.3762/bjoc.18.58. PMID: 35651699; PMCID: PMC9127242. https://pubmed.ncbi.nlm.nih.gov/35651699/
Kim J, Lee I, Ha D, Seo J, Min B, Yoo I, Bae K. New sesquiterpene lactones from Glechoma hederacea L. and their cytotoxic effects on human cancer cell lines. Planta Med. 2011 Jun;77(9):955-7. doi: 10.1055/s-0030-1250665. Epub 2011 Jan 17. PMID: 21243589. https://pubmed.ncbi.nlm.nih.gov/21243589/
Kim J, Song S, Lee I, Kim Y, Yoo I, Ryoo I, Bae K. Anti-inflammatory activity of constituents from Glechoma hederacea var. longituba. Bioorg Med Chem Lett. 2011 Jun 1;21(11):3483-7. doi: 10.1016/j.bmcl.2011.02.002. Epub 2011 Feb 5. PMID: 21530248. https://pubmed.ncbi.nlm.nih.gov/21530248/
Kühn H, Wiesner R, Alder L, Schewe T. Occurrence of free and esterified lipoxygenase products in leaves of Glechoma hederacea L. and other Labiatae. Eur J Biochem. 1989 Dec 8;186(1-2):155-62. doi: 10.1111/j.1432-1033.1989.tb15190.x. PMID: 2598926. https://pubmed.ncbi.nlm.nih.gov/2598926/
Kumarasamy Y, Cox PJ, Jaspars M, Nahar L, Sarker SD. Biological activity of Glechoma hederacea. Fitoterapia. 2002 Dec;73(7-8):721-3. doi: 10.1016/s0367-326x(02)00237-x. PMID: 12490241. https://pubmed.ncbi.nlm.nih.gov/12490241/
Milovanovic M, Zivkovic D, Vucelic-Radovic B. Antioxidant effects of Glechoma hederacea as a food additive. Nat Prod Commun. 2010 Jan;5(1):61-3. PMID: 20184023. https://pubmed.ncbi.nlm.nih.gov/20184023/
Oalđe M , Kolarević S , Živković J , Alimpić Aradski A , Jovanović Marić J , Kračun Kolarević M , Đorđević J , Marin PD , Šavikin K , Vuković-Gačić B , Duletić-Laušević S . A comprehensive assessment of the chemical composition, antioxidant, genoprotective and antigenotoxic activities of Lamiaceae species using different experimental models in vitro. Food Funct. 2021 Apr 7;12(7):3233-3245. doi: 10.1039/d1fo00447f. Epub 2021 Mar 23. PMID: 33877247. https://pubmed.ncbi.nlm.nih.gov/33877247/
Pereira AG, Fraga-Corral M, García-Oliveira P, Jimenez-Lopez C, Lourenço-Lopes C, Carpena M, Otero P, Gullón P, Prieto MA, Simal-Gandara J. Culinary and nutritional value of edible wild plants from northern Spain rich in phenolic compounds with potential health benefits. Food Funct. 2020 Oct 21;11(10):8493-8515. doi: 10.1039/d0fo02147d. PMID: 33034610. https://pubmed.ncbi.nlm.nih.gov/33034610/
Qiao Z, Koizumi Y, Zhang M, Natsui M, Flores MJ, Gao L, Yusa K, Koyota S, Sugiyama T. Anti-melanogenesis effect of Glechoma hederacea L. extract on B16 murine melanoma cells. Biosci Biotechnol Biochem. 2012;76(10):1877-83. doi: 10.1271/bbb.120341. Epub 2012 Oct 7. PMID: 23047099. https://pubmed.ncbi.nlm.nih.gov/23047099/
Šeremet D, Jokić S, Aladić K, Butorac A, Lovrić M, Tušek AJ, Obranović M, Mandura Jarić A, Vojvodić Cebin A, Carović-Stanko K, Komes D. Comprehensive Study of Traditional Plant Ground Ivy (Glechoma hederacea L.) Grown in Croatia in Terms of Nutritional and Bioactive Composition. Foods. 2022 Feb 23;11(5):658. doi: 10.3390/foods11050658. PMID: 35267291; PMCID: PMC8909519. https://pubmed.ncbi.nlm.nih.gov/35267291/
Šeremet D, Štefančić M, Petrović P, Kuzmić S, Doroci S, Mandura Jarić A, Vojvodić Cebin A, Pjanović R, Komes D. Development, Characterization and Incorporation of Alginate-Plant Protein Covered Liposomes Containing Ground Ivy (Glechoma hederacea L.) Extract into Candies. Foods. 2022 Jun 20;11(12):1816. doi: 10.3390/foods11121816. PMID: 35742016; PMCID: PMC9222263. https://pubmed.ncbi.nlm.nih.gov/35742016/
Sile I, Krizhanovska V, Nakurte I, Mezaka I, Kalane L, Filipovs J, Vecvanags A, Pugovics O, Grinberga S, Dambrova M, Kronberga A. Wild-Grown and Cultivated Glechoma hederacea L.: Chemical Composition and Potential for Cultivation in Organic Farming Conditions. Plants (Basel). 2022 Mar 18;11(6):819. doi: 10.3390/plants11060819. PMID: 35336701; PMCID: PMC8949430. https://pubmed.ncbi.nlm.nih.gov/35336701/
Wang W, Peumans WJ, Rougé P, Rossi C, Proost P, Chen J, Van Damme EJ. Leaves of the Lamiaceae species Glechoma hederacea (ground ivy) contain a lectin that is structurally and evolutionary related to the legume lectins. Plant J. 2003 Jan;33(2):293-304. doi: 10.1046/j.1365-313x.2003.01623.x. PMID: 12535343. https://pubmed.ncbi.nlm.nih.gov/12535343/
Wang YY, Lin SY, Chen WY, Liao SL, Wu CC, Pan PH, Chou ST, Chen CJ. Glechoma hederacea extracts attenuate cholestatic liver injury in a bile duct-ligated rat model. J Ethnopharmacol. 2017 May 23;204:58-66. doi: 10.1016/j.jep.2017.04.011. Epub 2017 Apr 14. PMID: 28416441. https://pubmed.ncbi.nlm.nih.gov/28416441/
Xiao M, Yang M, Ji X, Li D, Xie Y, Lyu Y, Zuo Z. Protective effect of Glechoma hederacea extract against gallstone formation in rodent models. BMC Complement Med Ther. 2021 Jul 14;21(1):199. doi: 10.1186/s12906-021-03368-1. PMID: 34261471; PMCID: PMC8278774. https://pubmed.ncbi.nlm.nih.gov/34261471/
Zieba J. Isolation and identification of non-heteroside triterpenoids from Glechoma hederacea L. Pol J Pharmacol Pharm. 1973 Nov-Dec;25(6):587-92. PMID: 4792479. https://pubmed.ncbi.nlm.nih.gov/4792479/
Zieba J. Isolation and identification of flavonoids from Glechoma hederacea L. Pol J Pharmacol Pharm. 1973 Nov-Dec;25(6):593-7. PMID: 4792480. https://pubmed.ncbi.nlm.nih.gov/4792480/
All the best in natural health,

DISCLAIMER
Statements on this page have not been evaluated by the Food and Drug Administration. This product is not intended to diagnose, treat, cure, or prevent any disease.
This site contains affiliate links to products.
I may receive a commission for purchases made through these links.