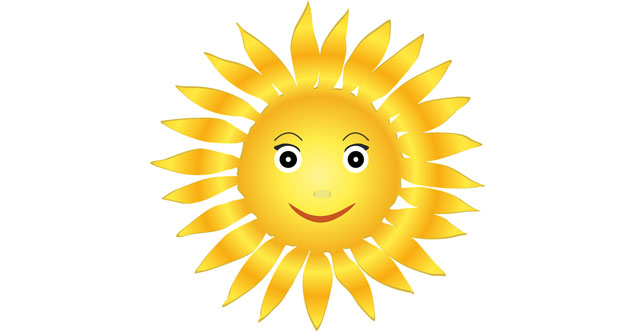 Mother Nature provides a veritable Swiss Army Knife of natural tools for fighting viral infections. The best one is totally ignored by mainstream medicine.
That tool is: sunshine.
It works in multiple ways for good health. Unfortunately, sunshine is considered to be dangerous to human health according to conventional 'wisdom'.
That dogmatic view is pure idiocy.
If sunshine were dangerous to us, we wouldn't be here.
After all, we evolved in sunshine. We adapted to sunshine. Sunshine is our life source.
Every molecule in our bodies contains electrons from the sun.
We get electrons from the sun indirectly via our food, which is produced with the energy of sunlight by photosynthesis in green plants.
More importantly, we get electrons directly from sunlight via Einstein's photoelectric effect through our eyes and on our skin.
Shame on modern medicine for scaring the bejeesus out of people about sunshine.
Part 1 of this two-part series talked about one of the two most commonly overlooked natural tools for preventing and treating viral infections. Today's article addresses the other.
General Health Benefits of Sunshine
Your health depends on direct exposure to sunshine in countless ways. The best-known include a cascade of benefits requiring vitamin D.
I don't want this post to devolve into another 'hubba-hubba' story about sunshine and vitamin D. I've covered this topic a little already, here: Heliophobia Makes Modern Disease for One and All.
In addition, for the truly interested, it was reviewed in some detail in scientific journals more than a decade ago. Two of those reviews are:
Mead MN. 2008. Benefits of Sunlight: A Bright Spot for Human Health. Environ Health Perspect. 116(4): A160–A167.
Borradale D and Kimlin M. 2009. Vitamin D in health and disease: an insight into traditional functions and new roles for the 'sunshine vitamin'. Nutr Res Rev. 22(2): 118-136.
Besides its well-known role in bone health, a growing focus on vitamin D has entailed its impact on the immune system. For example:
Aranow C. MD. 2011. Vitamin D and the Immune System. J Investig Med. 59(6): 881–886.
The subject of sunshine for health was reviewed more recently in a less jargony online magazine article written for the public (i.e., a little easier to understand), here:
Jacobsen R. 2019. Is Sunscreen the New Margarine? Current guidelines for sun exposure are unhealthy and unscientific, controversial new research suggests—and quite possibly even racist. How did we get it so wrong? Outside Jan. 10, 2019.
If you're a bit pressed for time and would rather skip all that 'assigned' reading, then just remember these three main points:
UVB light (e.g., from sunshine) is the only source of energy we have for synthesizing vitamin D3 sulfate from cholesterol in our skin.
Dietary and supplemental vitamin D are far, far inferior to vitamin D3 sulfate for total body health benefits.
Naturally made vitamin D3 (i.e., the sulfated form) is a crucial component of our immune system.
With that background, we can now get to the main thrust of this post – i.e., the role of sunshine against viral infections. As you will see, it's much more than a vitamin D story.
The Basic Foundation
As explained in Part 1, good health depends on a proper day-night light regime every 24 hours. The light we respond to best is from sunshine. Two key hormones for circadian living – melatonin and cortisol – lead the way for explaining these responses.
In other words, health benefits of circadian living and sunshine are closely tied to one another.
This includes resistance to viral infections. Let's peek further into the second factor, sunshine.
Antiviral Defenses Requiring Sunshine
Full spectrum light from the sun provides a number of affects, both indirect and direct.
The Triple Whammy
As previously mentioned, the first 'whammy' for sunshine is its role in making vitamin D. This means sunshine, through the activity of vitamin D, indirectly stimulates immune cells to make a protein called cathelicidin. This protein is found on T cells within our skin. These cells comprise one of the more important types of white blood cells of the immune system.
The second 'whammy' is more direct. It's the use of energy from the sun's UV and infrared light for assembling cathelicidin itself.
Finally, a third 'whammy' is how sunlight boosts hydrogen peroxide production in T cells. Since peroxide makes T cells move, this mechanism speeds up the movement of T cells to a site of infection. This boosts the immune response by getting T cells to infections faster.
Controlling High Blood Pressure
Another indirect antiviral mechanism of the sunshine vitamin against certain viral infections is its inhibition of the hormone renin in our kidneys. The inhibition of renin helps protect us from developing high systolic blood pressure. Regarding viral infections, this activity aids one of the most susceptible groups to COVID-19 – i.e., those with hypertension. It's a key co-morbidity that makes COVID-19 more dangerous.
The role of the renin system is now a hot topic in studies on how it responds to SARS-CoV-2. Drugs for lowering blood pressure may help, although the jury is still out on that possibility. The same goes for sunshine. Regarding the latter, one of the research challenges is evaluating how much sunshine exposure people actually get.
So far the general trend is an inverse correlation between sun exposure and COVID-19. I.e., more sun equals reduced infection rates and fewer mortalities. This review provides a fairly detailed understanding of what we know at this time:
Wiese OJ et al. 2020. COVID-19 and the renin-angiotensin system (RAS): A spark that sets the forest alight? Med Hypotheses 144: 110231.
A direct lowering of blood pressure also occurs when UV light stimulates the production of nitric oxide (NO) in skin. NO causes tissue lining the arteries to relax and expand, thereby easing blood flow.
Energizing Antiviral Blood Plasma
The highest energy UV light – UVC – is directly antiviral. Normally it's very dangerous for us. Fortunately for us, UVC is filtered out by the atmosphere before it reaches the Earth's surface.
Nevertheless, we can make it internally. This happens when UVA & UVB light hit our skin and put a quantum physical pressure on deuterium ("heavy" hydrogen) in blood plasma. This causes deuterium to 'light up' by emitting UVC light.
Internally generated UVC light is such a bonus benefit from sunshine that I recently posted a separate article on it here: Antiviral "Drugs" Your Body Makes – Unsung Superheroes. Fun stuff.
Of course, keep in mind that clothing and sunscreen block out UV light from sunshine. Meaning they also undermine one of Mother Nature's best tools for fighting viral infections.
Speeding Up Recovery
Boosting your resistance to viral infections clearly means getting plenty of sunshine.
What about COVID-19? It's still early. However, a few researchers are starting to put together ideas on how sunshine might reduce damage by SARS-CoV-2. For example:
Gorman S and Weller RB. 2020. Investigating the Potential for Ultraviolet Light to Modulate Morbidity and Mortality From COVID-19: A Narrative Review and Update. Front Cardiovasc Med 7: 616527.
Asyary A. and Veruswati M. 2020. Sunlight exposure increased Covid-19 recovery rates: A study in the central pandemic area of Indonesia. Science of The Total Environment 729: 139016.
Regarding that article by Asyary and Veruswati, isn't it ironic that one of the potentially best COVID-19 recovery tools – sun exposure – is being taken more seriously in a developing country than in the U.S.?
How Much Sun Exposure?
A recent article in my favorite drug rag (AARP magazine) advised a daily 15-minute exposure to sunshine between about 10:00 AM and 2:00 PM. That's mostly to raise vitamin D levels during peak hours for UVB radiation.
This advice is so simple-minded as to be 'Three-Stoogian'. (Yeah, I made that up. You get the picture.)
Many factors have to be considered for getting the right dose of sunshine. Skin type, skin color, latitude, season, weather, elevation, and time of day are the most important ones.
Skin type: The Fitzpatrick scale classifies skin types based on their response to UV light. The most responsive is Type I, the palest, which supposedly never tans. The least responsive is Type VI, the darkest, which supposedly never burns.
Skin color: the darker the skin, the more UV is filtered out.
Latitude: Sunshine is strongest at the equator and diminishes with increasing north or south latitude.
Season: Sunshine intensities are stronger in summer than in winter.
Weather: Cloudy and rainy/snowy weather effectively eliminates UVB from reaching the Earth's surface. UVA levels drop, too, although not as much as UVB.
Higher elevations have thinner air, so the hit from UV light is stronger as you rise above sea level.
Time of day: UVA levels begin to rise in the morning and taper later in the afternoon; UVB peaks between late morning and early afternoon (e.g., 10:00 AM to 2:00 PM).
Evaluating the impacts of so many variables can be a challenge. Some are easier to know than others. For example, if it's January and you're living in Wisconsin, you have no chance of getting UVB light from sunshine.
In my neck of the woods – central Arizona – 30 minutes around noon in winter still gives me reddish splotches on my chest, indicating arterioles (small vessels) coming closer to the surface of my skin. (Surfaced arterioles enable blood plasma a better hit of UV light, so this is a good thing.)
The results are what matters, regardless of any of those variables. Two are particularly simple to figure out.
One is your vitamin D level. This does require a lab test, so it may cost something. Typically it's around $100-$200, depending on your insurance company. For us senior folks, Medicare covers an annual physical that includes a vitamin D test, specifically 25-hydroxy vitamin D.
The 'normal' reference range for 25-hydroxy vitamin D is 30-100 ng/mL. Optimal is 70-125 ng/mL. My own vitamin D biohack started with a baseline level of 37 in 2011. It increased gradually with plenty of sunshine year round, to my latest level of 50.6. This increase came without supplementation, so it reflects the true level of vitamin D3 sulfate. (The test doesn't distinguish between sulfated [natural] and non-sulfated [supplemental] vitamin D.)
The second, and much simpler, way to evaluate the impact of sunshine on your skin is a 'mirror test'. If you see a pasty-skinned person staring back at you, you're natural vitamin D level is undoubtedly low. In other words, you're more susceptible to viral infections because you don't have sufficient amounts of vitamin D for good immune function.
SIDENOTE: Failed immune function due to low vitamin D levels can also lead to higher incidences of certain types of cancer. The highest rates of breast cancer, for example, occur in women whose skin never sees the light of day. Their vitamin D levels typically hover around 9 ng/mL. (For more details, see this earlier post: Breast Cancer Awareness Failure).
Regardless of all the variables above about how much sunshine is best, that list misses the most important indicator of all. It's your individual response to it – i.e., by making something called your solar callus.
The Forgotten Variable
The simplest description of a solar callus is: the amount of sunshine you can tolerate without burning.
Your skin is built to absorb sunlight. To do so efficiently, you must have a well-developed solar callus. This is the "callus' that enables your skin to withstand UV radiation without burning. People with a poor solar callus burn easily. People with a healthy solar callus can absorb massive amounts of the UV light with impunity.
The best way to start building your solar callus is by getting early morning sunshine on your skin. Early morning sunshine provides a strong dose of infrared light (IR-A) before any of the sun's UV wavelengths (UVB, UVA) reach the Earth's surface. Morning light also provides a healthy balance of red and blue wavelengths that support skin health.
Emphasis here is on the natural balance of wavelengths in sunshine. Upsetting this balance with artificial lights or tech devices that have unnatural blue light spikes will undermine this process.
This is the point that dermatologists seem to be clueless about. Morning sunshine starts building your solar callus so you can reap the benefits of UV light later in the day.
The more fit your solar callus is, the more resistant you are to sunburn. A few minutes of sunshine in the early morning builds your ability to be in the sun without burning. In fact, you can "test" your solar callus by noting how long you can stay in the mid-day sun before you get that familiar feeling of the "burn."
As the day proceeds, more UVA light hits the surface of the Earth, followed by an increasing amount of UVB light (aka, the light you need for making vitamin D3).
Late afternoon light, approaching sunset, will also provide the right mix of infrared, blue, and red wavelengths for building your solar callus.
In short, building your solar callus depends on exposing as much of your skin to sunshine as possible, right after sunrise, all the way through the rest of the early morning. Depending on your skin type, you can start seeing signs of a better solar callus within a month or so. During that time your skin will also begin to tan, which is another indicator of your skin's ability to respond to sunshine appropriately.
One more thing. Certain kinds of pigments, called carotenoids, contribute to healthy skin by absorbing sunshine. The explanation for how they work is very complicated, so I'll just point out what the best carotenoid is for skin health.
It's called astaxanthin. It appears as a bright red-orange color in seafood. The most common food sources are krill and larger crustaceans (e.g., shrimp), certain types of algae, and salmon.
Astaxanthin supplements are also widely available
In addition, you may already know that carotenoids are also produced by plants. However, plant-based carotenoids (e.g., beta-carotene) are much less effective for skin health than are carotenoids from seafood.
OK – There You Have It
This post, along with Part 1 of this series, give you a heads up on what you might be missing for your resistance to infectious disease.
The concepts are pretty simple. You'll be better equipped to resist and overcome infections if you live a circadian lifestyle that includes plenty of exposure so sunshine.
I know these two posts may seem to be full of blather in support of those two recommendations. Nevertheless, I enjoyed writing them and I hope you have enjoyed reading them.
More importantly, I hope you take positive action on based on what I've said. After all, you're in the driver's seat when it comes to your own health.
All the best in natural health,

DISCLAIMER
Statements on this page have not been evaluated by the Food and Drug Administration. This product is not intended to diagnose, treat, cure, or prevent any disease.