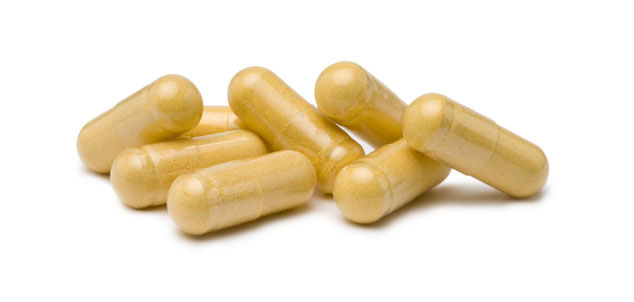 Good luck if you rely only on modern food for good health. No matter what you eat, your diet will be deficient in many, many nutrients. That means that your body will be, too.
Maybe your nutritional deficiencies will begin to show up in seemingly small health problems, or maybe they will show up in disastrous ones. The absolute certainty is that they will show up.
People in different cultures are famous for living to 100 years old in good health. The question is, why don't more people do so? One part of the answer is, of course, poor nutrition. This is where multivitamins come in handy. They are the foundation for making up for modern nutrient-deficient foods.
The purpose of this article is to give you some ideas on what to look for when it comes to finding a good multivitamin supplement. Fortunately, there are some excellent ones on the market. Unfortunately, there is also plenty of absolute crap that you should avoid.
Modern Food and Nutrition
You may have heard nutritionists over the years often comment that the best nutrition is from whole foods. In theory, that is correct. Unfortunately, it is not possible in practice. The reality is that modern whole foods have been selected for many characteristics that involve how easy they are to grow, how good they look, how big they can get, and how economically they can be produced by the agribusiness industry. A bonus also includes how sweet they can be made to taste.
Notice that nutritional value is not on that list. Indeed, nutritional value has diminished in whole foods over time.
Of course, this is a gigantic topic that has been the subject of numerous books and documentaries. If you, like me, still like to read, the best book on the topic of how our whole foods have been artificially altered over the past couple of centuries is Eating on the Wild Side: The Missing Link to Optimum Health by Jo Robinson (also see her website: eatwild.com). She offers plenty of advice on how to eat better, although doing so is costly either in time or money. Or both.
You are still going to need dietary supplements, starting with a good multivitamin.
What Do You Need Exactly?
There is no single answer to this question for everyone. Countless factors underlie what any one person needs regarding supplements: general health status, age, gender, hormone balance, many lifestyle choices, etc. For this reason, keep in mind that multivitamins are just a starting point.
To begin with, though, at least you should know what to look for as a basic nutritional foundation. This is where reading and understanding ingredients labels is really going to help.
Supplement Labels
Federal governments are in the habit of providing nutritional recommendations. These include what you might already have heard of as the Recommended Dietary Allowance (RDA) for many nutrients. It is nice of the feds to provide this information so you can determine what you might need in the way of supplementation. However, federal guidelines are often based on the minimum dose for preventing symptoms of deficiency. RDAs do not, however, represent dosages for optimum health.
Sometimes the RDAs are somewhat higher than what you need for preventing disease symptoms. For example, 10-20 mg of vitamin C is all that you need for preventing scurvy. The RDA, however, is 90 mg. Although this dose will certainly prevent scurvy, it if far, far too low to be an optimal amount for good health. An optimal dose is closer to 1,000 mg.
Updates on RDAs often do not keep up with modern research. Nevertheless, a fairly up-to-date list is available at ConsumerLabs.com here: Recommended Daily Intakes and Upper Limits for Nutrients. Note that RDAs vary somewhat from children to adults and between males and females. Keep that in mind when looking at the table below, in which I've selected RDAs that are typical for adult males.
Rather than dig into the history of RDAs for every ingredient that can be included in a multivitamin supplement, let's instead take a look at what the RDAs are for some of the more important nutrients and how two brands stack up in comparison.
The first brand is the one that I take: Nutrient 950 by Pure Encapsulations (more on where to get it later in this article). The second brand is an example of one of the absolute worst multivitamins I have ever seen: Centrum by Pfizer.
A summary table (below) give you a good idea of what to look for as a comparison. In some ways, though, this is too superficial of a comparison. Different nutrients have multiple forms that are also important for your consideration. I will comment on some of these below the table.
Equally important is the list of Other Ingredients in each product. It is valuable to know what other kinds of things are included in a supplement. You may be surprised to see that some of them can actually include what chemists like me know as toxic crap that should never go into your body. You can probably already guess which brand contains such things. I will also comment on these additives below.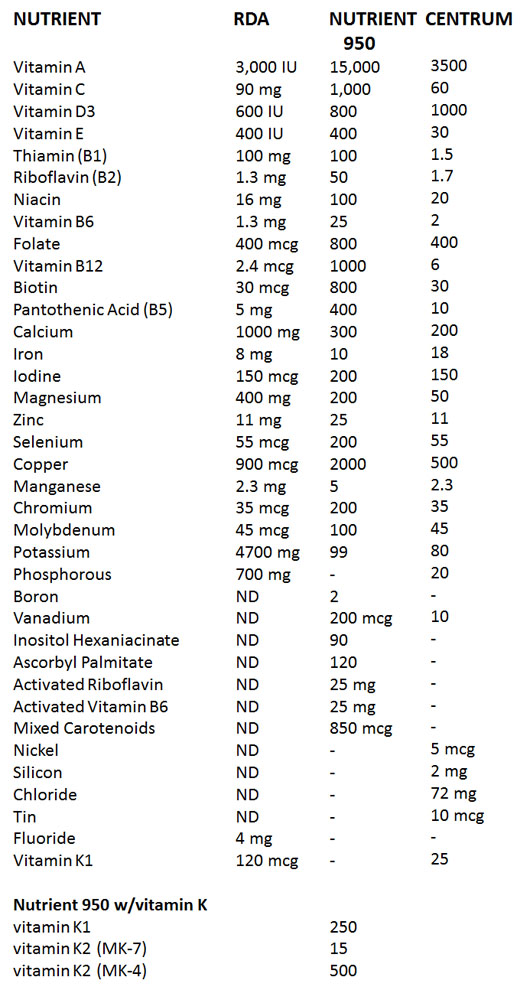 General Pointers
The recommended serving size (daily dose) of each product is informative. A daily serving of Nutrient 950 is 6 capsules, whereas that of Centrum is 1 tablet.
There is no way that a single tablet of anything can provide sufficient amounts of basic nutrients. In fact, as you will see, even 6 capsules a day is short on a few. This just means that, even taking the best multivitamin on the market will still require that you add certain other supplements to your daily regimen.
Specific Pointers
Some of the ingredients on the list are a bit tricky. These include the following:
Vitamin E
Vitamin E actually consists of several forms. The most common one is d-alpha-tocopherol. This is the form provided by Nutrient 950. In contrast, the label on Centrum is for dl-alpha-tocopherol. This is a significant difference. The d form is biologically active in humans, whereas the l form is not. Seeing dl on a label means that half of the amount is useless as a vitamin. (If you are curious, a 50-50 mixture of the two forms is the result of a laboratory synthesis of alpha-tocopherol, not a biologically derived enzymatic synthesis. The latter yields only the d form.)
Vitamin B12
Methylcobalamin (Nutrient 950) is much more biologically available than cyanocobalimin (Centrum). Furthermore, the RDA of 2.3 mcg is ridiculously low.
Folate
Folate is super important for many reasons. However, the folic acid form in Centrum is much less useful than the MTHF (5-tetrahydrofolate) form that is in Nutrient 950. Whatever multivitamin you end up choosing should indicate the inclusion if MTHF, not folic acid.
Calcium
The requirements for calcium vary quite a bit depending on its metabolism in the body. In some circles, calcium supplementation is viewed as superfluous, since the body already has a huge source for all its needs: the skeleton. Multivitamin supplements almost never even measure up to the RDA of 1000 mg.
If your calcium metabolism is out of whack (e.g., osteopenia or osteoporosis), taking supplemental calcium is nearly useless. You absolutely have to get your calcium metabolism back on track first. This is where other minerals play a crucial role, especially magnesium.
Note also that the calcium in Centrum is in the form of calcium carbonate (aka, oyster shell calcium or rocks), which is the cheapest form of supplemental calcium. In contrast, the form in Nutrient 950 is calcium citrate, which is more easily metabolized.
Iron
The need for iron is highly variable and somewhat controversial. Nutrient 950 therefore also includes a product without iron.
Iodine
Iodine deficiency is epidemic. It is a worldwide health disaster. The RDA of iodine (150 mcg) is so small as to be irrelevant, in my opinion idiotically so. Multivitamins consistently fail to provide enough. They also generally only include potassium iodide, which is just one of the two essential forms of this crucial mineral.
This means that, regardless of which multivitamin you choose, you absolutely must add supplemental iodine to your daily regimen. This is such an important topic that I wrote a separate article dedicated to it here: Most Important Mineral For Optimal Health.
Magnesium
If I were to select the two most deficient minerals in the entire worldwide population, I would add magnesium to the list along with iodine. The quantities of magnesium in most multivitamin supplements are insufficient. This includes both of the brands in the table above.
Furthermore, the forms of magnesium in Centrum are magnesium stearate and magnesium oxide. Super cheap and not very useful. The magnesium citrate in Nutrient 950 is much more bioavailable.
Potassium
Notice the huge discrepancy between the RDA of potassium (4700 mg) and the low amounts in both of the brands in the table above. This is because taking too much potassium at one time is dangerous to your heart. In this case, taking a small amount of the RDA in supplement form is truly supplemental to food sources of potassium.
Simply be sure to consume a number of foods from this list to get enough potassium: Food Sources of Potassium.
Phosphorous
Most people get plenty of phosphorus from foods. Indeed, it is more common to have too much phosphorus than too little. Kidney disease or eating too much phosphorus and not enough calcium can lead to an excess of phosphorous. Supplemental phosphorous is generally not a critical mineral. Exceptions include certain health conditions such as diabetes and alcoholism or with the overuse of medications, including some antacids. These factors can cause phosphorus levels to drop too low.
Fluoride
The RDA for fluoride is stupid. We have no metabolic use for it. Indeed, fluoride outcompetes iodine on what should be normal iodine receptors in nearly every cell in the body. In other words, fluoride contributes to the already existing health disasters caused by iodine deficiency.
Vitamin K
Vitamin K1 (phytonadione) is important. However, other forms of vitamin K are even more crucial. These include the vitamin K2s, menaquinone-4 and menaquinone-7. The American diet is virtually depleted of vitamin K2.
Vitamin K2 is involved in blood coagulation, bone metabolism, vascular repair, prevention of vascular calcification, regulation of cell proliferation, and signal transduction. Furthermore, vitamin K2 depletion is linked to cardiovascular disease, Alzheimer's Disease, and liver cancer from viral hepatitis.
Get your vitamin K2, especially plenty of menaquinone-4!
Note that the basic formula of Nutrient 950 does not include vitamin K. To get sufficient amounts of this vitamin, you either have to supplement with a vitamin K product or choose the Nutrient 950 formula that includes vitamin K (see below).
Other Ingredients
When you take a look at the Other Ingredients on any supplement label, you might be unpleasantly surprised.
Nutrient 950 – Nothing Extra
Actually, the only non-nutrient ingredient on the list for Nutrient 950 is the vegetarian capsule itself, which consists of modified cellulose, glycerin, and water.
That's it.
Centrum – A Doozy List of Crapola!
My apologies if you are not a chemist. However, a quick look over the list of ingredients in Centrum can be informative if you are. I will point out what some of these ingredients really are.
First off, the label does not separate the nutrients from the Other. The entire list is included in a box on the bottle. A quick glance reveals the following non-nutrients: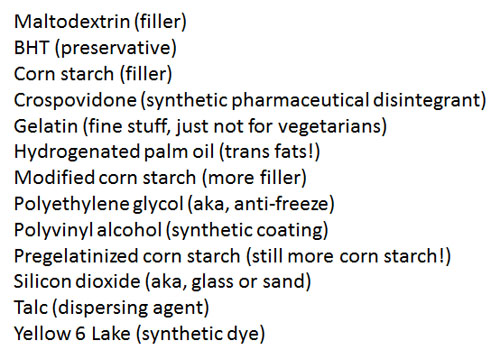 YIKES!
Here is what's amazing about Centrum…
These are beautiful pills with lots and lots of stuff that makes them pretty and shelf-stable. They also break down quickly in the stomach.
That last point is scary, though. Once the pills break down, then all that crap in the above table gets released into your digestive system. It is hard tell how much or how quickly those things get into your blood stream and become distributed throughout your body.
Just amazing!
Anybody want to rely on this product as a source of good supplements without the extra toxic crap?
Source of the Good Stuff
Nutrient 950 is my personal multivitamin because it offers most of what I am looking for, in the right forms, in the right amounts.
It is available online at approved suppliers, although not generally in retail stores. We are allowed to carry it in our online store, Doctors Nutrition Center, at this link for that particular product: Nutrient 950.
The formula containing vitamin K is: Nutrient 950 w/Vitamin K.
IF YOU WANT TO ORDER FROM US AT THAT SITE
BE SURE TO USE OUR CODE – 'dnc42' – WHEN YOU LOGIN
Supplements Have Their Limits
While supplements are important, they are not a substitute for poor lifestyle choices. They merely help you build a foundation of good nutrition in the absence of old-fashioned nutritious foods.
Just be sure to take a good multivitamin, based on as many as you can of the pointers that I've provided in this article.
Be well,
Dr. D
Need a good source for your supplements?