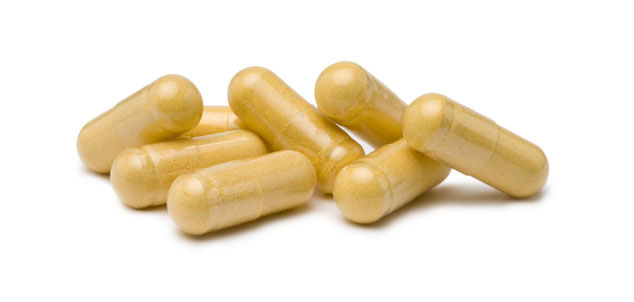 Good luck if you rely only on modern food for good health. No matter what you eat, your diet will be deficient in many, many nutrients. That means that your body will be, too.
Maybe your nutritional deficiencies will begin to show up in seemingly small health problems, or maybe they will show up in disastrous ones. The absolute certainty is that they will show up.
People in different cultures are famous for living to 100 years old in good health. The question is, why don't more people do so? One part of the answer is, of course, poor nutrition. This is where multivitamins come in handy. They are the foundation for making up for modern nutrient-deficient foods.
The purpose of this article is to give you some ideas on what to look for when it comes to finding a good multivitamin supplement. Fortunately, there are some excellent ones on the market. Unfortunately, there is also plenty of absolute crap that you should avoid.
Modern Food and Nutrition
You may have heard nutritionists over the years often comment that the best nutrition is from whole foods. In theory, that is correct. Unfortunately, it is not possible in practice. The reality is that modern whole foods have been selected for many characteristics that involve how easy they are to grow, how good they look, how big they can get, and how economically they can be produced by the agribusiness industry. A bonus also includes how sweet they can be made to taste.
Notice that nutritional value is not on that list. Indeed, nutritional value has diminished in whole foods over time.
Of course, this is a gigantic topic that has been the subject of numerous books and documentaries. If you, like me, still like to read, the best book on the topic of how our whole foods have been artificially altered over the past couple of centuries is Eating on the Wild Side: The Missing Link to Optimum Health by Jo Robinson (also see her website: eatwild.com). She offers plenty of advice on how to eat better, although doing so is costly either in time or money. Or both.
You are still going to need dietary supplements, starting with a good multivitamin.
What Do You Need Exactly?
There is no single answer to this question for everyone. Countless factors underlie what any one person needs regarding supplements: general health status, age, gender, hormone balance, many lifestyle choices, etc. For this reason, keep in mind that multivitamins are just a starting point.
To begin with, though, at least you should know what to look for as a basic nutritional foundation. This is where reading and understanding ingredients labels is really going to help.
Supplement Labels
Federal governments are in the habit of providing nutritional recommendations. These include what you might already have heard of as the Recommended Dietary Allowance (RDA) for many nutrients. It is nice of the feds to provide this information so you can determine what you might need in the way of supplementation. However, federal guidelines are often based on the minimum dose for preventing symptoms of deficiency. RDAs do not, however, represent dosages for optimum health.
Sometimes the RDAs are somewhat higher than what you need for preventing disease symptoms. For example, 10-20 mg of vitamin C is all that you need for preventing scurvy. The RDA, however, is 90 mg. Although this dose will certainly prevent scurvy, it is far, far too low to be an optimal amount for good health. An optimal dose is closer to 2,000 mg.
Updates on RDAs often do not keep up with modern research. Nevertheless, a fairly up-to-date list is available at ConsumerLabs.com here: Recommended Daily Intakes and Upper Limits for Nutrients. Note that RDAs vary somewhat from children to adults and between males and females. Keep that in mind when looking at the labels below.
I'm going to compare two brands, one good and one ugly. You'll be able to tell which is which.
SIDENOTE: The ingredients list is one of several criteria I use for evaluating supplements. I provide more details on my process in this post: How to Find the Best Supplement Brands for Multivitamins in 2022.
The first brand is Nutrient 950 by Pure Encapsulations.
Take a look.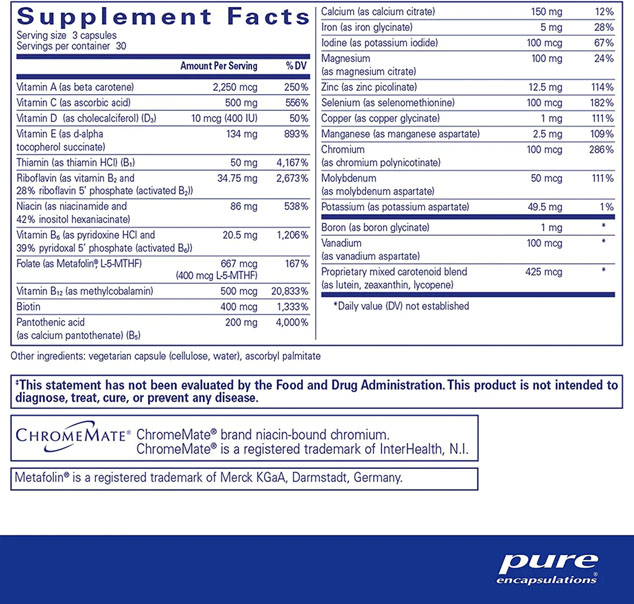 Note two things:
Nearly every vitamin in this product exceeds its RDA.
It also provides a good set of minerals. (Pretty much all multivitamin products provide minerals.)
Equally important is the list of Other Ingredients.
In this case, they are simply vegetarian capsules and ascorbyl palmitate (a protective antioxidant made from ascorbic acid).
As you may know, I'm not particularly enamored with veggie caps, as I've written about here: Veggie Cap Crap – How Supplements Can Harm You.
That article explains what strategies I use for escaping the use of veggie caps.
One other thing to note is that only 12 of the 13 known vitamins are in this formulation. This is typical for multivitamins, since so-called 'conventional wisdom' from modern medicine is afraid of the missing one – vitamin K. (It's a pretty idiotic view, by the way.) Nevertheless, this is easy to overcome with a separate supplement for vitamin K. (Pure Encapsulations also offers an optional formulation containing vitamin K.)
So far so good.
Now for a comparison with the second brand, Centrum by Haleon (originally Pfizer [formerly Wyeth] and GlaxoSmithKline – all Big Pharma corporations – isn't that interesting!).
Let's take a peek at this one.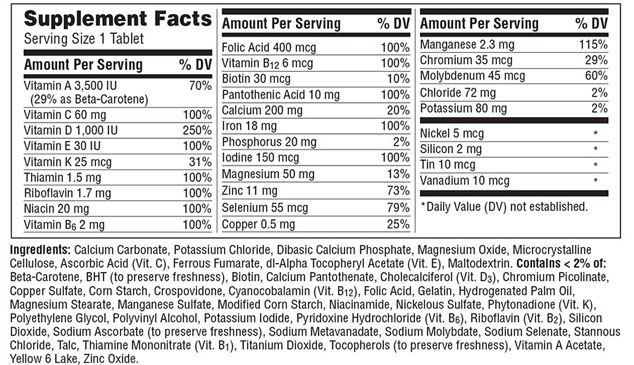 Note that only one of the vitamins exceeds the RDA, while three are below it.
Interestingly, this formulation does contain vitamin K. The ingredients list says it's phytadione (i.e., K1), which is the plant-derived, less effective form of of vitamin K.
The ingredients list is a real doozy – all the nutrients are listed together with all the non-nutrients. And the forms of the nutrients are buried in that list, not on the Supplement Facts portion where they should be for easier viewing.
I'll have more to say about those non-nutrient components later.
Now for a Few Pointers
Understanding nutritional ingredients can be a bit tricky. Here are a few things to look for.
Vitamin E
Vitamin E actually consists of several forms. The most common one is d-alpha-tocopherol. This is the form provided by Nutrient 950. In contrast, the label on Centrum is for dl-alpha-tocopherol. This is a significant difference. The d form is biologically active in humans, whereas the l form is not. Seeing dl on a label means that half of the amount is useless as a vitamin. (If you are curious, a 50-50 mixture of the two forms is the result of a laboratory synthesis of alpha-tocopherol, not a biologically derived enzymatic synthesis. The latter yields only the d form.)
Vitamin B12
Methylcobalamin (Nutrient 950) is much more biologically available than cyanocobalimin (Centrum).
Folate
Folate is super important for many reasons. However, the folic acid form in Centrum is much less useful than the MTHF (5-tetrahydrofolate) form that is in Nutrient 950. Whatever multivitamin you end up choosing should indicate the inclusion if MTHF, not folic acid.
Calcium
This is the least important nutirient for putting into a multivitamin/multimineral supplement. Nevertheless, all such products include it, even though they can never measure up to the RDA of 1000 mg.
The requirements for calcium vary quite a bit depending on its metabolism in the body. In some circles, calcium supplementation is viewed as superfluous, since the body already has a huge source for all its needs: the skeleton.
If your calcium metabolism is out of whack (e.g., osteopenia or osteoporosis), taking supplemental calcium is nearly useless. In fact, it can be dangerous. If that statement surprises you, see the explanation behind it in this post: Are Dangers of Calcium Supplements Real? (Spoiler alert: YES!)
You absolutely have to keep your calcium metabolism on track, just not by supplementing with calcium.
Note also that the calcium in Centrum is in the form of calcium carbonate (aka, oyster shell calcium or rocks), which is the cheapest form of supplemental calcium. In contrast, the form in Nutrient 950 is calcium citrate, which is more easily metabolized.
Iron
The need for iron is highly variable and somewhat controversial. Nutrient 950 therefore also includes a product without iron.
Iodine
Iodine deficiency is epidemic. It is a worldwide health disaster. The RDA of iodine (150 mcg) is so small as to be irrelevant. It's idiotically low. Multivitamins consistently fail to provide enough. They also generally only include potassium iodide, which is just one of the two essential forms of this crucial mineral.
This means that, regardless of which multivitamin you choose, you absolutely must add supplemental iodine to your daily regimen. This is such an important topic that I wrote a separate article dedicated to it here: Most Important Mineral For Optimal Health.
Magnesium
If I were to select the two most deficient minerals in the entire worldwide population, I would add magnesium to the list along with iodine. The quantities of magnesium in most multivitamin supplements are insufficient. This includes both of the brands in the table above.
Furthermore, the forms of magnesium in Centrum are magnesium stearate and magnesium oxide. Super cheap and not very useful. The magnesium citrate in Nutrient 950 is much more bioavailable.
Potassium
Notice the huge discrepancy between the RDA of potassium (4700 mg) and the low amounts in both of the brands in the table above. This is because taking too much potassium at one time is dangerous to your heart. In this case, taking a small amount of the RDA in supplement form is truly supplemental to food sources of potassium.
Simply be sure to consume a number of foods from this list to get enough potassium: Food Sources of Potassium.
Centrum – A Doozy List of Crapola!
My apologies if you are not a chemist. However, a quick look over the list of ingredients in Centrum can be informative if you are. I will point out what some of these ingredients really are.
A quick glance reveals the following non-nutrients: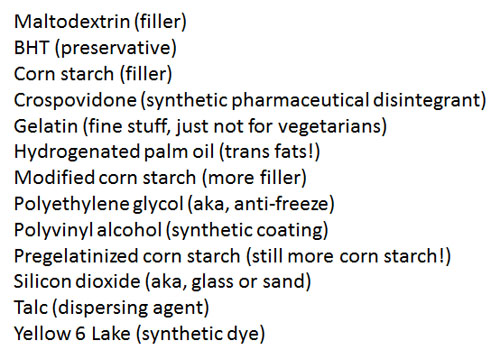 YIKES!
Here is what's amazing about Centrum…
These are beautiful pills with lots and lots of stuff that makes them pretty and shelf-stable. They also break down quickly in the stomach.
That last point is scary, though. Once the pills break down, then all that crap in the above table gets released into your digestive system. It is hard tell how much or how quickly those things get into your blood stream and become distributed throughout your body.
Just amazing!
Anybody want to rely on this product as a source of good nutrition?
Yeah…I didn't think so.
Supplements Have Their Limits
While supplements are important, they are not a substitute for poor lifestyle choices. They merely help you build a foundation of good nutrition in the absence of old-fashioned nutritious foods.
Just be sure to take a good multivitamin, based on as many as you can of the pointers that I've provided in this article.
Even though I consider this article a bit superficial, you get the idea.
Nutrient 950 is good.
Centrum one of the absolute worst multivitamins I have ever seen.
All the best in natural health,

DISCLAIMER
Statements on this page have not been evaluated by the Food and Drug Administration. This product is not intended to diagnose, treat, cure, or prevent any disease.