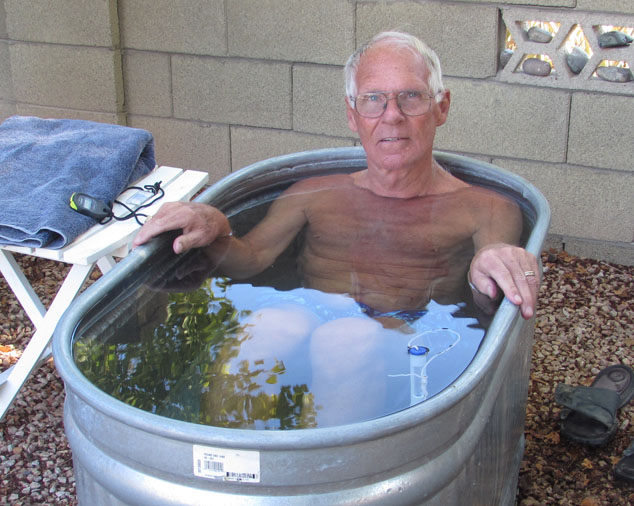 Cold thermogenesis is the best kept health secret ever. Central Arizona finally got cold enough for my tub to drop down to my target temperature range.
My target temperature was (50-55 oF).
Everything was ideal for a half-hour soak at 51 oF. And a beautiful sunny day for warming up aferwards.
Followed it up by getting the ol' arterioles closer to my skin – i.e. red splotches appearing as I sat in the sunshine for an hour or so. The better to get more sunshine into my blood plasma. Got some good vitamin D3 sulfate synthesis. Also boosted my best antiviral defense with UVC light from plasma deuterium. (The novel coronavirus doesn't stand a chance against UVC light!)
And that's not to mention the whole raft of other goodies from cold adaptation.
Looking forward to a nice chilly winter and lots more icy dips this year.
Previous explanatory thoughts on these topics here:
Get Healthy, Live Longer With Cold Thermogenesis
Heliophobia Makes Modern Disease for One and All
Antiviral "Drugs" Your Body Makes – Unsung Superheroes
Was It Fun?
To be honest – no, it wasn't. I think the whole neighborhood heard my shriek as I slid into the tub.
Shocking, yes.
Stimulating, yes.
Gonna keep doing it? Absolutely!
All the best in natural health,

DISCLAIMER
Statements on this page have not been evaluated by the Food and Drug Administration. This product is not intended to diagnose, treat, cure, or prevent any disease.