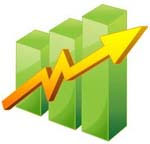 Bodybuilding supplements are rarely known to provide additive benefits. Creatine and HMB are an exception. Here is what research shows.
.
.
.
.
.
Creatine and HMB as Bodybuilding Supplements
Research reviews of studies on bodybuilding supplements show that the top two are creatine and HMB (beta-hydroxy-beta-methylbutyrate). (See this earlier post: Research Shows Top Two Bodybuilding Supplements.) Wouldn't it be nice to know whether these two could provide additive results in combination with one another? This is exactly the question of interest in the study by HMB research pioneer, Prof. Steve Nissen at Iowa State University, and his colleagues at the Academy of Physical Education in Warsaw, Poland.
These scientists also set up their experimental design to determine whether creatine and HMB interact with each other. The purpose for this aspect of the study was to find out whether these two supplements might have the same or different mechanisms of action.
Aha! – Additive Results!
As you can see from the results and conclusions below, creatine and HMB do, indeed, have an additive effect on gains in lean body mass and in strength from resistance exercise. Furthermore, even if you don't understand the statistics (what fun they are!), note that the authors found a lack of interaction between creatine and HMB, suggesting that they act by different mechanisms of action.
Here are the citation data and the published abstract of this study: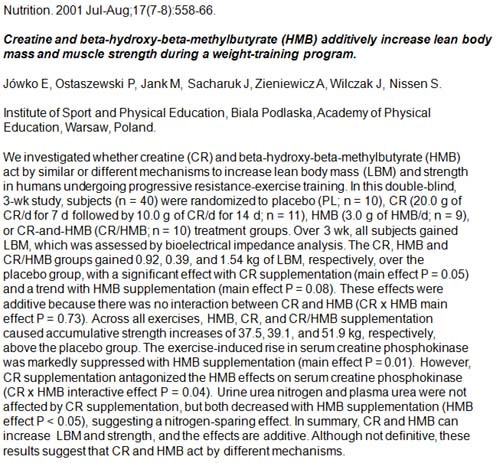 My Comments
Scientists rarely examine the potential interactions between supplements, so this study represents a bonus. I am pleased to know that my two favorite bodybuilding supplements at least have the potential to boost my results when taken together. The only concern that I have about the experimental design is the very high levels of creatine used in the study: 20 grams per day for the first 10 days, followed by 10 grams per day for the next 14 days.
According to prior research on creatine supplementation (see: How To Improve Muscle Building Exercises With Creatine, dosages should entail a loading phase of 20 grams per day for 5-6 days, followed by long-term maintenance with 3-4 grams per day.
I would also like to know whether boosting creatine by adding glucose to the creatine-HMB combination would further enhance their results together. Earlier research shows the addition of glucose to drive the uptake of creatine into muscle cells (see: Boosting Creatine For Better Muscle Building Exercises).
It is no surprise that the authors suggest a different mechanism of action between creatine and HMB. HMB has a muscle-sparing effect, although its mechanism is still unclear. And creatine mostly drives the hydration of muscle cells and enhances the availability of phosphate for ATP synthesis — i.e., for faster synthesis of this core molecule of cellular energy.
By the way…
The best books that I know of for showing you how to stay fit with quick, simple, at-home workouts are the Lightning Speed Fitness Program by Roger Haeske and the Fit Over 40 for Women by Brett Yokley. Roger and Brett also throw in lots of bonus books on diet, exercise, and lifestyle when you purchase their books. Click on images below for details.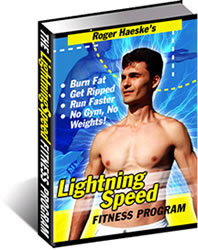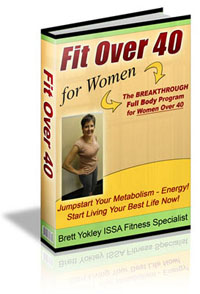 .
.
.
.
.
.
.
.
.
.
.
.
.
.
.
.
.
.
.
All the best in natural health,
Dr. D
Need a good source for your supplements?