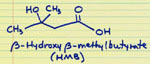 Muscle building supplements often fail to work as well in older adults as they do in 20-somethings. HMB is the exception for senior fitness, and good scientific research provides the evidence for it.
ARE YOU, LIKE ME, A SENIOR WHO'S INTERESTED IN STAYING HEALTHY FOR YEARS TO COME? IF SO, YOU MIGHT LIKE TO SEE WHAT A SCIENTIST (ME) HAS TO SAY ABOUT HOW TO ACHIEVE IT AT NO EXTRA COST TO YOU, WITHOUT EVEN HAVING TO LEAVE HOME, STARTING HERE: HEALTHY AGING NATURALLY.
Muscle Building Supplements for Seniors
Very few muscle building supplements are developed with seniors in mind. Bodybuilding sites focus on the young and overly muscled. Experts also promote supplements as if they are effective regardless of age. The often ignored issue of age-related limitations on supplements hit home for me when I did some research on amino acid stacking as it relates to boosting growth hormone levels: When Arginine Fails As A Growth Hormone Releaser.
This trend also seems to be the case with the increasingly popular use of branched-chain amino acids (BCAAs) as muscle building supplements. However, a key metabolite of leucine, which is one of the BCAAs, is turning out to be an exception. This metabolite, beta-hydroxy-beta-methylbutyrate (HMB) does, indeed, have a comparable effect for building muscle mass in older vs. younger adults.
Key Research on HMB
The seminal research on HMB in human studies was a topic in an earlier post here: Bodybuilding Supplements – HMB For More Muscle. The following study was published subsequent to that research, addressing the effects of this supplement in 70-year old adults. Here are the reference details and published abstract of this study: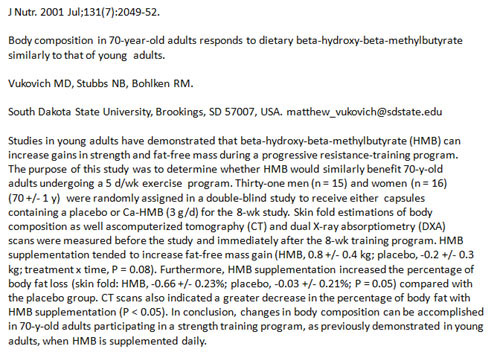 Summary of Main Results
This is what the graph looks like that summarizes the main results of this study. Note that the asterisk above the HMB-treated group indicates a statistically significant difference between it and the placebo group. Moreover, as expected, the HMB-treated group shows an upward trend in percent Fat Free Mass over time.
However, it is somewhat curious to see that the placebo group trended downward from Week 4 to Week 8 – i.e., actually lost Fat Free Mass. I would be very interested to see whether this trend might have continued and, if so, whether it became statistically significant (no such comparison was made in the study) over time. Wouldn't it be tremendously disappointing to know that, as you age, exercise leads to loss of Fat Free Mass?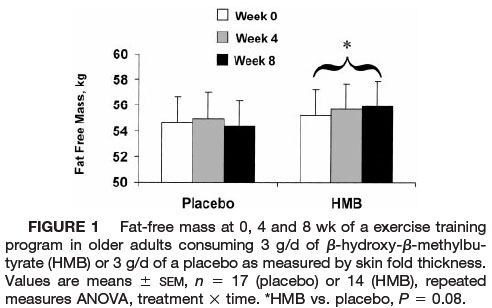 Key Age Comparison for Senior Fitness
The authors of this study provided a comparison that is often missing in published studies. It is one thing to say that results have been comparable across several studies. This graph, however, shows what this means visually.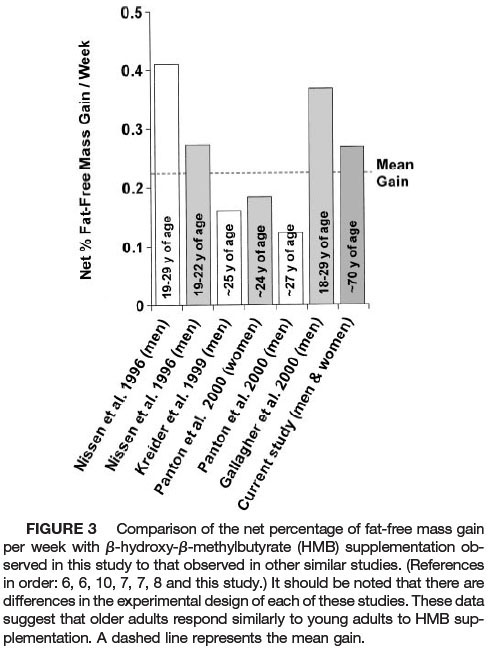 All of the studies in this comparison showed a net weekly increase in percent Fat Free Mass with HMB supplements. The current study shows that 70-year olds might even expect a little bit better than average increase in comparison with the 20-somethings.
That, dear readers, is a rarity regarding aging. And quite a pleasant one for me as I approach that milestone in the next few years.
By the way…
The best books that I know of for showing you how to stay fit with quick, simple, at-home workouts are the Lightning Speed Fitness Program by Roger Haeske and the Fit Over 40 for Women by Brett Yokley. Roger and Brett also throw in lots of bonus books on diet, exercise, and lifestyle when you purchase their books. Click on images below for details.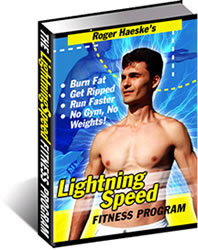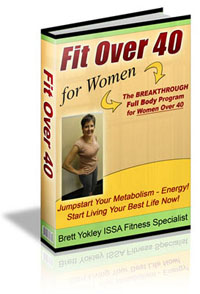 .
.
.
.
.
.
.
.
.
.
.
.
.
.
.
.
.
.
.
All the best in natural health,
Dr. D
Need a good source for your supplements?