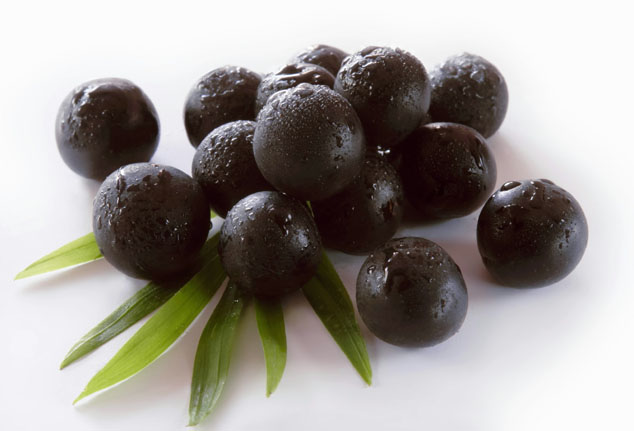 Acai weight loss is a scam, plain and simple. Calling it such a nasty name is pretty harsh. Nevertheless, most of the information on the Internet is simply repeated, out of ignorance, from a few original sources. The original sources are the scams. Just for fun, take a look at some of the science, or lack of it, that applies to the marketing hype.
What I did was to go to one of my favorite medical databases and simply look up all of the references to published research on the scientific name, Euterpe oleracea, which is the name that scientists use for the species of palm tree that produces acai berries. (They are not really berries, by the way). I'm going to give you the Cliff Notes version of the results first, then I'll append the complete list with summaries of results.
Acai Weight Loss Research Goes Missing
A total of 9 publications came up in my search. The earliest was published in 2004 and the most recent one in 2008. The main results are listed below:
2004 Anthocyanins and similar phytochemicals were isolated and evaluated for antioxidant activity and pigment stability.
2005 Several commercial and non-commercial samples of acai fruit pulp were found to have antioxidant activity; very little of this activity was due to the anthocyanins
2006 Anthocyanins from fruits were found to be potent inhibitors of nitric oxide
2006 Seed extracts show potent antioxidant activity, mostly from as yet unknown ingredients
2007 Extracts of acai pits show vasodilator effect on rat tissue
2007 Acai fruits have good nutritional value
2008 Acai fruit pulp and oil inhibit growth of colon cancer cells in culture; effect is not due to anthocyanins
2008 Class of phytochemicals called lignans discovered; showed protective effect on breast cancer cell cultures that were stressed by hydrogen peroxide
2008 Showed acai pulp to be equivalent to applesauce in increasing plasma antioxidant capacity
Does Research Support Acai Weight Loss?
In a word, no. The research has nothing to do with the marketing of any acai scam. Now go look up what you can find on acai for weight loss, then compare what you find with the list of research results below.
You may also run into a handful of articles at EzineArticles.com that advise you to drink acai juice to prevent cancer. After doing many years of research on cancer cell cultures myself (in my case, brain cancer cells), I can tell you that research on cell cultures rarely has anything to do with cells in a whole person. The reference above from 2008 regarding colon cancer is very, very, very preliminary. Did I say VERY preliminary? No advice whatsoever can be taken from this lone article.
Acai Scams are Here to Stay
Many supplement manufacturers have jumped onto the acai bandwagon. Many of my customers regularly to ask about acai for weight loss and other health benefits. My recommendation is always that acai berry contains some antioxidants that are probably beneficial. It is the new berry on the block. Another one will come along soon. Fruit juices litter the supplement landscape. They are all good to some extent. However, the information about acai has reached a level of silliness that I regard as a scam. The big Acai Scam.
What About Folk Medicine?
We don't always have to rely on scientific research to guide us. It is too slow to find out most the answers we want. This is where old knowledge can be helpful, especially when herbs have a folk medical history. Unfortunately, the acai berry is more well known as a poor man's fruit juice than as a medicinal herb. People in Brazil, where acai palms are cultivated, are probably laughing in their beer about all the hullabaloo regarding acai. You can read about this plant from the point of view of a naturopathic doctor at RainTree Nutrition to see what I mean.
Now for the Gory Scientific Details
I welcome you to scan the references that I dug up. This is a lot of detailed information that only scientists like me get excited about. Enjoy! You can get even more information by looking up the PubMed ID numbers for the complete abstracts of these articles. Titles of the articles are in boldface. Scientists have a way with words, don't we? A typical full reference, as those below, includes title, journal citation, author names, and address of the lead institution.
1: Pharmacokinetics of anthocyanins and antioxidant effects after the consumption of anthocyanin-rich acai juice and pulp (Euterpe oleracea Mart.) in human healthy volunteers.
Mertens-Talcott SU, Rios J, Jilma-Stohlawetz P, Pacheco-Palencia LA, Meibohm B, Talcott ST, Derendorf H.
Department of Veterinary Physiology and Pharmacology, Texas A&M University, College Station, Texas 77843, USA. smtalcott@tamu.edu
J Agric Food Chem. 2008 Sep 10;56(17):7796-802.
PubMed ID: 18693743
SUMMARY: Compared acai pulp, clarified acai juice, applesauce, and a non-antioxidant beverage. Plasma antioxidant capacity was significantly increased by the acai pulp and applesauce. Individual increases in plasma antioxidant capacity of up to 2.3- and 3-fold for acai juice and pulp, respectively were observed. The antioxidant capacity in urine, generation of reactive oxygen species, and uric acid concentrations in plasma were not significantly altered by the treatments.
2: Lignans and other constituents of the fruits of Euterpe oleracea (Acai) with antioxidant and cytoprotective activities.
Chin YW, Chai HB, Keller WJ, Kinghorn AD.
Division of Medicinal Chemistry and Pharmacognosy, College of Pharmacy, The Ohio State University, 500 West 12th Avenue, Columbus, Ohio 43210, USA.
J Agric Food Chem. 2008 Sep 10;56(17):7759-64.
PubMed ID: 18656934
SUMMARY: Identified examples of a class of phytochemicals called lignans. Showed that a handful of these can protect certain type of breast cancer cells in culture against stress caused by hydrogen peroxide.
3: Absorption and biological activity of phytochemical-rich extracts from açai (Euterpe oleracea Mart.) pulp and oil in vitro.
Pacheco-Palencia LA, Talcott ST, Safe S, Mertens-Talcott S.
Department of Nutrition and Food Science and Department of Veterinary Physiology and Pharmacology, Texas A&M University, College Station, Texas 77843, USA.
J Agric Food Chem. 2008 May 28;56(10):3593-600.
PubMed ID: 18442253
SUMMARY: Polyphenolic mixtures from both acai pulp and acai oil extracts inhibited proliferation of human colon cancer cells by up to 90.7%. None of the polyphenolics included anthocyanins. No comparison was made on potential inhibition of normal cells.
4: Characterization of the acai or manaca (Euterpe oleracea Mart.): a fruit of the Amazon. [Article in Spanish]
Neida S, Elba S.
Laboratorio de Análisis de Alimentos, Departamento de Procesos Biológicos y Bioquímicos, Universidad Simón Bolívar, Caracas, Venezuela.
Arch Latinoam Nutr. 2007 Mar;57(1):94-8.
PubMed ID: 17824205
SUMMARY: Results of dry-weight analysis of two harvests at different times in 2005 indicated that acai has a general content of lipids (49.4% and 33.1%), proteins (13.8% and 9.3%), ash (5.2% and 2.2%) and total dietary fiber (27.3% and 18.0%). Polyphenols were 5.02 and 2.20 g/100 g; tannins 0.70 and 1.37 g/100g; anthocyanins 0.73 and 1.60 g/100g and the antioxidant capacity 88.03 and 87.87%, respectively. It is concluded that the acai or manaca Collected in the Venezuelan Amazon has a high nutritional value.

5: Endothelium-dependent vasodilator effect of Euterpe oleracea Mart. (Açaí) extracts in mesenteric vascular bed of the rat.
Rocha AP, Carvalho LC, Sousa MA, Madeira SV, Sousa PJ, Tano T, Schini-Kerth VB, Resende AC, Soares de Moura R.
Department of Pharmacology and Psychobiology, IBRAG, UERJ, Rio de Janeiro, Brazil.
Vascul Pharmacol. 2007 Feb;46(2):97-104.
PubMed ID: 17049314
SUMMARY: Extracts of açai (Euterpe oleracea Mart.) stones (i.e., fruit pit) induce a vasodilator effect in isolated rat tissue. The vasodilator effect suggest a possibility to use such extracts in the treatment of cardiovascular diseases.
6: Total oxidant scavenging capacity of Euterpe oleracea Mart. (açaí) seeds and identification of their polyphenolic compounds.
Rodrigues RB, Lichtenthäler R, Zimmermann BF, Papagiannopoulos M, Fabricius H, Marx F, Maia JG, Almeida O.
Institute of Nutrition and Food Sciences, Department of Food Chemistry I, University of Bonn, Endenicher Allee 11-13, D-53115 Bonn, Germany.
J Agric Food Chem. 2006 Jun 14;54(12):4162-7.
PubMed ID: 16756342
SUMMARY: The antioxidant capacity of methanol and ethanol seed extracts from Euterpe oleracea Mart. (açaí) exhibited good antioxidant capacity against peroxyl radicals, similar to the capacity of the pulp. The antioxidant capacity against of the seed extract fractions indicates that the procyanidins contribute substantially to the overall effect. In addition, however, other compounds that have not yet been identified are responsible for a large part of the observed antioxidant capacity.
7: Inhibitory effects of Euterpe oleracea Mart. on nitric oxide production and iNOS expression.
Matheus ME, de Oliveira Fernandes SB, Silveira CS, Rodrigues VP, de Sousa Menezes F, Fernandes PD.
Departamento de Farmacologia Básica e Clínica, ICB, Caixa Postal: 68016, Universidade Federal do Rio de Janeiro, 21944-970 Rio de Janeiro, Brazil.
J Ethnopharmacol. 2006 Sep 19;107(2):291-6.
PubMed ID: 16635558
SUMMARY: Results showed that the fractions obtained from fruits were the most potent in inhibiting NO production, followed by those from flowers and spikes. The more pronounced effect was observed in the fractions in which the concentration of cyanidin-3-O-glucoside and cyanidin-3-O-rhamnoside were higher. This shows potential cardiovascular benefits.
8: Total oxidant scavenging capacities of Euterpe oleracea Mart. (Açaí) fruits.
Lichtenthäler R, Rodrigues RB, Maia JG, Papagiannopoulos M, Fabricius H, Marx F.
Institute of Nutritional and Food Sciences, University of Bonn, Bonn, Germany.
Int J Food Sci Nutr. 2005 Feb;56(1):53-64.
PubMed ID: 16019315
SUMMARY: The antioxidant capacities of 11 commercial and non-commercial samples of Euterpe oleracea Mart. (açaí) fruit pulp were studied with the total oxidant scavenging capacity. The antioxidant capacities of all purple açaí samples were found to be excellent against peroxyl radicals, good against peroxynitrite and poor against hydroxyl radicals compared with common European fruit and vegetable juices. The contributions of the anthocyanins to the overall antioxidant capacities of the fruit were estimated to be only approximately 10%. Obviously, compounds not yet identified are responsible for the major part of the antioxidant capacities of the açaí fruit pulp.
9: Phytochemical composition and pigment stability of Açai (Euterpe oleracea Mart.).
Del Pozo-Insfran D, Brenes CH, Talcott ST.
Department of Food Science and Human Nutrition, University of Florida, P.O. Box
110370, Gainesville, Florida 32611-0370, USA.
J Agric Food Chem. 2004 Mar 24;52(6):1539-45.
PubMed ID: 15030208
SUMMARY: Anthocyanin and polyphenolic compounds present in açai (Euterpe oleracea Mart.) were determined and their respective contribution to the overall antioxidant capacity established. Cyanidin 3-glucoside (1040 mg/L) was the predominant anthocyanin in açai and correlated to antioxidant content, while 16 other polyphenolics were detected from 4 to 212 mg/L.
All the best in natural health,

DISCLAIMER
Statements on this page have not been evaluated by the Food and Drug Administration. This product is not intended to diagnose, treat, cure, or prevent any disease.