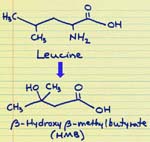 Bodybuilding supplements are rarely as well-supported by real scientific research as HMB. It might be the most important all-natural muscle building ingredient that you can take. Here is why.
.
.
.
.
Bodybuilding Supplements Research
All the hullaballoo about supplementing with BCAAs (branched chain amino acids) can trace its roots to a seemingly insignificant metabolite of the amino acid leucine. Leucine, which is one of the three BCAAs in all proteins, changes in the body to a substance called HMB (beta-hydroxy beta-methylbutyric acid). Just a little preliminary research on HMB at Wikipedia gives a small hint of how this substance might help in muscle building, as a supplement to what we normally make or get in our diet on a daily basis. The Wikipedia entry on HMB is: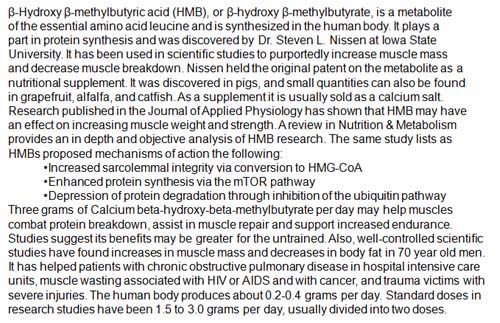 HMB – The Science
Prof. Steven L. Nissen, in the Dept. of Animal Science at Iowa State University, got the ball rolling with his discovery of HMB and how it works, first in lab animals and then in humans. His signature publication, referred to in the Wikipedia article on HMB above, is summarized in this abstract: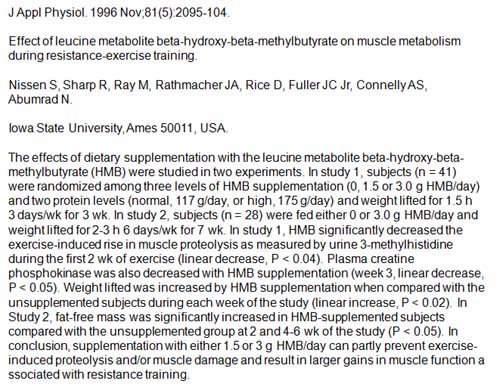 Fortunately, the Journal of Applied Physiology has made this entire article available for free to the public, which allowed me to take a look at the key graph that pinpoints the main conclusion of the article. You can read the entire article yourself if you wish, at this link: Nissen article in Journal of Applied Physiology. Here is the graph that speaks a thousand words.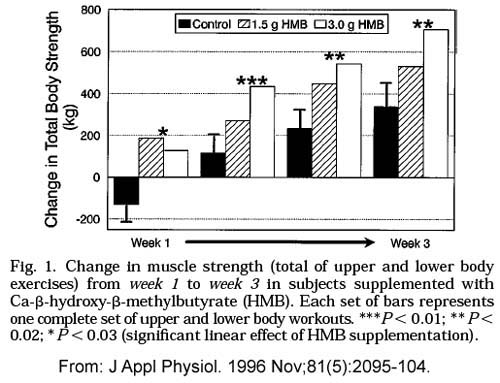 The original work by the Nissen group was followed up with this study four years later, which validated and expanded on the first study. Here is the full abstract from that article in the journal, Nutrition: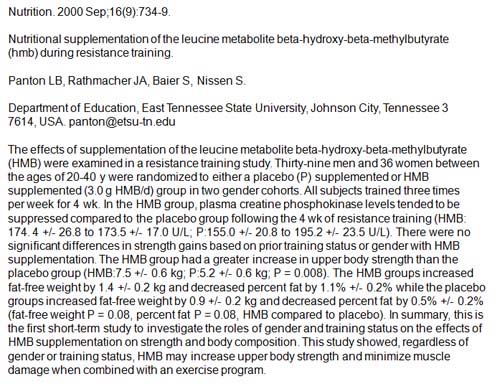 HMB – The Patent
Universities encourage their faculty to develop products that can be patented and exploited for financial gain for the institution. Speaking from personal experience, this is a boon to the faculty. Once the "Technology Transfer" office at a university (i.e., where all the patent attorneys work) deems a discovery to be of enough potential for further development, they do all the work and pay all the fees necessary to secure a patent on that discovery.
This is what happened with Nissen's discovery for the use of HMB. You might not find it easily at the U.S. Patent and Trademark Office online (USPTO.gov), because the title seems a little obtuse: "Method of promoting nitrogen retention in humans", patent number 5,348,979. However, the application was filed in 1992 and the patent was awarded in 1994: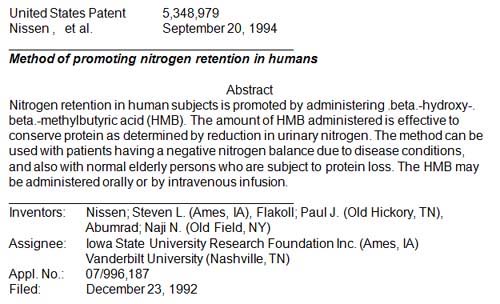 HMB Products
Of course, a patent isn't worth its salt unless someone is interested in putting money into developing a product. Universities don't do this. However, the patent assignees (i.e., Iowa State University Foundation and Vanderbilt University) can license out the rights to the patent to companies that want to create a formula to contain the patented product. Several supplement manufacturers have done so.
The best products are the simplest. They have the fewest add-ins to complicate the formula. For my money, that is why I use a product called HMB Plus by Pure Encapsulations.
Order HMB Plus Here:
USE ACCESS CODE 'dnc42'
TO ORDER FROM OUR ONLINE NUTRITION STORE
CLICK ON IMAGE BELOW

Boost HMB muscle building supplements for youth and senior fitness. See how to Mix Your Own Bodybuilding Supplements Formula.
More Perspective
As far as fulfilling the criteria for good bodybuilding supplements – research, patent, clean product – it looks to me that HMB Plus.
I also love the results of subsequent research on HMB that shows it to be just as effective in 70-year old adults as in younger people.
So much research on bodybuilding supplements is devoted to younger people than me that I almost never know what to expect for my 64-year old body. The new research on older adults is therefore really exciting for me. See what I mean in this post on the topic: Muscle Building Supplements for Senior Fitness.
My recommendation is to do what I do: Buy the HMB Plus and see how you can benefit like I do.
By the way…
The best books that I know of for showing you how to stay fit with quick, simple, at-home workouts are the Lightning Speed Fitness Program by Roger Haeske and the Fit Over 40 for Women by Brett Yokley. Roger and Brett also throw in lots of bonus books on diet, exercise, and lifestyle when you purchase their books. Click on images below for details.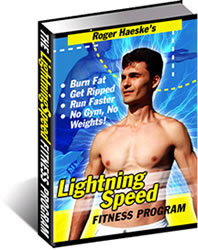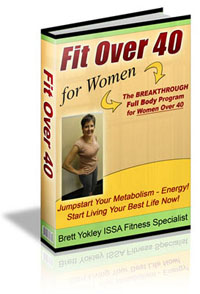 .
.
.
.
.
.
.
.
.
.
.
.
.
.
.
.
.
.
.
All the best in natural health,
Dr. D
Need a good source for your supplements?