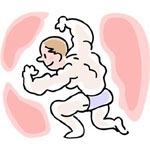 How can you know which of the thousands of bodybuilding supplements are the best? Scientific research suggests an answer. These are the top two so far.
.
.
.
.
.
.
Bodybuilding Supplements Research
The vast majority of bodybuilding supplements either have no research behind them at all or have weak evidence to support them. Selecting supplements for review, based the scientific literature, therefore narrows the possibilities considerably. There only a few that stand out. Among the more than 250 candidates, only 6 fit the criteria of the published review whose abstract is presented below. These are: creatine, HMB (beta-hydroxy-beta-methylbutyrate), chromium, DHEA (dehydroepiandrosterone), androstenedione, and protein.
As you can see below, two supplements came out as clear winners: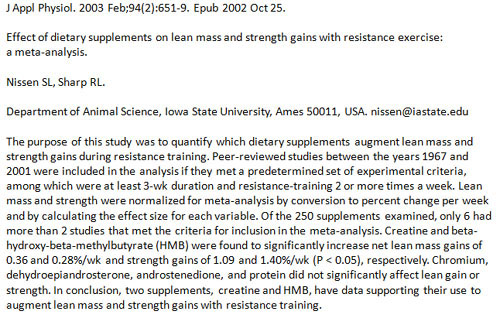 Don't you just love statistics? If you, like me, would rather see a graph of what all that mumbo jumbo really means, here is the summary of the key comparisons in Figure 2 from that review study. I have added blue arrows to highlight where the statistically significant results are in the graph.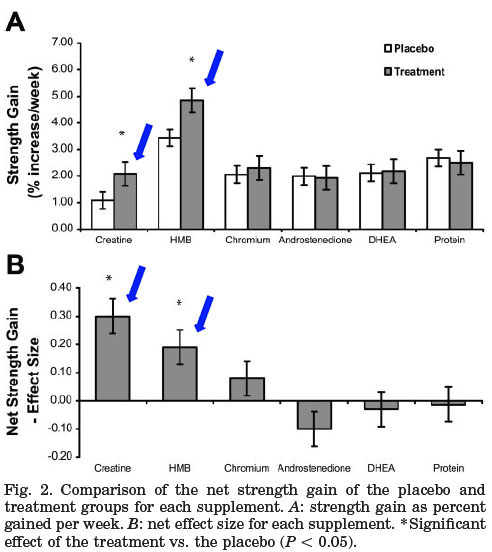 Note that the "meta-analysis" here is a popular approach for comparing multiple studies at one time. Statisticians pull their hair out and cringe about whether this kind of comparison is statistically valid. That is an open question subject to unending argument. Nevertheless, meta-analyses are here to stay, and this one shows the comparative benefits of HMB and creatine over four other well-studied bodybuilding supplements.
Recommendations
If you have to be selective in choosing bodybuilding supplements, for cost or other reasons, HMB and creatine seem to be the best two to start with. These are what I use, since I already knew about the primary research showing how good they are. You can see what I've discovered about research on HMB and on creatine in these two posts:
Bodybuilding Supplements – HMB For More Muscle
Boosting Creatine For Better Muscle Building Exercises
I also still use protein supplements and DHEA, for other reasons, so I recommend that you stick with them like I do if you wish.
By the way…
The best books that I know of for showing you how to stay fit with quick, simple, at-home workouts are the Lightning Speed Fitness Program by Roger Haeske and the Fit Over 40 for Women by Brett Yokley. Roger and Brett also throw in lots of bonus books on diet, exercise, and lifestyle when you purchase their books. Click on images below for details.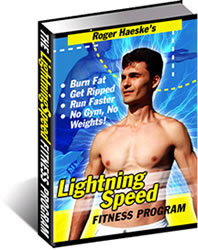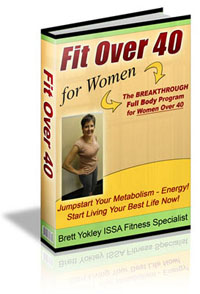 .
.
.
.
.
.
.
.
.
.
.
.
.
.
.
.
.
.
.
All the best in natural health,
Dr. D
Need a good source for your supplements?