Most of the advice on senior fitness is bad. Workouts are bad. Health advice is bad. Diet is bad. Fortunately, lots of great information is available on how to be fit and healthy into your 50s, 60s, 70s, and beyond, if you know where to find it. This blog is a good starting point.
I invite you to read this short essay at your leisure. If you are in a hurry at the moment, you can skip on down to the end for "My Latest Strategies" to see what I am doing for my own fitness lately.
Otherwise, read on…
Senior Fitness: Exercise Right, Eat Right, Be Strong and Healthy – Yeah, Right
Are you overwhelmed by the information avalanche on how you should eat, think, and live for a long, happy, and healthy life? Fortunately for me, and for you if you like what I have to say, I can see through most of the crap and do the right thing for myself and my family. Unfortunately, I have found that too many supposedly reputable sources of advice are just plain wrong way too often.
These include:
…National magazines – especially those like Readers Digest, Parade, AARP Magazine, and countless others
…Your doctor(s)
…TV health shows
…99% of infomercials
…99.9% of all advertising
…Supplement companies
…Fitness gurus and trainers of all kinds
…Drug companies (the worst!)
…Diet books, health books, fitness books
…Fitness gyms
…Bad websites … too many to count
…Bad science … you'd be surprised at how much there is
…FDA
…USDA
…All government-run health programs
…Most foundations for curing [fill-in-the-blank disease]
…Federally funded university research
…Corporate-funded research … yup, it is biased – no surprise there
And the list goes on. Where do you get YOUR information? More importantly, HOW do you evaluate it?
Brilliant Concept: Minimum Effective Dose
This is what I subscribe to. It means, how much of what you really need for the result that you want for your fitness.
It doesn't matter whether you are finally looking to slim down after decades of weight gain or whether you are looking to improve your triathlon times like I am. The question that I always ask is, "Exactly what do I need to do to get the result that I seek?" No more, no less: this is the Minimum Effective Dose.
In keeping with this concept, I have already learned how to:
…Drop 25 pounds and 7% body fat in 30 days
…Increase muscle strength by 25% in one month, working out only once per week for about 15 minutes
…Improve running speed and endurance by decreasing my weekly mileage
…Improve mental acuity and memory through diet and supplements
And lots more.
In fact, I am my own longest-running experiment. This blog is where I report what I have found, how it has worked or not worked for me, and how senior fitness in general can and should be better than it is for most folks of our 'mature' age. Oh, for me that means 63 years young as of this writing.
Senior Fitness Category
You will notice that one of the categories where I post on this blog is labeled 'Senior Fitness' (see column to the right). This where I will list the posts that involve my self-experiments or that include particularly good information for my fellow baby boomers and other senior-age friends. You can view just those posts by clicking on the link to the Senior Fitness category. Enjoy!
By the way, this image is, indeed, of me doing what I really love to do … being active, having fun, and collecting event T-shirts. I wish this for everyone!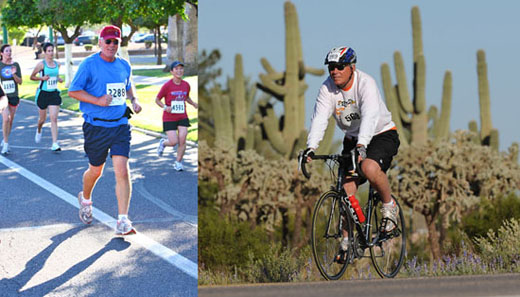 So…stay in touch:
Comment or ask questions on as many of my blog posts as you wish…I'd love to hear from you.
HAVE FUN BEING FIT!!!
My Latest Strategies
My quest for fitness is continually evolving, because my body is continually changing as I get older. Many of the strategies that I used in my 30s, 40s, and 50s are less effective than they used to be. I've discovered, for example, that I've had to change my approach to intermittent fasting, running, weightlifting, sleeping, stretching, eating, supplementing, and almost everything else you can imagine. Even golfing!
Of all the things I am doing now, the best strategies that I have adopted for my personal senior fitness (i.e., for myself) can be found in the handful of resources that I talk about below:
Intermittent Fasting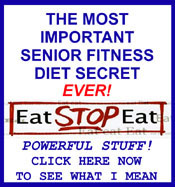 Look, let me be honest, I made this graphic myself so it would get your attention. I sure hope it works, because the whole notion of intermittent fasting ('IF') becomes more important every day for health and fitness, especially for seniors like us.
It is much, much more than that, though. I have discovered it to be a hormone-reset strategy. An intermittent fasting program is an excellent approach to overall fitness and health. I use it because it is the most comprehensive for all ages, seniors included.
If you are a 'reader' like most of us seniors still are, you may also want to see how the whole notion of calorie restriction leads to better health and fitness (e.g., see Calorie restriction and hormesis. (IMPORTANT NOTE: This is an extensive article, so be sure to read far enough to see whether you agree that IF is a much better alternative to straight calorie restriction. After all, who wants to go hungry all the time?)
Body by Science
The whole idea that I could build true fitness through weightlifting is something that I had just about given up on, at least until I discovered this book. I am so enthralled with the research and direction behind Body by Science that I put all of the YouTube videos that I could find on this program on a separate page here on my blog: Body by Science Videos.
You can get all the basic how-to information that you need from watching the videos. I'm kind of a geek on this stuff, so I had to get the book and devour the details about the scientific background on it. The book is not available yet in electronic form, although you can get a good used copy from Amazon or other online booksellers. It is a real gem.
Indeed, that comment that I made above about building strength in a short time ("Increase muscle strength by 25% in one month, working out only once per week for about 15 minutes") refers to what I learned from this book.
The Four-Hour Body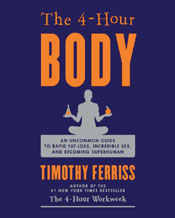 Timothy Ferriss provides an encyclopedic knowledge on dozens of different aspects of fitness. His book has become so popular in a short time that my local bookstore (not a chain) had to order it for me. You can now get it much more inexpensively, as a used book, from Amazon and other online booksellers. It is a great read, full of interesting and even amazing pointers, backed up by results, on achieving fitness most efficiently.
Tim's book is where I discovered how to revive my running program. I've posted about this topic a few times already, and I will continue to do so. If you are also looking for a way to stay fit by running, without the usual damage that comes with this exercise, then take a look at these short articles that I have written here.
And if you want to compare notes with what you are doing, leave me a comment on any of my blog posts. Thanks!
I'm absolutely thrilled with what I have learned about making running easy and fun again.
All the best in natural health,
Dr. D