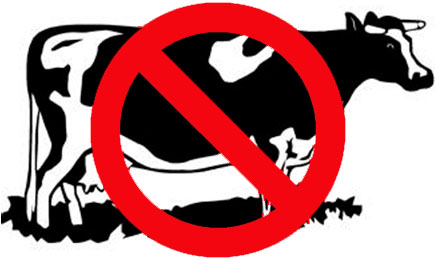 The Dr. Oz diet continues to parrot the dietary recommendations of the American Heart Association in spite of contradictory research showing that it is lousy advice. Eating less meat cuts down on saturated fat consumption, which is supposedly harmful to your health. It isn't. Here are some details that you should know before taking this advice from Dr. Oz or from the AHA.
Another 'health' article appeared in our local paper recently, with the latest dietary advice from Dr. Oz and his colleague, Dr. Roizen. It is a nationally syndicated column, so you may have already seen it. Please ignore most of the advice in it.
Every time I see this kind of claptrap in the paper or in magazines, especially from someone who commands so much public attention, I swear that I'm going to post a rebuttal to it. I finally couldn't take it anymore, so here is what I've got to say.
AHA Recommendations
Here are the basic AHA recommendations in summary form, just so you know where Dr. Oz got them:
Choose fish, shellfish, poultry without the skin, and trimmed lean meats, no more than 6 ounces, cooked, per day.
Enjoy at least 2 servings of baked or grilled fish each week, especially oily fish.
Choose low-sodium, low-fat seasonings such as spices, herbs and other flavorings in cooking and at the table.
Select meat substitutes such as dried beans, peas, lentils or tofu (soybean curd) in entrees, salads or soups.
There is a lot to take in here. Some of the recommendations are fine. The issue that I want to address in this post entails the low amount of meat and the advice to go lean.
Recommended Daily Meat Intake Looks Like This: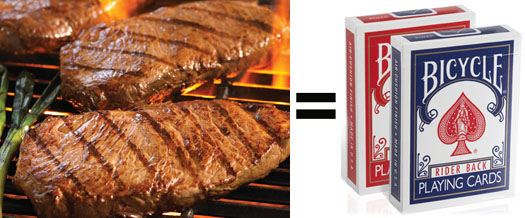 This is what 6 ounces per day looks like, or more or less the size of two decks of playing cards. Moreover, the amount of fat in the AHA meat recommendations is about the same amount as you will find in a deck of playing cards. If you are up to eating meat that is dry as sawdust, with very little flavor, you can ignore the rest of this post and stick to what the AHA advises. Otherwise, read on.
Dr. Oz Diet
Their key points are simply listed here, so I can keep this post somewhat brief. These are quotes taken from the Oz-Roizen column, in the order in which they appeared. My comments about them appear below this list.
Red meat (beef, as well as pork and other red types) is a big source of saturated fat, which can raise levels of heart-threatening LDL cholesterol, reduce your body's ability to process blood glucose and increase your risk for diabetes, colon cancer and an earlier death.
New reports say that [meat] contributes to a buildup in the blood of a substance called TMAO that triggers bodywide inflammation and promotes heart disease…
Dr. Roizen also says to, …eliminate red meat from your diet completely; but if that's not going to happen, aim for no more than one 3-ounce serving a week.
Recommended Weekly Meat Intake Looks Like This:


That is 3 ounces per week, which should look more or less like the size of one deck of playing cards. (Not much, is it?)
They go on to add:
Choose lean cuts like eye round and bottom round…
Go for skinless, fat-trimmed chicken or turkey.
Oz-Roizen bottom line: reduce intake of saturated fat from red meat because it is the dietary culprit leading to heart disease of all kinds bad health outcomes.
(Unfortunately, this is not true!)
Truly Good Advice Would Have Been
Dr. Oz would have done a better service by saying something like this…
"As a cardio-thoracic surgeon, the only 100 percent association that I have seen in several thousand open-heart surgeries is rampant inflammation. An anti-inflammatory diet of no sugar, no refined carbohydrates, and especially no wheat products is the most important step that you can take for reducing inflammation that is caused by what you eat."
A huge number of health problems would go away if people just followed that advice.
The (Weak) Knock on Red Meat
The idea that red meat and the saturated fat from it is dangerous for your health grew enormously as a result of dietary advice from a government committee (United States Senate Select Committee on Nutrition and Human Needs, 1968-1977), led by George McGovern. The politics behind this advice has a fascinating history, which is explained in great detail by Gary Taubes in his book, Good Calories, Bad Calories.
The fact that politics, including politics in science, drove the dietary recommendations of this committee should be a gigantic red flag. Ultimately these recommendations were based on biased scientific testimony. I couldn't do justice to this issue in a short blog post here, so I will direct you to Taubes' book if you are really curious about how this story unfolded.
At this time there is not a single randomized control trial with evidence showing that eating unprocessed red meat is harmful to cardiovascular health. At best, observational studies show that eating processed meat (ground beef, cured meats, etc.) might be a culprit. Moreover, byproducts of grilling, frying, or other high-heat cooking of meat are potential sources of danger.
That is easy to fix by simply consuming only whole, unprocessed meats that are cooked slowly over low heat. You can even improve this approach if you prefer organic, grass-fed animal products, although they might break the bank.
There are so many weaknesses in the "eat less meat" camp that I will leave this aspect of the topic for a later discussion. Arguments one way or another will never end, especially if people like Dr. Oz keep muddying the waters with poor, thoughtless advice.
Instead, I am going to explore some of the positives of eating meat.
1. Saturated Fat is Not a Problem
From: Am J Clin Nutr. 2010 (91(3):535-46). Meta-analysis of prospective cohort studies evaluating the association of saturated fat with cardiovascular disease.
A meta-analysis means a comparison of the results of multiple studies investigating the same topic. In this case, 21 studies were reviewed to estimate the relative risks for coronary heart disease (CHD), stroke, and cardiovascular disease (CVD) in relation to saturated fat intake. In total, these studies entailed 5-23 years of follow-up of 347,747 subjects. The conclusion was that there is no significant evidence that dietary saturated fat is associated with an increased risk of CHD or CVD.
2. No Inflammation from Red Meat
From: J Nutr. 2007 (137(2):363-7) Increased lean red meat intake does not elevate markers of oxidative stress and inflammation in humans.
In this study, an increased intake in unprocessed lean red meat, as a partial replacement of dietary carbohydrate, failed to elevate oxidative stress or inflammation as measured by several biochemical indicators.
[SIDE NOTE: I would like to have seen a comparison with fatty red meat, but researchers seem to be too afraid to include this variable.]
3. We Evolved to Eat Meat
The previous two points are supported by dietary research on modern humans. Such studies will always miss something; it is just not possible to account for all possible variables. We can study dietary patterns until the cows come home (sorry!) and never reach universal agreement.
One of the most interesting issues that has popped up in the public consciousness lately is the diet of our ancestors. This specifically refers to what we humans and our hominid relatives consumed before the advent of agriculture. The underlying concept is that we should be eating what we evolved to eat.
This approach engenders all kinds of new arguments, especially since we have no ancestral humans around to see what they are eating. Nevertheless, this has not prevented the rise of the 'paleo diet' crowd from telling us what prehistoric humans ate. Some of this commentary is based on logic and some of it is based on data. The best overview of these developments is probably the book by Loren Cordain, The Paleo Diet.
'Paleo' is short for paleolithic, which is a geological era that spans the period between 2.6 million years ago and 10,000 years ago. Many types of pre-human hominids evolved during this era. Most recently, humans did, too. Estimates for the arrival of our species on the scene range from 200,000 to 400,000 years ago.
Now…what did all these folks eat? This is the core research specialty of Prof. Michael P. Richards of the Department of Human Evolution at he Max Planck Institute for Evolutionary Anthropology in Leipzig, Germany. What he has discovered is absolutely fascinating and at least a little surprising.
His data are based on comparisons of ratios of stable isotopes of nitrogen. Of course, that probably sounds like a lot of scientific mumbo-jumbo to non-scientists. However exciting the details of this type of work are to me, I am sure they would bore 99 percent of my readers to distraction. Suffice it to say for the moment that the data that Prof. Richards has acquired indicate what the main sources of food were for us, for our ancestors, and for other animals.
Here are two particularly interesting sets of results that Prof. Richards has published from his research.
The red asterisks mark the two Neanderthals (a type of pre-human). Did they eat meat? The answer is a resounding YES! In fact, this graph dramatically contrasts plant-eaters (bison, deer, 'herbivore') and meat-eaters (arctic fox, wolf, and two Neanderthal samples). The taller the bar, the higher on the meat-eating scale that sample came from. The two Neanderthals are highest on the scale.
MAIN POINT: Neanderthals ate meat at least to the same extent that typical carnivores did.
Now what about humans? Take a look at this second graph, which compares the main dietary intakes of a wild horse, an auroch (an extinct pre-cow), a red deer, and an arctic fox with those of 5 'caveman' (paleolithic) samples.
Did early humans eat meat? The answer once again a resounding YES! All early human samples were from meat-eaters.
In fact, here is a little surprise: The early humans in this histogram (yellow bars) are even taller than that of the arctic fox. The arctic fox was a carnivore that typically ate meat from herbivores – i.e., it ate animals that ate plants. The early humans, however, also ate the meat of carnivores. This conclusion comes from noting that all of the yellow bars exceed the level of the arctic fox.
This means that we not only ate meat in prehistoric times, we ate meat from higher on the food chain. Paleolithic humans weren't just carnivores. They were 'top' carnivores.
If you were to compare an equivalent diet in modern times, this means we would be eating the meat of other carnivores. Eating terrestrial carnivores would probably be out of the question, mostly for cultural reasons. Otherwise, we would be eating foxes, wolves, lions, tigers, etc., etc. Not too appealing, is it?
However, it could also mean eating marine carnivores, such as sharks and any fish that thrives mostly on eating other fish.
MAIN POINT: Early humans ate mostly meat, higher on the food chain than other common carnivores.
Main Points
Recommendations from Dr. Oz (and Dr. Roizen) to eat less meat is flat out bad advice.
Eating meat is not inflammatory and does not lead to all the health problems that the AHA (and Dr. Oz) claims it does.
Dietary fat is not the culprit behind bad health in any way, including saturated fat.
Humans evolved on a diet of meat.
Dr. Oz is also a big advocate for including whole grains in our diet. He means cereal grains, which became a main component of the human diet only after the advent of agriculture about 10,000 years ago. Although this is not directly related to the 'eat less meat' issue, it is abundantly clear that reducing meat intake and instead consuming whole grains from modern wheat is one of the worst dietary developments in human history. This requires more commentary than a single blog post can provide, so I will instead refer you to Dr. William Davis' book, Wheat Belly, for a thorough treatment of this subject.
Missing Points
One of the missing points about paleo meat that is often overlooked is that early humans (and people in some current aboriginal cultures) ate a lot more of the animal than we do. They ate organs, eyes, bone marrow, and everything they could chew and swallow (except not so much the stomach and intestines). In fact, 'meat' as we think of it – i.e., striated muscle tissue (e.g., steaks, loins, ribs, etc.) – was the least preferable and the last part of an animal to be eaten. Organ meat, etc., contains a lot more fat, although it is primarily monounsaturated fat. If you were to follow an authentic paleo diet, this is what you would be eating most of the time. Lots and lots of fat! (Inuits still ate like this in the early 20th century; nary a whole grain or any other vegetable material whatsoever.)
The final missing point, which may be the most important one of all, has little or nothing to do with the 'what to eat' crowds. Yes, I clearly advocate eating meat. And I clearly advocate avoiding wheat and eating low-carb. However, most important of all, you absolutely must space your meals appropriately to reap the optimal benefits, and at the same time avoid the negative impacts, of whatever you eat.
By this I mean spacing meals 5-6 hours apart, never eating a late dinner or eating after dinner, and allowing 12-14 hours between dinner and your first meal of the following day. This also means intermittent fasting 1-3 times per week, up to 24 hours at a time. The older you get, the more important intermittent fasting is for a myriad of health issues – overweight, diabetes, heart and cardiovascular disease, hormone imbalances, high blood pressure – the entire Metabolic Syndrome and much more.
You can find plenty of research to support those comments. You can also see what I have to say about the science behind such seemingly wild claims, in my book, Fat Loss Biology (see the entire table of contents via that link). Take a look at it and see why the biology of fat metabolism underlies almost everything that you should know about eating right.
Oops…Dr. Oz is At It Again
It took me so long to research and write this post that Dr. Oz has come out with another of his and Dr. Roizen's health advice columns in my local newspaper. Although the column was ostensibly about avoiding infections, which is always a good idea, they managed to slip this into the text:
"Cutting back on red meat…"
ARGH! This is dogma of mythical proportions, and it might never go away. Think about what you eat and why, based on good science, not bad advice that came out of an old government committee.
Thanks for getting this far in my tirade. I hope you have at, the very least, got some good food for thought here (sorry pun again!).
All the best in natural health,
Dr. D