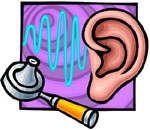 The syndrome of ringing in ears is commonly believed to be caused by irreversible physical damage to the ears. Fortunately, this isn't always the case. Mine went away. Here is why.
.
.
.
Ringing in the Ears – Tinnitus?
First off, it isn't really ringing. If you know what I'm talking about, maybe you would agree that it sounds more like a hatch of cicadas buzzing outside your front door. Only it happens without interruption, 24 hours per day, in the absence of cicadas.
Low level buzzing is more like it.
The medical term that covers a wide variety of problems like this is 'tinnitus'. According to the definition of tinnitus on Wikipedia, "Tinnitus (from the Latin word tinnitus meaning "ringing") is the perception of sound within the human ear in the absence of corresponding external sound."
Furthermore:
Tinnitus and hearing loss can be permanent conditions. If a ringing in the ears is audible following lengthy exposure to a source of loud noise, such as a music concert or an industrial workplace, it means lasting damage may have already occurred.
I am not sure why hearing loss was thrown in there, except maybe because it is also associated with ear damage.
Tinnitus Treatment
I'd like to say that the tinnitus entry on Wikipedia was helpful with some good advice about treatment. Unfortunately, it wasn't. Oh, there is a long list of treatments alright. Most seem toxic, or like medieval torture. Not one recommendation included a natural approach.
Being a natural health type myself, I knew there was more to the story. In fact, many years ago I was studying Ginkgo biloba and discovered a number of published research studies on its use in treating tinnitus.
The Wikipedia information is clearly an entry by someone in mainstream medicine. For comparison, I found this entry on natural approaches to tinnitus treatment at the Life Extension Foundation, here: Tinnitus at Life Extension Foundation.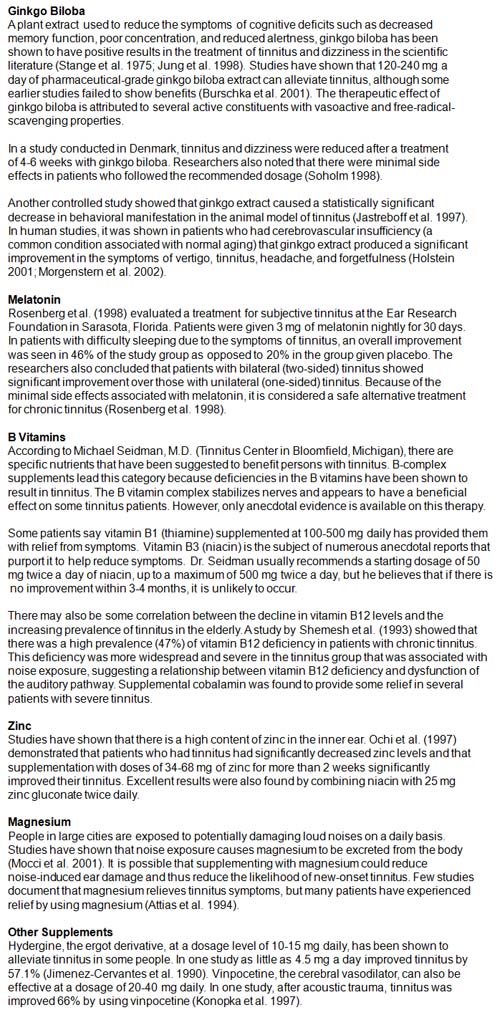 My Success
I noticed a buzzing in my ears when I went to bed 5 nights ago. When I woke up it was still there. That is when I started analyzing my condition from a perspective of potential causality, thereby laying the groundwork for finding a treatment to reverse it.
After considering my diet, supplement program, workout regimen, sleeping patterns, exposure to damaging noise levels, etc., etc., I decided that I did not acquire tinnitus from physical damage. When considering all the nutritional approaches that I could experiment with, supplementing with magnesium seemed to be the best approach to start with.
It only took two nights to get the buzzing down to nearly zero, after taking extra magnesium during the day. The first day I took only 125 mg, keeping the amount low to avoid the laxative effect. The second day, yesterday, I took 125 mg in the morning and 250 mg before bed. Most of the buzzing was gone by this morning. It has picked up again this afternoon, although it has not returned to the previous level.
Magnesium is clearly the main part of my successful treatment. I will continue to take it, at least 500 mg per day over 4 doses, to see how long it takes to get rid of ALL the buzzing ALL the time.
I am relieved to have found an easy fix. I also discovered that I am either deficient in magnesium, which is highly likely, or that I developed a symptom of excess vitamin D supplementation (5000 IU) in combination with low magnesium. These two go hand in hand.
By the way, I take a magnesium product that provides slow release, to counteract the laxative effect. So far so good! The product is called Jigsaw Health Magnesium w/SRT.
All the best with ringing in ears syndrome,
Dr. D