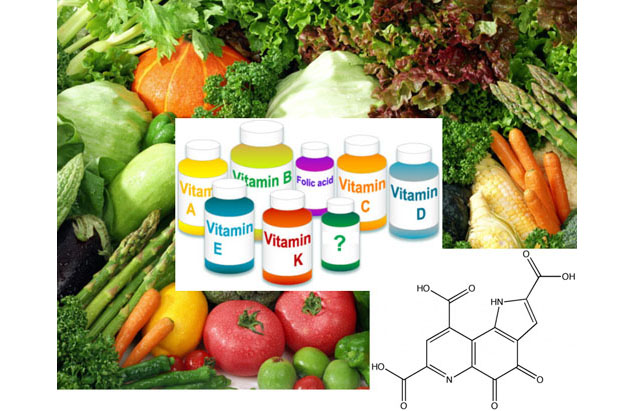 If you haven't heard of PQQ yet, then take a look at why some scientists want this substance to be classified as a vitamin. It is a remarkable modern discovery that can perform miracles.
Vitamin PQQ – Really?
Well…almost. The substance in question is called pyrroloquinoline quinone (PQQ). It was introduced as a new vitamin in 2003 in this article in Nature:
Kasahara, T and Kato, T. Nutritional biochemistry: A new redox-cofactor vitamin for mammals. Nature 422, 832 (24 April 2003).
Abstract
Nicotinamides and flavins are essential cofactors in enzyme-catalysed reduction–oxidation (redox) reactions and are classified as vitamins because they must be supplied in the diet. Another redox cofactor, pyrroloquinoline quinone (PQQ), was first discovered in bacteria and is also likely to be important in mammals, but the biochemical pathways in which it participates are unknown. Here we identify a PQQ-dependent dehydrogenase enzyme that is crucial for the degradation of the amino acid lysine in mice. PQQ is acting as a mammalian redox cofactor in this reaction, and therefore qualifies as a newcomer to the B group of vitamins. [Bolding mine]
Latest Update
Unfortunately, calling PQQ a vitamin in the first place apparently overstepped the bounds of the 'vitamin rules'. Controversy ensued.
Ah, gotta love those scientists!
Fast forward to the present. The current general scientific agreement is that, although PQQ is not really a vitamin, it is a crucial and essential nutrient in our diet.
PQQ has become a nutrient superstar.
Why is PQQ So Important?
Although PQQ has been known only since about 1980, nearly 800 research articles have already been published on it.
What we know about it at this time entails a broad set of functions that underscore good health.
The main list of PQQ's health benefits so far includes the following:
Stimulates growth and serves as a cofactor for a special class of enzymes involved in cellular function including cellular growth, development, differentiation, and survival.
Acts as an extremely powerful antioxidant capable of catalyzing continuous cycling (the ability to perform repeated oxidation and reduction reactions) to a much greater degree compared to other antioxidants. For example, PQQ is able to carry out 20,000 catalytic conversions compared to only 4 for vitamin C.
Reverses cognitive impairment caused by chronic oxidative stress and improves performance on memory tests in animal models.
Stimulates the production and release of nerve growth factor.
Protects against the self-oxidation of the DJ-1 gene, an early step in the onset of Parkinson's disease.
Protects brain cells against oxidative damage in models of strokes.
Blocks the formation of inducible nitric oxide synthase (iNOS), a major source of reactive nitrogen species (RNS) that are so damaging to brain cells.
Protects against the likelihood of severe stroke in an experimental animal model for stroke.
Protects the brain against neurotoxicity induced by other powerful toxins, including mercury, glutamate, and oxidopamine (a potent neurotoxin used by scientists to induce Parkinsonism in laboratory animals).
Prevents development of alpha-synuclein, a protein associated with Parkinson's disease.
Protects nerve cells from the damaging effects of the beta-amyloid-protein linked with Alzheimer's disease.
Acts on key enzymes in the energy producing compartments in our cells – the mitochondria – thereby boosting cellular energy production.
Specifically protects against oxidative damage of mitochondria.
If this list seems too sciencey, then just consider this: A main focus of current research is on the ability of PQQ to protect memory and cognition due to aging.
Parkinson's and Alzheimer's are the two biggies of interest here.
And Maybe the Most Important Benefit of All…
Your health and longevity absolutely depend on how well your mitochondria are working. (See: Live Long And Prosper With Healthy Mitochondria.)
PQQ PROMOTES THE SPONTANEOUS FORMATION OF NEW MITOCHONDRIA!
Promoting the formation of new mitochondria (i.e., mitochondrial biogenesis) means that PQQ is a 'fountain of youth' for mitochondrial function. In other words, it is a fountain of youth for you in general.
Getting PQQ in Your Diet
The good news is that PQQ has been found in all plant foods examined so far, plus a smattering of other sources. The following summary gives you a good idea of how much you can get from certain foods (pay close attention to how much PQQ in each):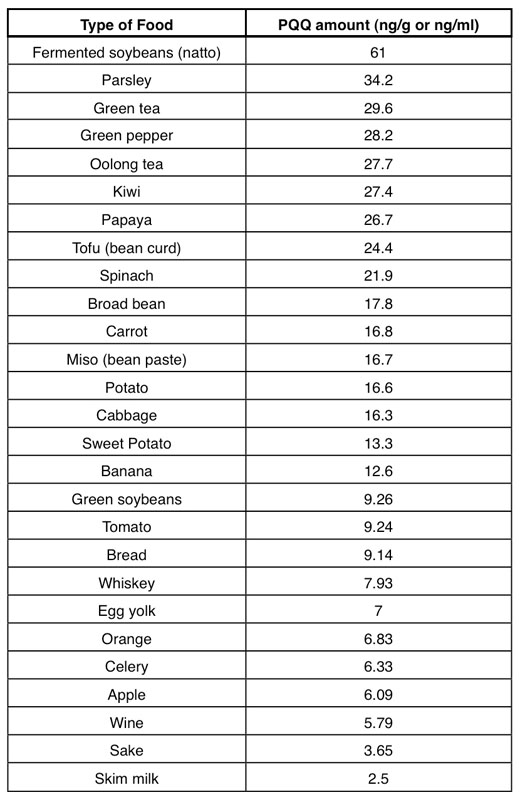 Note that the amounts of available PQQ are presented in ng (nanograms) per gram or per milliliter. A nanogram is a billionth of a gram.
Even thinking about how tiny these amounts are can be a challenge. Look at it this way: compared with amounts used in recent experiments, the level of PQQ from food sources is way too small.
Although we don't yet know what the optimal dosages of PQQ should be, scientists generally agree that it is in the neighborhood of milligrams per day – i.e., in the range of a million-fold higher that what food sources can provide.
Specifically, the targeted amount for daily intake to reach optimal benefits is 10-20 mg of PQQ. That is why you will find supplements that provide one or the other of those amounts per serving.
Bonus for the Aging Brain
The effectiveness of PQQ on its own seems to be age-related. Animal studies show a synergistic effect between PQQ and CoQ-10. A recent human study discovered that people aged 40-70 did, indeed, improve in tests of higher cognition on 20 mg of PQQ per day. Moreover, those who also took 300 mg of CoQ-10 improved even more dramatically.
On the other hand, a small study of 10 subjects, aged 21-34, showed a significant decrease in inflammatory indicators after taking PQQ alone.
This leads to the current recommendation that most people under 50 may not need the simultaneous intake of PQQ and CoQ-10, while those over 50 do.
Heads Up on CoQ-10
If you are taking cholesterol-lowering statins, you absolutely must supplement with CoQ-10 regardless of your age. Statins interfere with your natural ability to synthesize this crucial metabolite.
Supplements of CoQ-10 come in two forms: reduced (ubiquinol) and oxidized (ubiquinone). The reduced form is about 8-fold better absorbed than the oxidized form. This means that a target dose of 100 mg per day of ubiquinol is plenty.
On a personal note, based on what I have discovered about PQQ and CoQ-10 for people in my age bracket (late 60s), I take 20 mg of PQQ and 100 mg of ubiquinol daily.
Nearly every supplement manufacturer offers both of these products in those amounts, so they aren't difficult to find.
However, if you are looking online for them, consider getting them combined into one product, e.g., from my source, here: Jarrow Formulas Heart Health QH-absorb + PQQ.
Expect the Most Good Here…
Tissues that contain the highest number of mitochondria per cell (1000s) are led by liver, muscle, heart, brain, and brown fat. These tissues demand the highest levels of mitochondrial regeneration.
They are therefore the tissues where we can expect the greatest benefits from supplementary PQQ and ubiquinol.
All the best for mitochondrial health,
Dr. D