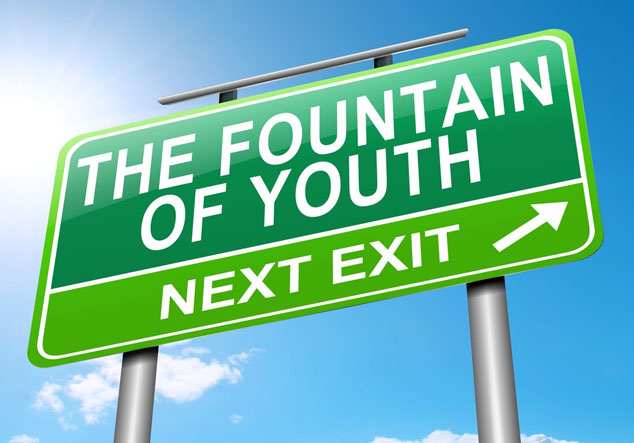 Is the SeroVital-hGH really the anti-aging miracle it's cracked up to be? Not really. Yet it's been the subject of some shameless marketing lately.
BEFORE YOU EVEN THINK ABOUT TAKING ANTI-AGING SUPPLEMENTS … ARE YOU, LIKE ME, A SENIOR WHO'S INTERESTED IN STAYING HEALTHY FOR YEARS TO COME? IF SO, YOU MIGHT LIKE TO SEE WHAT A SCIENTIST (ME) HAS TO SAY ABOUT HOW TO ACHIEVE IT AT NO EXTRA COST TO YOU, WITHOUT EVEN HAVING TO LEAVE HOME, STARTING HERE: HEALTHY AGING NATURALLY.
It appeared in an ad in my USA Weekend magazine this morning. The magazine had a full two-page ad for SeroVital-hGH. The ad was full of promises to turn back your aging clock by boosting your growth hormone levels to what they were when you were much younger. The ad even invoked the great and powerful Dr. Oz, albeit in a very shady way. Here is why this is just more junk medicine to not waste your money on.
First take a look at a little bit on the anatomy of this marketing campaign and why the product has no anti-aging benefit for folks in the actual target group — i.e., women who are older than about 45.
On a positive note, at the end of this post is a link to an article that I wrote a while back about what really does work for reversing muscle loss as we age.
The SeroVital-hGH Promise
Let's start with the smattering breathless quotes that are supposed to make you think they have anything to do with SeroVital-hGH (which they don't):
Tiffany Stobel, beauty editor at MyFreeDiet.com, commenting in the ad, under the lead photo of a youthful female model:
Barbara just had another birthday. She watches her diet, exercises when she can, and is in pretty good shape. In fact, she could be the poster child for the "Fountain of Youth" headline we see on the covers of fashion mags around the globe. What's her secret? It's not just the occasional Botox, peel or filler, or even her assortment of skin creams that could rival the anti-aging section of your local Sephora. Barbara,who was always "cutting edge," has become a believer in what is fast becoming the most popular (if not the most expensive) anti-aging treatment in the USA… Growth Hormone Therapy.
Vanity Fair magazine:
A 20-year-old produces more than twice as much hGH as [she] will when [she's] 40… hGH, by turning back the clock, turns back the aging process.
Dr. Oz:
I have been searching for this from the day we started the show. I've been looking for ways of increasing hGH naturally because I don't like getting the injections.
Shape magazine:
When you see a 50-year-old actress who can pass for 35, you can bet that good genes aren't the only things responsible for her youthful glow.
Dr. Oz again, from the SeroVital-hGH website (this is a real lulu):
A recent study [on SeroVital-hGH] showed patients given a special blend of amino acids saw their hGH levels spike more than 6 times…
Are you convinced yet?
PLEASE NOTE
None of the original quotes specifically mentions SeroVital-hGH. The product name in brackets in the quote by Dr. Oz was added in later. He didn't actually mention the name of the product.
Also note that Dr. Oz did, indeed, talk about a blend of amino acids for anti-aging on his show. He made a big deal of his acronym, GOAL, to list the individual amino acids: Glycine, Ornithine, Arginine, and Lysine.
How interesting that the actual composition of SeroVital-hGH is not the same as the mixture that Dr. Oz actually endorsed on his show. Furthermore, for some reason, the proprietary mix in SeroVital-hGH includes the curious addition of Japanese catnip (Shizonepeta powder). Here are all of the ingredients as listed on the Supplements Facts label on the back of the box: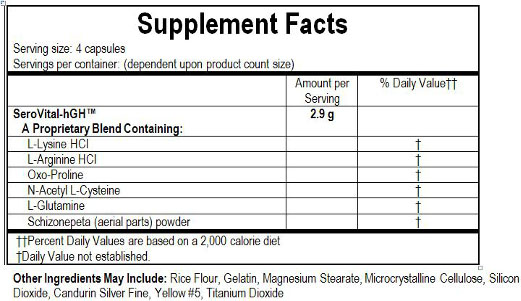 The Science Behind SeroVital-hGH
Yes, there is some research. None of it is published in a reputable scientific journal. The closest this research comes to acceptability in scientific circles is a poster on a small study, which was displayed at the 2013 annual meeting of the Obesity Society. The published abstract (that's all there is), is as follows (Poster T-116P in the meeting abstracts):
Improvement in Physical Endurance by an Amino Acid Based hGH-Secretagogue: A Pilot Study
by Amy L. Heaton, Colleen Kelly, Frank L. Greenway
Background: The ability of an oral optimized amino acid supplement (SeroVital™) to increase serum growth hormone (hGH) levels 120 minutes after oral administration in both men and women has now been demonstrated, but evidence bridging repeated daily administration of the supplement to known benefits of hGH injections has not yet been established.
Methods: This pilot study included 12 [7 male, 5 female; age = 31 ± 6 years; BMI= 25.7 ± 3.8] healthy subjects. The supplement, a 2.9g/dose blend of l-lysine HCl, l-arginine HCl, oxo-proline, N-acetyl-l-cysteine, l-glutamine, and schizonepeta (aerial parts) powder, was taken orally on an empty stomach prior to bedtime every night for two-weeks with no other lifestyle changes. Before and after the 2 week period, a standard maximal aerobic fitness test of graded exercise using a metabolic cart was performed during morning hours in a post-absorptive state. Before and after study VO2 max values were compared with a paired t-test.
Results: After 2 weeks of supplementation, mean VO2 max increased by 6% from 44.9 ± 8.1 at baseline to 47.7 ± 9.2mL/kg/min (3.69 ± 0.96 to 3.91 ± 1.02L/min), demonstrating a statistically significant improvement from baseline (P=0.02).
Conclusions: Increased measures of endurance are a well-established outcome of synthetic hGH-injections in adults. Here we show that two weeks of daily supplementation with the orally-administered amino-acid based hGH-secretagogue significantly increased VO2 max compared to baseline with no other lifestyle changes. A larger multi-center study is being planned.
AHA! Taking a daily dose of 2.9 grams of SeroVital-hGH for 2 weeks boosts VO2 max (a measure of aerobic fitness) by an average of 6 percent in 12 healthy people with an average age of 31 ± 6 years.
Are you convinced yet? No?
Wait! There's More!
How about that unpublished study representing the science of the product on the SeroVital-hGH website:
To summarize the study, growth hormone levels increased 8-fold, 120 minutes after taking SeroVital-hGH in 16 healthy people with an average age of 32 ± 14 years
So far so good, if you are in the younger crowd anyway.
How About That Patent?
It's great that the U.S. Patent and Trademark Office (uspto.gov) provides the text of patents online. That's where you can find U.S. Patent No. 8,551,542 (awarded October 8, 2013):
Methods and compositions for increasing growth hormones.
Inventors: Heaton; Amy L. (Salt Lake City, UT), Friedlander; Mitchell K. (Salt Lake City, UT), Gay; Dennis (Salt Lake City, UT). [Notice that Amy Heaton is also the lead author on the pilot study cited above.]
This is a composition patent that describes the mixture of ingredients in SeroVital-hGH. It is not a drug patent. Composition patents are not allowed to make medical claims. They are allowed to make general statements about health. The complete abstract of this patent is:
Embodiments of the invention generally relate to methods and supplements for improving the health of human beings.
That's it.
A Bit of Patent Subterfuge
Patents are not that hard to get for new compositions. Sometimes inventors even get by with some pretty sneaky stuff, such as what I found based on the following quote in the SeroVital-hGH patent:
These findings demonstrate that a specialized low-dose amino acid supplement can significantly increase short-term GH levels. Future studies will examine whether such increases in GH with oral amino acid supplementation increase fat-free mass and strength. This indeed may be the case, since elderly subjects administered oral GH secretagogues for 6 and 12 months have sustained increases in lean body mass and improved physical function.
Sounds great, doesn't it? The subterfuge here is that the study cited above is for a synthetic drug, not a supplement. It has absolutely nothing to do with SeroVital-hGH. Nothing! In fact, here's the study abstract in its entirety. (If this is too much detail, just skip to my comments about this drug below the abstract.)
White HK, Petrie CD, Landschulz W, MacLean D, Taylor A, Lyles K, Wei JY, Hoffman AR, Salvatori R, Ettinger MP, Morey MC, Blackman MR, Merriam GR Effects of an oral growth hormone secretagogue in older adults. J Clin Endocrinol Metab. 2009 Apr;94(4):1198-206.
CONTEXT: GH secretion declines with age, possibly contributing to reduced muscle mass, strength, and function. GH secretagogues (GHS) may increase muscle mass and physical performance.
OBJECTIVES/DESIGN: We conducted a randomized, double-masked, placebo-controlled, multicenter study to investigate the hormonal, body composition, and physical performance effects and the safety of the orally active GHS capromorelin in older adults with mild functional limitation.
INTERVENTION/PARTICIPANTS: A total of 395 men and women aged 65-84 yr were randomized for an intended 2 yr of treatment to four dosing groups (10 mg three times/week, 3 mg twice a day, 10 mg each night, and 10 mg twice a day) or placebo. Although the study was terminated early according to predetermined treatment effect criteria, 315 subjects completed 6 months of treatment, and 284 completed 12 months.
RESULTS: A sustained dose-related rise in IGF-I concentrations occurred in all active treatment groups. Each capromorelin dose prompted a rise in peak nocturnal GH, which was greatest with the least frequent dosing. At 6 months, body weight increased 1.4 kg in subjects receiving capromorelin and decreased 0.2 kg in those receiving placebo (P = 0.006). Lean body mass increased 1.4 vs. 0.3 kg (P = 0.001), and tandem walk improved by 0.9 sec (P = 0.02) in the pooled treatment vs. placebo groups. By 12 months, stair climb also improved (P = 0.04). Adverse events included fatigue, insomnia, and small increases in fasting glucose, glycosylated hemoglobin, and indices of insulin resistance.
CONCLUSIONS: In healthy older adults at risk for functional decline, administration of the oral GHS capromorelin may improve body composition and physical function.
Sounds Pretty Good…Except
Keep in mind that this substance, regardless of the benefits shown in this study, has nothing to do with SeroVital-hGH. Moreover, the drug capromorelin, according to Wikipedia, has not been approved by major regulatory bodies such as the World Health Organization, the European Medicines Agency or the United States FDA. In the U.S. at least, approval is not expected to be forthcoming any time soon, because the FDA does not consider aging a disease, and so requires extraordinary evidence of benefit and non-toxicity to approve a drug for use as an anti-aging agent.
That is what I call a very weak supporting reference in the SeroVital-hGH composition patent.
The Real Kicker Undermining SeroVital-hGH
You might have already noticed that all the research behind this product is based on subjects who are young and healthy. Unfortunately, the age limit for the usefulness of amino acids as hGH secretagogues is about 45 years. Maybe older celebrities are looking younger because of hGH injections. Sylvester Stallone is clearly one of them (he got caught with his hGH supply at Australian customs a few years ago). Check out how great he looks in the 2012 movie, Expendables 2.
Injectible hGH is a fabulous anti-aging treatment for all ages.
On the other hand, hGH secretagogues have a limited influence on human physiology after about age 45. This is a very interesting topic, especially for older folks like me. I wrote a post where I explained what's behind the research on the main amino acid, L-arginine, that has the greatest influence as a growth hormone secretagogue and why it doesn't work for seniors, here: When Arginine Fails As A Growth Hormone Releaser.
SeroVital-hGH marketing targets a segment of the population in which the product has almost no chance for doing anything to benefit human health.
Now on a Good Note
In spite of poorly supported supplements that are advertised in underhanded ways, it's great to know that a few things do work the way they are supposed to. The best way to address one of the biggest problems that faces us as we age — i.e., loss of muscle mass — is with a supplement mixture that includes a derivative of one of the common branched chain amino acids in dietary protein of all kinds.
I've explored this substance in detail and have written about it a few times. Here is one that should be of interest to all of you 'mature' folks like me: Muscle Building Supplements For Senior Fitness.
Take a look and be heartened that good supplements really do exist. SeroVital-hGH just isn't one of them.
All the best in natural health,

DISCLAIMER
Statements on this page have not been evaluated by the Food and Drug Administration. This product is not intended to diagnose, treat, cure, or prevent any disease.