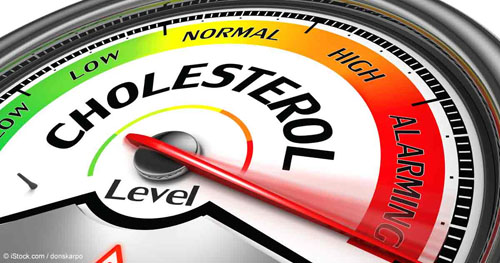 Research on total cholesterol and its various components vs. cardiovascular health has a long and controversial history. It started with some really idiotic studies on rabbits in the early part of the 20th century. Since that time the following details have emerged:
Arterial plaque contains cholesterol
The most abundant substance in arterial plaque is calcium
About 50% of heart attack victims do not have clogged arteries
About 90% of heart attack victims have no previous cardiovascular symptoms
Cholesterol is important for proper functioning of cell membranes
Dietary cholesterol has almost no effect on serum cholesterol levels
Cholesterol levels are easy to measure
Cholesterol levels are easy to control by synthetic drugs called statins
Statins block the synthesis of CoQ-10, which is crucial for heart health
There is no such thing as 'bad' cholesterol
Low cholesterol levels, especially when induced by statins, are associated with neurological disorders such as Parkinson's Disease and ALS
High cholesterol levels do not predict heart disease or mortality
The only factor that characterizes ALL cardiovascular disorders is inflammation
Total Cholesterol Advice – A Moving Target
Several years ago the federal government, with the helpful guidance of the pharmaceutical industry, adjusted its guidelines for managing cholesterol levels. At that time the definition of what was considered too high levels of total cholesterol changed from 300 mg/dL to 200 mg/dL (i.e., milligrams of cholesterol in each deciliter of blood serum, which is a little more than 12 ounces).
Under the old guidelines, roughly 13 million people in the U.S. were recommended to take cholesterol-lowering medications. The new guidelines brought this number to 36 million people, which almost tripled the market for cholesterol-lowering statin drugs. Gee, what a surprise!
The bottom line is that the widespread use of statins is clearly based on a false premise about cholesterol causing heart disease. Nevertheless, annual sales of statins worldwide now exceed $25 billion. The issues of total cholesterol and human health disappeared from the realm of wellness long ago and have been replaced by issues of money and politics. This is in spite of the well-known and lengthy list of side effects of these drugs: including unexplained muscle weakness, cramps, twitching, slurred speech, difficulty in walking or motor skills, nerve pain, depression, memory loss, and impotence.
Indeed, the cholesterol money machine continues to grow in spite of recent research on two drugs, Zetia and Vytorin, which shows that they don't even work.
Maintaining Your Body's Natural Balance
Cholesterol and overall lipid (fat) balance is still important, because every cell membrane in your body depends on cholesterol and other lipids for proper functioning. The way your cells handle lipids says a lot about your general state of health. Controlling them with drugs is just not the best choice for real wellness.
If you have been frightened into taking statin drugs, it is time to find a doctor who will work with you to get off of them. Several natural approaches will ensure that you are on the right track. Since inflammation is at the root of cardiovascular disease, the most important strategy that you can adopt, which also offers benefits against many other chronic conditions, is to address inflammation with a combination of good anti-inflammatory and fiber supplements, the right eating plan, optimal exercise, stress and lifestyle management, and hormone balance.
Think for yourself. Ignore the cholesterol scare. It is simply a big-money scam perpetrated by Big Pharma, in collusion with our federal government.
All the best in natural health,
Dr. D