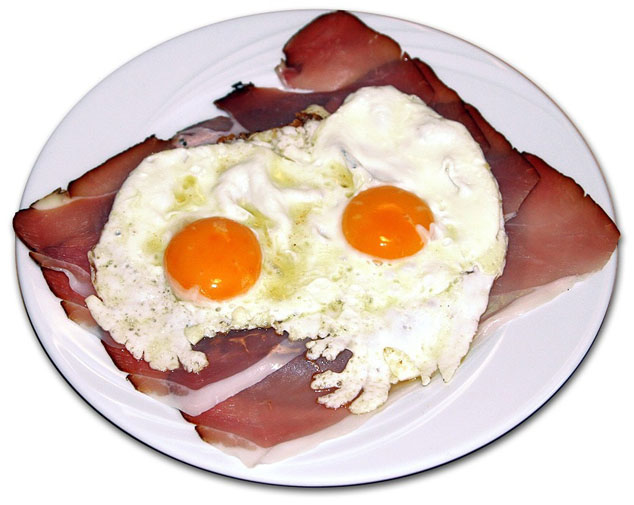 The modern low fat diet phenomenon has led to more health misery than you can shake a stick at. Eating more fat is the key to good health. Here's why.
Let's not mince words:
Eat more fat (and fewer carbs) or get sick and die young.
Fat is the key to good health, including saturated fat.
Health Benefits of Dietary Fat
Let's be clear. If you are boosting your intake of one of the 'Big 3' food groups, then you will have to reduce one of the others. A high-fat diet, therefore, must be accompanied by low-carb intake. Although this post focuses on the benefits of dietary fat, the short version of the low-carb portion means no cereal grains (whole or otherwise), no sugar, no processed carbs, and no starchy vegetables. The absolutely worst possible diet you could have would be to combine fats and carbs.
Now for those benefits…
The table below is a short list of what dietary fat can do, based on solid scientific research that goes back nearly two centuries. Explaining the background studies on each one would require much more space than I can allot for this post. However, if you are really curious about any or all of these, you can read more about each one at Second-Opinions by Barry Groves. Barry provides a wealth of information on each condition or disease, which can be accessed by live links on the left side of his website. It is fascinating reading and I recommend that you check it out.
In this table I have highlighted a handful of the touchier topics because they have become the foundation for misdirected dogma of mythical proportions in support of a low fat diet.
The low fat diet is now probably the worst dietary
plague ever foisted on humanity.
The best background information that I can recommend to you for boning up on how we got started down the wrong path in modern times is available in three of the best research-based books that I have ever read on this topic: Good Calories, Bad Calories by Gary Taubes; Why We Get Fat and What to Do About It by Gary Taubes; and, The Protein Power Lifeplan by Michael R. Eades and Mary Dan Eades.
CONDITIONS AND DISEASES PREVENTED AND MITIGATED
BY A HIGH-FAT, LOW-CARBOHYDRATE DIET
ACNE

ADHD

AGGRESSION

ALZHEIMER'S DISEASE

AMENORRHOEA

ANAEMIA

ANKYLOSING SPONDYLITIS

ANOREXIA

ARTHRITIS

ATHEROSCLEROSIS

AUTISM

CANCER (GENERAL)

CANCER (BREAST)

CANCER (COLON)

CANCER (SKIN)

CATARACT

CIRRHOSIS OF THE LIVER

CELIAC DISEASE

CONGESTIVE HEART FAILURE

CORONARY HEART DISEASE

CONSTIPATION

CRIMINALITY

CROHN'S DISEASE

DEATH

DEEP VEIN THROMBOSIS

DEPRESSION

DENTAL CARIES

DETOX

DIABETES

DIVERTICULAR DISEASE

DRY-EYE SYNDROME

EPILEPSY

GALLSTONES

GASTRIC REFLUX

GLAUCOMA

HEARING LOSS

HYPERTENSION

IMMUNITY TO INFECTIONS

INSULIN RESISTANCE

INTERMITTENT CLAUDICATION

IRRITABLE BOWEL SYNDROME

KIDNEY STONES

KIDNEY FAILURE

LOW BIRTH WEIGHT

MACULAR DEGENERATION

MEMORY (POOR)

MULTIPLE SCLEROSIS

MYOPIA

NEPHROPATHY

NEUROPATHY

OBESITY

OSTEOARTHRITIS

OSTEOMALACIA

OSTEOPOROSIS

PARKINSON'S DISEASE

PCOS

PERIPHERAL ARTERY DISEASE

RETINOPATHY

RHEUMATOID ARTHRITIS

RESISTANCE TO AUTHORITY

RICKETS

SCHIZOPHRENIA

SICKLE CELL ANEMIA

SLOW GROWTH

STOMACH ULCERS

STROKES

SUICIDE

ULCERATIVE COLITIS
Some Fats Are Dangerous
If you haven't heard of Olestra by now, then just consider that even the FDA had to bow down to public outcry about this synthetic fat. Not by banning it, mind you. Instead, foods containing it had to include the warning: This Product Contains Olestra. Olestra may cause abdominal cramping and loose stools. Olestra inhibits the absorption of some vitamins and other nutrients. Vitamins A, D, E, and K have been added. The FDA is not your friend, though, so this labeling requirement was eventually removed. Olestra was not dangerous enough, apparently.
Other synthetic fats that the FDA considers safe are actually extraordinarily dangerous to human health. Leading the list are margarines and other fake butter products, fake lard (e.g., Crisco), and anything that includes 'partially hydrogenated' on the ingredients label. These fats will get incorporated into cell membranes, replacing fats that should be there, and cause cells to stop working well. Translation: when your cells don't work well, you get sick. Makes sense, doesn't it?
Bad Vegetable Oils
Essential fatty acids – defined as such because you have to get them in your diet – are classified into two main groups: the omega-6 and the omega-3 fatty acids. We are adapted to consuming a healthy ratio of omega-6 to omega-3 of about 2:1. Unfortunately, the heavy use of high omega-6 vegetable oils like corn oil, cottonseed oil, and soybean oil shifts the average intake in the modern diet to about 20:1.
Consuming an overabundance of omega-6 fatty acids is highly inflammatory. Take a look at the following table to see where you might be getting the biggest doses of omega-6 fatty acids in your diet and cut down on them. Oh, by the way, even though canola oil doesn't look bad based on its omega-6 to omega-3 ratio, it comes with other baggage. It is highly processed, which is almost never a good thing. In fact, just think about all those beautiful-looking, bright or soft yellow bottles of vegetable oil that you can find in your supermarket. They do not come out of the plant looking so uniformly attractive. They are all highly processed!
The main missing oil in this table is olive oil, which has a ratio of 10:1 (omega-6 to omega-3). That is still not much of a health bargain.
The best cooking oil, bar none, is coconut oil. The saturated fat in coconut oil is primarily what is called medium-chain triglycerides, which have numerous health benefits. In addition, coconut oil will not oxidize even at high temperatures (see Good Fats That Go Bad below for an explanation of why this is so important).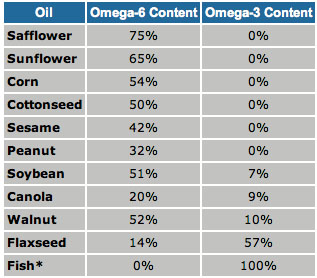 Of course, reducing your intake of omega-6 fatty acids is one strategy. Increasing your intake of omega-3 fatty acids is another. That's where flax oil and fish oil comes in handy, either from food or from supplements.
Good Fats That Go Bad
You are probably familiar with the disagreeable odor and flavor of rancid fats or oils. You wouldn't want to consume them. Tasting bad or smelling bad is just part of the story. These 'good fats that go bad' are super, super dangerous to your health. They should never, ever be consumed. If you are supplementing with them in softgels, maybe once or twice per week you should chew one to doublecheck that the oil inside is still not rancid.
The danger to your health arises when the 'unsaturated' portion of a monounsaturated (MUFA) or polyunsaturated (PUFA) fat or oil gets oxidized in air and in light. Oxidized fats or oils attack and destroy all kinds of cells and tissues. They are highly inflammatory.
Although it is easy enough to detect and avoid rancidity, normal cooking can also cause oxidation of MUFAs and PUFAs. Highly unsaturated oils such as flax are especially unstable, so you should not cook with this oil at all.
I even had a 'Duh!' moment recently when I realized that one of the most common PUFAs in my diet – i.e., arachidonic acid (AA) in egg yolks – oxidizes rapidly during cooking scrambled eggs. When the yolk is broken, the AA is exposed to air and then heated. This is a perfect way to transform a highly beneficial fatty acid into a highly dangerous one. Fortunately for me, I almost always fry my eggs so the yolk remains intact. No air, no oxidation. Poaching would work the same way. Scrambled eggs and omelets are pretty much out of my diet from now on, though.
How Much Fat Can You Eat?
As much as you want!
That is the short answer, and it is true for all fats except the dangerous ones already discussed. Although Julia Child wasn't referring to health issues, she was spot on when she said, You can never have too much butter. I would add lard and all manner of saturated fat, too.
In fact, as a prelude to exploring the health benefits of dietary saturated fat, I will simply list the top benefits that are already well-established in the medical research literature:
Improved cardiovascular risk factors
Stronger bones
Improved liver health
Healthy lungs
Healthy brain
Proper nerve signaling
Strong immune system
What better incentives to eat more saturated fat?
Paleo Fat vs. Modern Fat
Human beings are adapted to living off the fat of the land. The question is, which fat?
A great article that I ran across on the blog of Michael R. Eades, How to reduce inflammation with food, gives some insight into answering this question. This is a major point of importance about our ancestral diet that is routinely missed on all those popular blogs and in all those recipe books on the so-called 'Paleo diet'. Even Loren Cordain, the founder of the Paleo diet movement and author of the leading book, The Paleo Diet, misses this point.
Dr. Eades starts out his article with this quote from his book, The Protein Power Lifeplan. The quote comes from the records of a 1948 expedition to Arnhem Land, a remote part of of the Northern Territory of Australia set aside for the 'use and benefit of the aboriginal inhabitants of northern Australia.' It's about how the indigenous Australians cook and eat a wallaby.
A large fire was made in a depression in the sand, and stones and shells were heated. Small green branches were placed on top of the stones and the wallaby was flung on these. After 5-10 minutes it was taken off the fire, placed on a layer of green leaves, and the singed fur was removed with a tomahawk. [Just the fur, not the skin.] Although the women sometimes did this preliminary treatment, a man always did the subsequent cutting up, which was done with a metal spear blade.
The first cut was made horizontally on the ventral [belly] surface at the level of the anus, and next on the dorsal [back] surface along both sides to sever the leg muscles. Another cut was then made from the anus to the neck. The viscera were pulled out; and the kidneys, liver, heart and lungs, and the omental and mesenteric fat [the fat surrounding the intestines] were separated from the rest, and cooked on the hot stones and coals for 5 minutes. The cooked lungs were used to soak up the blood inside the carcass and then eaten. The offal was regarded as a delicacy by everybody and a certain amount of squabbling always followed its distribution.
The tail was cut off, and during the cooking was put on or alongside the body. The carcass was laid flat, dorsal side downwards, on the hot stones and ashes and the body cavity was filled with hot stones. Sheets of paperbark formed a cover over the animal, and sand was scooped out to make an oven. Wallabies weighing 15-20 pounds were cooked for 25-35 minutes. Everything edible was eaten except the stomach and intestines. The skull was cracked open to get the brain, and the bones were broken to extract the marrow.
Offal? Yes!
I have to admit that I had to look up 'offal'. Wikipedia defines offal as: variety meats or organ meats, especially in the United States, refers to the internal organs and entrails of a butchered animal. The word does not refer to a particular list of edible organs, which varies by culture and region, but includes most internal organs other than muscle and bone.
If it is important to eat like our ancestors did, or at least as close to it as we can in the 21st century, then the scenario above shows us how. In other words, eat meat with that contains plenty of fat. Moreover, eat variety meats that are higher in monounsaturated fats. Muscle meats are the least desirable, in spite of the fact that the vast majority of our meat consumption in modern times is exactly that.
This perspective does solve a puzzle that I have had for years. I have eaten plenty of wild game – deer, elk, javelina, squirrel, rabbit, dove, quail, duck, much of which is as dry as sawdust. I couldn't understand how the Paleo approach, as it is known now, could ever provide enough fatty, tasty meat to support a healthy lifestyle. Now I have the answer: variety meats are where it's at.
This leads to a little consternation on my part. I do not have fond memories of the liver and onions that my mother foisted on us now and then. I couldn't stand to be in the house when kidneys were on the stove. Other meats – tongue, brain, lung, pancreas, etc. – never even came into our house. This is definitely going to take a personal cultural shift for me to take advantage of the benefits of these kinds of meats. I suspect it will for you, too. Good luck!
All the best in natural health,

DISCLAIMER
Statements on this page have not been evaluated by the Food and Drug Administration. This product is not intended to diagnose, treat, cure, or prevent any disease.