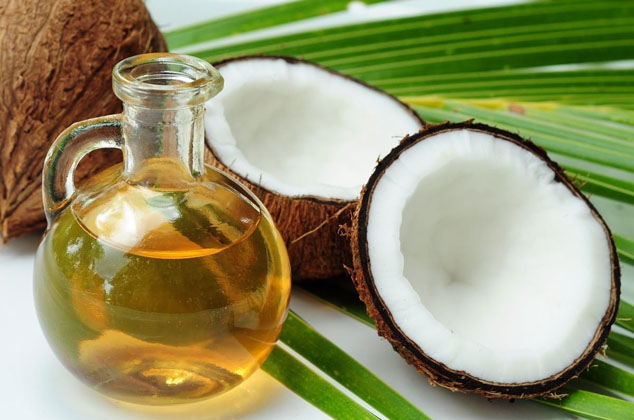 Coconut oil seems to be useful for almost everything except engine fuel (so far). Even health scientists have been caught up in all the hullabaloo … PubMed lists nearly 1,600 research articles on it, almost half of them published in the 21st century. Its value is so high, and price is so low that EVERYONE should be using it every day.
BEFORE READING ON … ARE YOU, LIKE ME, A SENIOR WHO'S INTERESTED IN STAYING HEALTHY FOR YEARS TO COME? IF SO, YOU MIGHT LIKE TO SEE WHAT A SCIENTIST (ME) HAS TO SAY ABOUT HOW TO ACHIEVE IT AT NO EXTRA COST TO YOU, WITHOUT EVEN HAVING TO LEAVE HOME, STARTING HERE: HEALTHY AGING NATURALLY.
Many, many online articles espouse the health benefits and other uses of coconut oil. Perhaps the most comprehensive list that I found appeared in the Paleo Flourish Magazine here:
67 Proven Uses for Coconut Oil
That is a nice, extensive article that sums up the 67 uses in one table, reproduced below.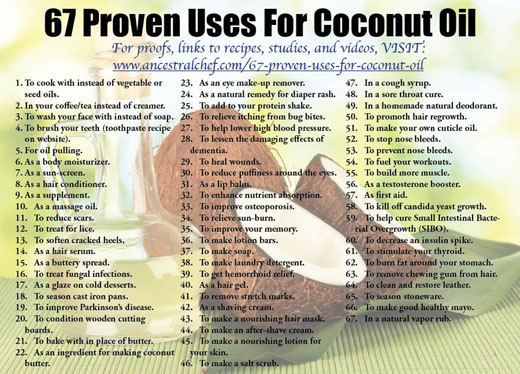 CLICK HERE FOR FULL PAGE IMAGE OF THIS TABLE
The most interesting and important applications of coconut oil, in my mind, are those involving its health benefits. The table above lists many of them.
My question about each one, which may be the same as yours, is, "What is the scientific evidence for any health benefit from coconut oil?"
Exploring that question is where the fun begins. Before I dig into it, though, let me say that I consume coconut oil daily. Lots and lots of coconut oil … i.e., as much as a half of cup (8 tbsp.) throughout the day. I explain more about the whys and wherefores of my own uses at the end of this article.
Digging into the Research
If you ever want to see what the research support for any health issue might be, the best place to start is a search on PubMed, the online medical database at the U.S. National Institutes of Health. This is where I started by simply plugging in the exact match (i.e., in quotes) for "coconut oil" in the search bar.
Needless to say, this provides an overwhelming number of results. They span a period starting in 1947 and ending with the most recent article published this month in the British Journal of Nutrition (a very interesting one, too: The role of dietary coconut for the prevention and treatment of Alzheimer's disease: potential mechanisms of action.)
Access to this database is free of charge, although it is extremely geeky. For the truly interested non-geek, Amazon lists countless books on the topic of coconut oil.
Now let's take a look at some of the more interesting research topics that entail the consumption of coconut oil.
First – What Makes Up Coconut Oil?
Okay, fellow geeks, let's start out like good reductionist scientists and take a look at the fatty acid composition of coconut oil. This is the basis for explaining how coconut oil might work for different health benefits.
As you look at this table, note that the many warnings you may have heard or read about the dangers of consuming saturated fatty acids (e.g., the first 8 listed below) are just medical bunk. Dr. Oz is a leading proponent of this paranoia, which has never been supported by good science. We all know by now that he is clueless about saturated fats anyway, so I rest my case. Don't get me started on that guy.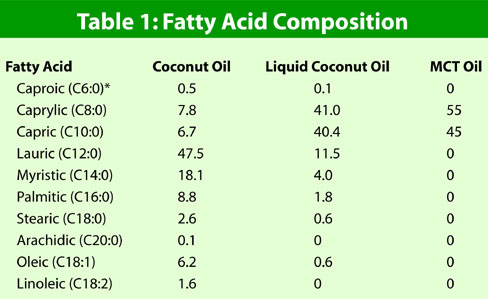 (from The Coconut Research Center)
Note that two of the FREE (unbound) fatty acids also occur in BOUND forms as triglycerides. In chemo-geek this means that they form ester links with glycerol, which look like this:

from this cool article:
What Are Triglycerides?
The point for you is to understand what it means when folks talk about 'medium-chain triglycerides' (MCTs) in coconut oil. They are simply triglycerides containing caprylic acid and/or capric acid (also sometimes lauric acid).
TOP HEALTH ISSUES
Reviewing all the possible benefits would be an extensive endeavor. Instead, I will focus on just two of the biggies among health issues that get a lot of attention these days.
1. Alzheimer's Disease
Let's start right at the top and take a peek into that recent study about coconut oil vs. Alzheimer's (link above). The article itself is a review of the literature to explore how coconut oil might be helpful. It is based on two observations regarding Alzheimer's:
Patients are less able to use glucose in certain parts of their brains
Coconut oil yields ketones as an alternative source of energy to improve brain function
In a 2006 study MCTs led to an immediate improvement in brain function in cases of mild Alzheimer's.
This should be no surprise, since ketones have long been known as a powerful fuel for brain metabolism. This is one of the benefits of a ketogenic diet, first popularized by the Atkins Diet (and now somewhat weakly by the Paleo Diet).
The most telling commentary on using coconut oil against Alzheimer's is the development of a medical food approved by the FDA. It is a prescription-grade MCT product of coconut oil (i.e., a triglyceride with three caprylic acid esters).
The brand name is Axona, otherwise known as caprylidene (details on Wikipedia here.)
Three fairly interesting articles have been published about it, as follows.
Henderson ST, Vogel JL, Barr LJ, Garvin F, Jones JJ, Costantini LC. Study of the ketogenic agent AC-1202 in mild to moderate Alzheimer's disease: a randomized, double-blind, placebo-controlled, multicenter trial. Nutr Metab. 6:31. 2009. (full pdf here)
This is a good start on clinical trials that build on numerous prior studies with lab animals (mostly rats).
DeDea, L. Can coconut oil replace caprylidene for Alzheimer disease? J Amer Acad Physician Assistants 25 (8): 19. 2012. (full pdf here)
This a silly article that does not really answer the question except to say that some folks are doing exactly that. Gee, maybe it has something to do with a semi-synthetic prescription MCT (Axona) that costs more than 80 dollars for 30 doses vs. super cheap coconut oil and MCT oil at the supermarket. Just a thought.
Sharma A, Bemis M, Desilets AR. Role of Medium Chain Triglycerides (Axona(R)) in the Treatment of Mild to Moderate Alzheimer's Disease. Am J Alzheimers Dis Other Demen. 2014 Jan 9. (full pdf here)
This article is informative if only for the last line in the abstract: "…since genomic profiles are not routinely conducted in patients with AD in a clinical setting, the role of MCTs in clinical practice seems to be minimal."
I point this out because it represents typical medical gibberish based on the now obsolete concept of genetic determinism (i.e., you are your genes). A big industry is built on this concept, though, so modern medicine won't be updating it real soon. Buyer Beware, folks!
Ultimately, at least at the moment, research shows that the fatty acids in coconut oil can increase blood levels of ketones for providing energy in the brain cells of Alzheimer's patients. Ketones replace deficient glucose metabolism in these patients.
2. Obesity
Now for everyone's favorite whipping boy: the obesity epidemic.
If you have heard of the enigmatic phrase, metabolic rate, this is where obese and overweight folks need a lot of help. Food gets metabolized at a certain rate in everyone. It generally slows down as you gain fat.
Wouldn't it be nice if some kind of food 'burned hotter' for the obese? This is where coconut oil MCTs come in handy. They cause the release of more calories than do the equivalent amount of other, longer chain kinds of fats.
In fact, energy use can be as much as 5 percent higher over a 24-hour period. This heat-generating (i.e., calorie-releasing) effect can actually warm you up noticeably. I usually feel it first in my face, then in my upper chest, within a couple of hours of consuming 2-3 tbsp of coconut oil (not even the higher-priced MCT oil).
How does that translate into results? Just take a look at what happens to abdominal fat, that dangerous stuff around your waist and internal organs, as discovered in the following two studies.
Assunção ML, Ferreira HS, dos Santos AF, Cabral CR Jr, Florencio TM. Effects of dietary coconut oil on the biochemical and anthropometric profiles of women presenting abdominal obesity. Lipids. 2009 Jul;44(7):593-601.
In this study 40 women with abdominal obesity supplemented with 30 mL (1 ounce) of coconut oil per day. They had a significant reduction in both BMI and waist circumference within a period of 12 weeks.
Liau KM, Lee YY, Chen CK, Rasool AH. An open-label pilot study to assess the efficacy and safety of virgin coconut oil in reducing visceral adiposity. ISRN Pharmacol. 2011;2011:949686.
In this study 20 obese males also supplemented with 30 mL of coconut oil per day. They had a reduction in waist circumference of 2.86 cm (1.1 inches) by the end of 4 weeks.
Both of these studies showed the power of coconut oil in reducing abdominal fat without adding exercise or reducing overall food intake.
What Else?
Even though the list in that 67-benefits table above is impressive, just a few of them would be enough incentive to consume coconut oil every day. In my case, I am after that boost in metabolism that coconut oil provides.
I would also like to say how much I get out of the testosterone boost that is listed on the table as one of the benefits. Research on that topic, however, seems to have been focused on rats and rainbow trout. Good for them.
There are other, more certain ways to get that benefit without relying on coconut oil.
That said, I want to point out one super exciting avenue of research that has been directed at one of the fatty acids in coconut oil, myristic acid. This fatty acid also occurs in palm oil, and in nutmeg. The chemical name comes from the scientific name of nutmeg, Myristica fragrans. I digress.
The topic involves a family of proteins, called sirtuins. Sirtuins are believed to influence a wide range of processes involving aging, transcription, apoptosis, inflammation and stress resistance. They also play a role in metabolic energy efficiency and alertness during low-calorie periods.They are key components of how animals control circadian clocks and mitochondrial biogenesis. (Much more detail on Wikipedia.)
All in all, this means that sirtuins are crucial for the lives of many kinds of organisms, from bacteria to yeasts and animals. Human sirtuins comprise a family of 7 proteins, creatively named SIRT1-SIRT7.
Drug companies have been working feverishly to discover synthetic (i.e., patentable) substances that will activate our sirtuins. One natural substance, resveratrol, has already been discovered to activate SIRT1. This is thought to be one way that resveratrol acts as an anti-aging substance.
The search for sirtuin activators led to the following study published in 2013:
Feldman JL, Baeza J, Denu JM. Activation of the protein deacetylase SIRT6 by long-chain fatty acids and widespread deacylation by mammalian sirtuins. J Biol Chem. 2013 Oct 25;288(43):31350-6.
The highlight was summarized in this comment in the article abstract: "Indeed, we demonstrate that several biologically relevant FFAs (including myristic, oleic, and linoleic acids) at physiological concentrations induce up to a 35-fold increase in catalytic efficiency of SIRT6 but not SIRT1."

Whoopee! Who needs synthetic drugs when Mother Nature already provides what we need for activating our sirtuins?
Coconut oil and its various components just keep looking better for us as science marches on.
Getting More Dietary Coconut Oil
The boring way is to take supplements in the form of gel caps of coconut oil. Not fun.
The best way is to get plain old coconut oil at the supermarket (it is the ONLY ingredient) and cook with it, mix it with smoothies, or add it to coffee or tea in the morning. The latter is a version of 'bulletproof coffee' that I like a lot (instead of butter).
For cooking, coconut oil has one of the highest smoke points of any oil (a good thing). Moreover, it has such a high proportion of saturated fat it will probably not go rancid in your lifetime.
My typical uses in cooking are for scrambled eggs, sauteed mushrooms, and stir-fried veggies.
One of the more interesting recipes that I have experimented with is ice cream that uses coconut MCT oil. The details and a video on this recipe came from Dave Asprey, the BulletProofExec himself, here: Recipe: Creamy Coconut "Get Some" Ice Cream.
Absolutely delicious.
There really is no end to how many ways you can come up with for consuming coconut oil. Just do whatever sounds good to you.
All the best in natural health,

DISCLAIMER
Statements on this page have not been evaluated by the Food and Drug Administration. Information here is not is not intended to diagnose, treat, cure, or prevent any disease.
This site contains affiliate links to products.
I may receive a commission for purchases made through those links.
This doesn't change the cost to you.